A military veteran on Tuesday gifted Donald Trump with a Purple Heart medal, the nation's most esteemed award given to service personnel wounded or killed in combat.
"Something very nice just happened to me. A man came up to me and he handed me his Purple Heart. Now, I said to him, 'Is that, like, the real one, or is that a copy?'
"And he said, 'That's my real Purple Heart. I have such confidence in you.'
"And I said, 'Man, that's like big stuff. I always wanted to get the Purple Heart. This was much easier,'" Trump said.
The Republican presidential nominee then invited the supporter, whom he identified as Lt. Col. Lewis Dorfman, to the stage for a round of applause.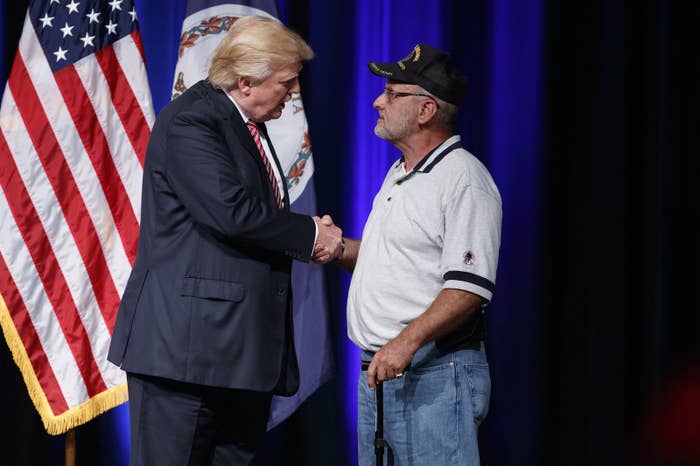 According to the National Purple Heart Hall of Honor website, Dorfman, of Montclair, Virginia, was awarded the medal when he was wounded in Iraq in 2007.
Although Trump said he was told the medal was real, NBC reporter Katy Tur said the same man told her it was a copy of his purple heart.
Trump received five deferments to avoid service during the Vietnam War, one for bone spurs in his heels and four for pursuing his education, the New York Times reported Monday.
During radio interviews in the '90s, he also repeatedly compared dating to being a soldier in Vietnam.
Tuesday's gesture came after days of controversy for the GOP nominee, who sparked the ire of veterans groups and fellow Republicans for publicly criticizing the family of a dead Muslim American soldier who spoke at the Democratic National Convention.

President Obama also said Tuesday that Trump's attacks on the family of Capt. Humayun Khan, who was killed by a suicide bomber in Iraq in 2004, showed he was "unfit" to serve in the Oval Office.
Khan's father, Khizr, also repudiated Trump's actions during an appearance on CNN's Anderson 360.
That the presidential candidate would accept a Purple Heart from a veteran, put it in his pocket, and talk about how he's always wanted one, showed a complete lack of empathy, particularly for someone who had avoided military service, Khizr Khan said.
"Donald Trump, you had the time, you did not serve," he said. "You know what you should have done? You should have penned that badge to the veteran's chest and should have hugged him and thanked him."

Sean Barney, an Iraq War veteran who was injured by sniper fire and is now running for congress as a Democrat, also blasted Trump's comments in a Facebook post.