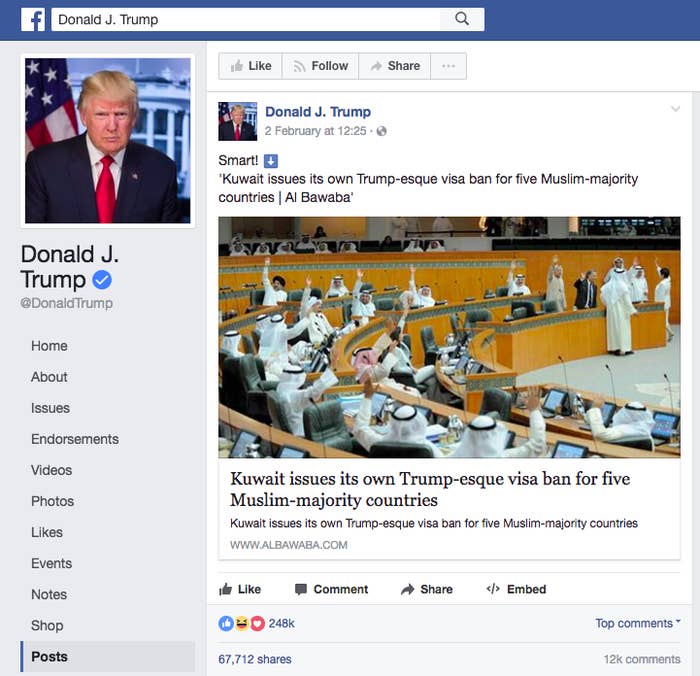 President Donald Trump on Thursday posted to his official Facebook page a news report that erroneously claimed Kuwait had followed his recent immigration order by implementing a visa ban on several Muslim-majority nations.
The story from Jordanian outlet Al Bawaba claimed "Syrians, Iraqis, Iranians, Pakistanis and Afghans will not be able to obtain visit, tourism or trade Kuwaiti visas with the news coming one day after the US slapped its own restrictions on seven Muslim-majority countries."
"Smart," President Trump wrote in his Facebook post, which was subsequently shared more than 65,000 times. (The post was still live on Saturday afternoon).
However, the Kuwaiti Ministry of Foreign Affairs has since expressly denied the reports.
In a statement to state-run news outlet Kuwait News Agency, Assistant Foreign Minister for Consular Affairs Sami Al-Hamad said the ministry "categorically denies these claims and affirms that these reported nationalities...have big communities in Kuwait and enjoy full rights."
"The State of Kuwait believes that granting of visa [sic] is a sovereign matter, and is not linked to terrorism or violence or nationality or faith," his statement read.
A report from a Gulf outlet in 2011 suggested Kuwait had banned issuing visas to several Muslim-majority nations, but the article did not name any sources and the government appears to have never officially confirmed such a measure.
Neither representatives at the Kuwaiti embassy in the United States, nor the country's United Nations mission returned requests for comment on Saturday.
Pakistan ambassador to Kuwait Ghulam Dastagir also told Pakistani television station Geo News the latest reports were "baseless."
The original Al Bawaba story cited only "Kuwaiti sources" who spoke to "local media," but it was picked up by a number of other outlets including Breitbart News, Infowars, and Sputnik.
That Russian-run website has since corrected its story, noting "the following news article proved to be untrue."
Trump's error went viral on Saturday after being posted to Twitter by Toronto Star reporter Daniel Dale.
The White House did not immediately respond to requests for comment, but the president on Saturday posted a tweet again criticizing the New York Times for "FAKE NEWS."