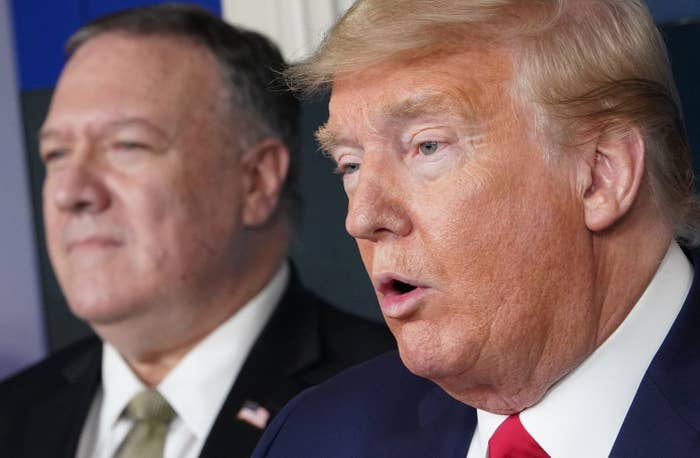 President Donald Trump said claims that a fired inspector general was investigating Secretary of State Mike Pompeo for allegedly making a taxpayer-funded staffer run personal errands for him are overblown — and even if they were true, they would still be acceptable.
"Here's a man that is supposed to be negotiating war and peace with major, major countries with weaponry like the world has never seen before," Trump told reporters at the White House. "And the Democrats and the fake news media, they are interested in a man who is walking their dog.
"Maybe he's busy. Maybe he's negotiating with Kim Jong Un, OK, about nuclear weapons."
Trump fired the State Department's inspector general, Steve Linick, on Friday and replaced him with an ally of Vice President Mike Pence.
According to NBC News, Linick had been probing whether Pompeo and his wife made the staffer walk their dog, pick up their dry cleaning, and make them dinner reservations. He was also said to be investigating the circumstances of Pompeo's selling US weapons to Saudi Arabia in spite of a congressional ban.
Trump claimed Friday that he did not know anything about Linick but said that Pompeo had asked him to fire the inspector general. "I was happy to do it," said Trump. "Mike requested that I do it. He should have done it a long time ago, in my opinion. [Linick] is an Obama appointment and had some difficulty."
He also said that criticism that Pompeo might use a taxpayer-funded staffer to perform his personal chores was "stupid."
"He's a very brilliant guy. And now I have you telling me about dog walking, washing dishes — and you know what? I would rather have him on the phone with some world leader than have him wash dishes — because maybe his wife isn't there or his kids aren't," said Trump. "What are you telling me? It's terrible. It is so stupid. You know how stupid that sounds to the world? Unbelievable."
Democrats have said they will investigate the circumstances of Linick's dismissal.
Republican Sen. Chuck Grassley also wrote to Trump on Monday, asking for "a detailed reasoning" as to why Linick was removed.
"Expression of lost confidence, without further explanation, is not sufficient to fulfill the requirements of the IG Reform Act," he cautioned.
"Inspectors General help ensure transparency and accountability," said Grassley, "both of which are critical for taxpayers to have confidence in their government."