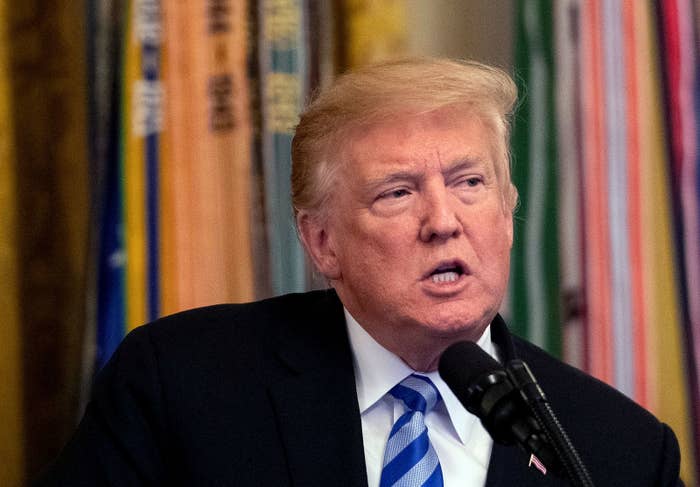 President Donald Trump threw his lot in with the right-wing conspiracy theorists on Friday, suggesting without evidence that the explosive packages being sent to prominent Democrats were part of a plot to harm Republicans in the upcoming midterm elections.
"Republicans are doing so well in early voting, and at the polls, and now this 'Bomb' stuff happens and the momentum greatly slows - news not talking politics," he tweeted on Friday morning. "Very unfortunate, what is going on. Republicans, go out and vote!"
As of Friday morning, at least 12 suspect packages that authorities fear could hold explosive devices have been sent to prominent Democrats. The Justice Department said at 11 a.m. that a person is in custody — though the motive is still publicly unknown. Officials have warned there may still be more devices out there.

Right-wing pundits including Lou Dobbs, Rush Limbaugh, and Candace Owens have suggested the devices were hoaxes designed to influence the election or distract from the caravan of migrants in Central America.

"Limbaugh: Were Bomb Threats A 'False Flag' Operation?" read a Wednesday headline on the conservative website the Daily Wire.
The conspiracies have also spread like wildfire in certain corners of Twitter.
The president's son Donald Trump Jr. has also liked several tweets promoting the idea of a diversion, including one that read, "FAKE BOMBS MADE TO SCARE AND PICK UP BLUE SYMPATHY VOTE."
The discussion has also made its way to Fox News, the president's favorite TV channel.
Former FBI profiler James Fitzgerald told host Martha MacCallum on Wednesday the bombs could be the work of "some Democrat, low-level person ... who just decided, you know what, I'm going to put this out, because two weeks before a major election, who's going to look like the bad guy here? The Republicans."
"Fascinating," MacCallum replied.
The president's comments on Friday were the latest in his shifting rhetoric in reaction to what officials have dubbed an act of domestic terrorism.
While initially decrying the "attempted attacks" and vowing to bring any perpetrator responsible to justice, he later told a rally it was the media's responsibility "to set a civil tone and to stop the endless hostility."
Then, in a tweet sent at 3:14 a.m. ET on Friday morning, he mocked CNN, whose New York offices received one of the devices.
"Funny how lowly rated CNN, and others, can criticize me at will, even blaming me for the current spate of Bombs and ridiculously comparing this to September 11th and the Oklahoma City bombing," he tweeted, "yet when I criticize them they go wild and scream, 'it's just not Presidential!'"
The tweet was sent minutes after CNN aired footage of host Don Lemon, a favorite Trump target, discussing the president's reaction to the crisis.
New York Gov. Andrew Cuomo, a Democrat, told CNN Trump's "'Bomb' stuff" tweet was "wholly inappropriate."
"I don't think he's ever fully appreciated the import of the office and the import of his position," Cuomo said. "And it always comes down to a competition and his politics, and he feels aggrieved, and I am sure that's how he sees this situation. He views it through a political lens. He's worried about the election."