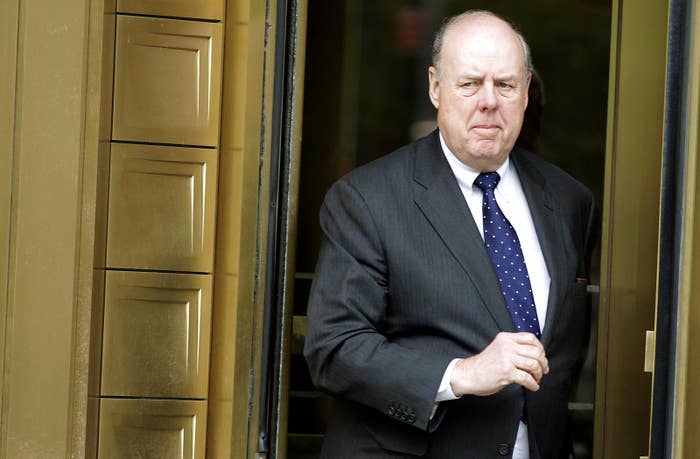 John Dowd, President Donald Trump's personal attorney, said on Saturday he prays that Deputy Attorney General Rod Rosenstein shuts down special counsel Robert Mueller's Russia probe in the wake of the firing of former FBI deputy director Andrew McCabe.
"I pray that Acting Attorney General Rosenstein will follow the brilliant and courageous example of the FBI Office of Professional Responsibility and Attorney General Jeff Sessions and bring an end to alleged Russia Collusion investigation manufactured by McCabe's boss James Comey based upon a fraudulent and corrupt Dossier," Dowd told BuzzFeed News via email.
Dowd first gave the statement to the Daily Beast, who ran a story headlined "Trump's Lawyer: It's Time to Fire Robert Mueller." (The website later changed the headline to "Trump's Lawyer: It's Time to End the Mueller Probe.")

The Daily Beast also reported Dowd told them he was "speaking on behalf of the president, in his capacity as the president's attorney."

When contacted by BuzzFeed News about whether he and the president wanted Mueller fired, and if so why, Dowd said, "NO! Not fire. Just end it on the merits in light of recent revelations."
When asked what "recent revelations" he was referring to, Dowd said, "House, Senate Intel, the texts messages of CI [counterintelligence] agents."
(The Republican-led House Intelligence Committee wrapped up its Russia investigation earlier this week, saying they had found no evidence of collusion with the Trump campaign — a move Democrats on the committee called premature. The Justice Department inspector general's office is investigating text messages between FBI agent Peter Strzok and FBI lawyer Lisa Page, who are under scrutiny for their private criticism of Trump.)
CNN later reported that "a person close to the president" said that Dowd was speaking for himself and not the president. But in a tweet Saturday evening, Trump echoed his lawyer's argument for ending Mueller's investigation.
"The Mueller probe should never have been started in that there was no collusion and there was no crime," Trump wrote. "It was based on fraudulent activities and a Fake Dossier paid for by Crooked Hillary and the DNC, and improperly used in FISA COURT for surveillance of my campaign. WITCH HUNT!"
Virginia Sen. Mark Warner, the top Democrat on the Senate Intelligence Committee, urged members of Congress to defend Mueller in light of Dowd's comments. "Every member of Congress, Republican and Democrat, needs to speak up in defense of the Special Counsel. Now," Warner tweeted.
Senate Minority Leader Chuck Schumer said Dowd's comments were "another indication" Trump and his legal team were seeking to undermine Mueller.
"The president, the administration, and his legal team must not take any steps to curtail, interfere with, or end the special counsel's investigation or there will be severe consequences from both Democrats and Republicans," he tweeted.
The president's assault against former FBI leaders continued throughout the weekend, firing off a barrage of tweets Sunday morning attacking Comey, McCabe, and Mueller, a former FBI director. Even members of Trump's own party appeared alarmed by the onslaught, with several sharply warning the president and his lawyer against interfering with the special counsel's investigation.
In a statement late Sunday, Trump's White House lawyer, Ty Cobb, insisted that the president is not considering firing Mueller, downplaying the earlier statements from both Trump and his outside counsel.
"In response to media speculation and related questions being posed to the Administration, the White House yet again confirms that the President is not considering or discussing the firing of the Special Counsel, Robert Mueller," Cobb said.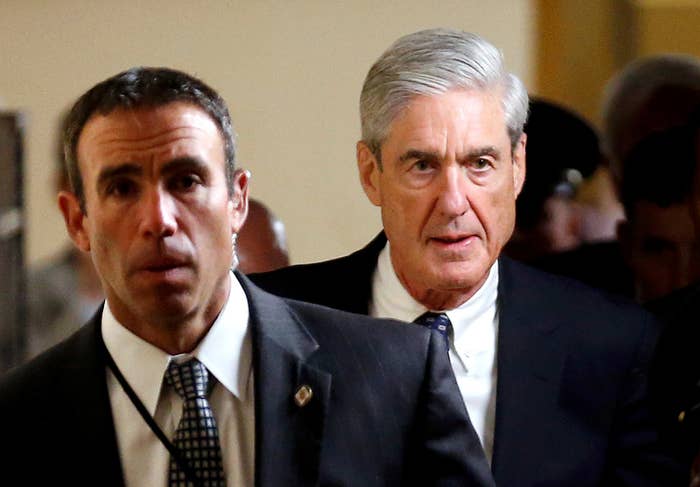 Sessions fired McCabe, a 21-year FBI veteran who became a frequent Trump target on Twitter, on Friday night after an internal report concluded McCabe made "an unauthorized disclosure to the news media and lacked candor — including under oath — on multiple occasions."

McCabe, who had been set to retire on Sunday, said he was fired in order to demean his integrity as a witness in the special counsel's probe.
McCabe kept personal memos detailing his interactions with Trump, as well as what happened during former FBI director Comey's firing, a source confirmed to BuzzFeed News, after the Associated Press first reported this.

"I am being singled out and treated this way because of the role I played, the actions I took, and the events I witnessed in the aftermath of the firing of James Comey," McCabe said in a statement. "This attack on my credibility is one part of a larger effort not just to slander me personally, but to taint the FBI, law enforcement, and intelligence professionals more generally. It is part of this Administration's ongoing war on the FBI and the efforts of the Special Counsel investigation, which continue to this day. Their persistence in this campaign only highlights the importance of the Special Counsel's work."
Earlier this week reports emerged that Mueller had subpoenaed the Trump Organization for documents, including some relating to Russia. Trump has previously said that Mueller looking into his and his family's finances unrelated to Russia would cross a red line.

Like Dowd, Trump pointed to the House investigation as evidence that his campaign did not collude with Russia.
"As many are now finding out, however, there was tremendous leaking, lying and corruption at the highest levels of the FBI, Justice & State," he tweeted Saturday. "#DrainTheSwamp"
He also continued to blast McCabe and was again critical of his wife taking money from Clinton ally Terry McAuliffe, the former Virginia governor, when she mounted an unsuccessful bid for state office as a Democrat.
"The Fake News is beside themselves that McCabe was caught, called out and fired," he tweeted. "How many hundreds of thousands of dollars was given to wife's campaign by Crooked H friend, Terry M, who was also under investigation? How many lies? How many leaks? Comey knew it all, and much more!"
Shortly after, Comey himself tweeted: "Mr. President, the American people will hear my story very soon. And they can judge for themselves who is honorable and who is not."