The Select Committee to Investigate the January 6th Attack on the US Capitol has alerted the Department of Justice to a phone call made by Donald Trump to a witness that they suspect may have been an attempt to influence testimony.

At the conclusion of Tuesday's three-hour public hearing, Rep. Liz Cheney, the committee's vice chair, shocked observers when she announced she had "one more item" to share before departing.
Cheney said Trump tried to make a telephone call to an unidentified witness following the explosive June 28 hearing in which Cassidy Hutchinson, a former top aide to Trump chief of staff Mark Meadows, testified the former president knew the Jan. 6 crowd was armed and dangerous and became enraged when his security agents would not allow him to join them at the Capitol.
Cheney did not name this witness but said they had not yet been heard from in the public hearings.
"That person declined to answer or respond to President Trump's call, and instead alerted their lawyer to the call," Cheney said. "Their lawyer alerted us, and this committee has supplied that information to the Department of Justice."
"Let me say one more time: We will take any efforts to influence witness testimony very seriously," Cheney added.
The Trump call was one of many shocking revelations from Tuesday's hearing, including previously unseen text messages from the evening of the Jan. 6 assault between Brad Parscale, who ran the 2016 Trump campaign's digital operation and served for a time as the 2020 campaign director, and Katrina Pierson, a Trump spokesperson who helped organize the initial rally at the Ellipse in Washington, DC, that day.
"This is about Trump pushing for uncertainty in our country," Parscale wrote. "A sitting president asking for civil war."
"I feel guilty for helping him win," Parscale added, before blaming Trump for the death of supporter Ashli Babbitt that day at the Capitol.
"It wasn't the rhetoric," Pierson responded.
"Katrina," Parscale wrote back. "Yes it was."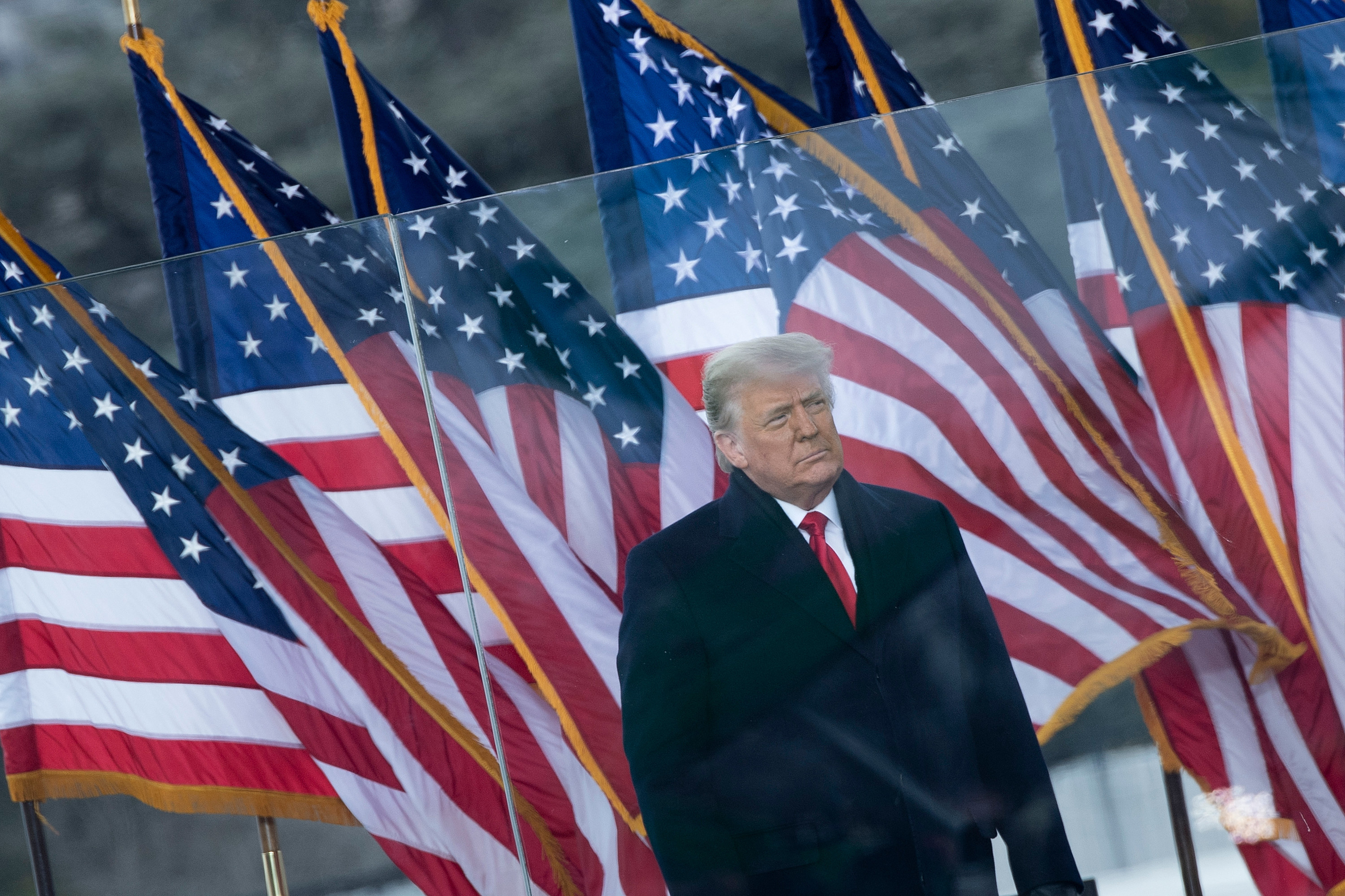 The committee also revealed that Trump's remarks made during his speech at the Ellipse about joining supporters as they marched to the Capitol were not spontaneous, but preplanned — something far-right extremists and militant allies of the president had advance notice of.
Documents obtained from the National Archives reveal Trump had personally reviewed a draft tweet, which was ultimately never sent, that read: "I will be making a Big Speech at 10AM on January 6th at the Ellipse (South of the White House). Please arrive early, massive crowds expected. March to the Capitol after. Stop the Steal!!"
The potential for violence had alarmed staff at Twitter, according to a former employee of the social media company who testified anonymously about their efforts to alert leadership to the threat.
Even Trump supporters were concerned about potential violence prior to Jan. 6.
The committee played audio from Rep. Debbie Lesko, a Republican from Arizona who voted against certifying Trump's loss to Joe Biden, recorded on Jan. 5 in which she expressed fears that disappointed supporters could turn violent when the lawmakers failed to stop Biden's victory.
"I actually am very concerned about this," Lesko said, adding: "[We have] Trump supporters, who actually believe that we are going to overturn the election. And when that doesn't happen — most likely will not happen — they are going to go nuts."
The committee also delved into a chaotic hours-long meeting at the White House in which rival factions of the president's team debated whether he should take extreme and illegal measures, such as ordering the military to seize voting machines.

"The meeting has been called unhinged, not normal, and the craziest meeting of the Trump presidency," said Rep. Jamie Raskin, a Maryland Democrat.
"At times, there were people shouting at each other, hurling insults at each other," former White House staff secretary Derek Lyons said in taped testimony. "It wasn't just sort of people sitting around on a couch, like, chitchatting."
Following that meeting, Trump tweeted that his supporters should come to DC on Jan. 6 — an invitation that immediately electrified his supporters in the far-right media.
Among those supporters was Stephen Ayres, an Ohio man who has since pleaded guilty to illegally entering the Capitol.

He testified on Tuesday that he now feels betrayed by the former president's lies and that the events of Jan. 6 had ruined his life.
"I think I had, like, horse blinders on," Ayres said of his prior willingness to believe Trump's conspiracies. "I was locked in the whole time. The biggest thing for me is to take the blinders off. Make sure you step back and see what's going on before it's too late."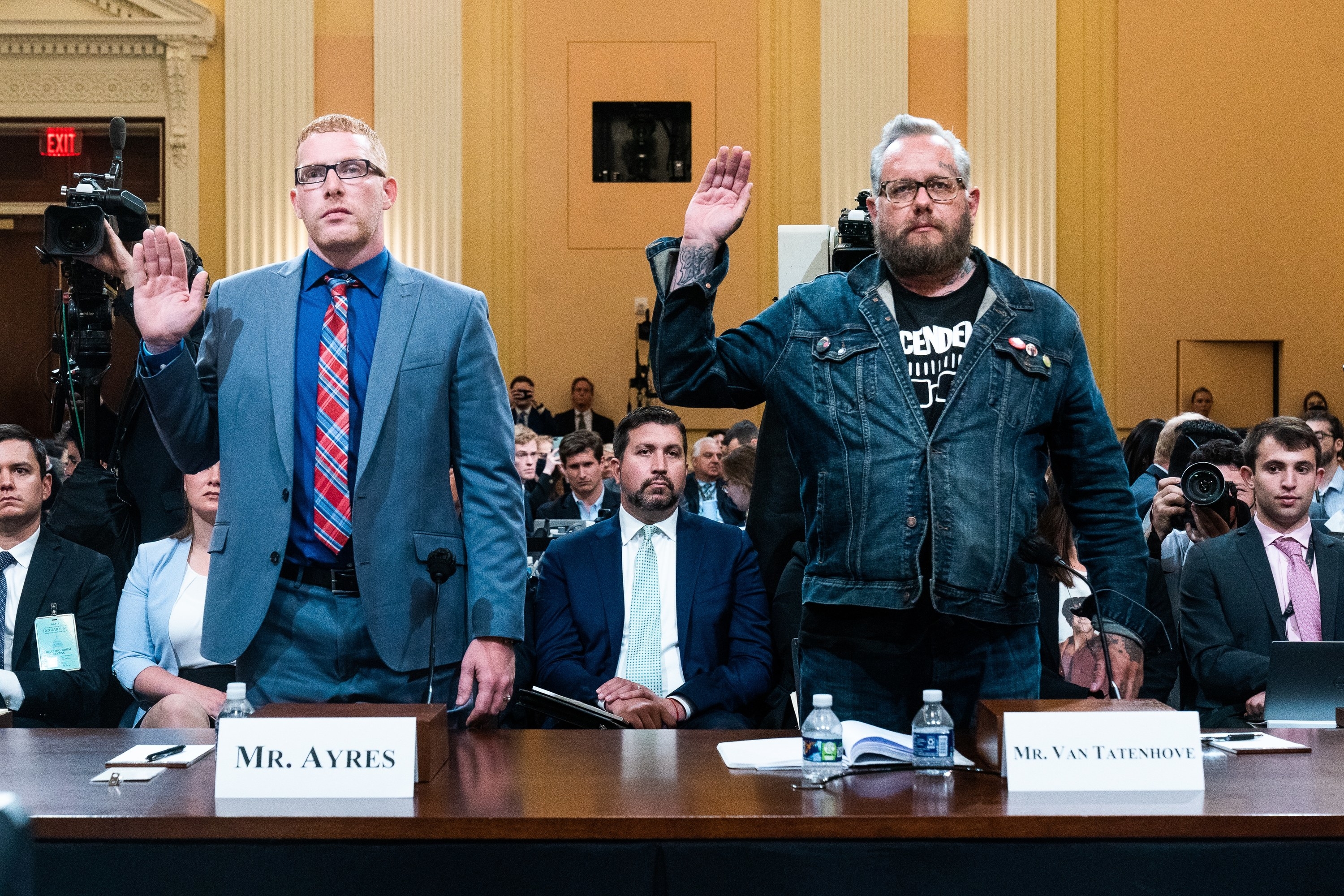 Also testifying Tuesday was Jason Van Tatenhove, a former spokesperson for the Oath Keepers who has since left and denounced the militant group.
"We need to quit mincing words and just talk about truths, and what it was going to be was an armed revolution," Van Tatenhove said. "I mean, people died that day. Law enforcement officers died that day. There was a gallows set up outside the Capitol. This could have been the spark that started a new civil war."
Cheney said that the next Jan. 6 public hearing would take Americans "minute by minute" through the fateful day.