Trump Announced He's Withdrawing The US From A Landmark Arms Treaty With Russia
"We're not going to let [the Russians] violate a nuclear agreement and go out and do weapons and we're not allowed to."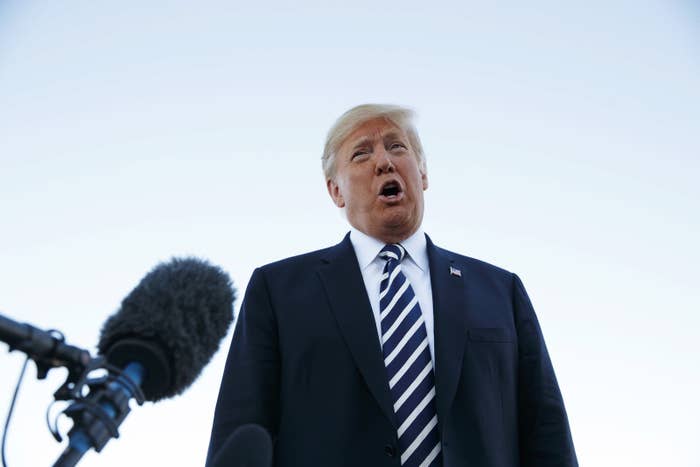 President Donald Trump said Saturday his administration would withdraw from a landmark nuclear arms treaty with Russia, accusing Moscow of having violated the agreement for years.
"I don't know why President Obama didn't negotiate or pull out," Trump told reporters in Nevada, referring to the Intermediate-Range Nuclear Forces Treaty, or INF Treaty, which was negotiated with the Soviet Union under President Ronald Reagan.
"We're not going to let [the Russians] violate a nuclear agreement and go out and do weapons and we're not allowed to," said Trump.
His comments came a day after newspaper reports that his administration was planning on telling Moscow of the withdrawal at the behest of White House national security adviser John Bolton, who plans to visit Russia next week.
Officials had said no decision had been reached, but Trump made clear Saturday that his mind was made up.
"Russia has not adhered to the agreement. So we are going to terminate the agreement, and we are going to develop the weapons," he said.
For several years, the US has accused Russia of defying the treaty by deploying ground-launched missiles that were specifically banned under the INF.
In a report this year, the State Department concluded, "The United States has determined that in 2017, the Russian Federation (Russia) continued to be in violation of its obligations under the INF Treaty not to possess, produce, or flight-test a ground-launched cruise missile (GLCM) with a range capability of 500 kilometers to 5,500 kilometers, or to possess or produce launchers of such missiles."
But critics fear that pulling out of the agreement will lead to an accelerated arms race as it will also enable the US to do more to counter China, who was not a signatory.
Trump specifically mentioned China in his remarks on Saturday.

"If Russia's doing it and China's doing it and we're adhering to the agreement, that's unacceptable," he said.
Democrats said the move would be a win for Russia, who could complain that the US were the ones to formally abandon the treaty.
Alexandra Bell, senior policy director for the Center for Arms Control & Nonproliferation, encouraged the White House to fix the treaty rather than walk away from it.
"The Russian violation of INF is serious, but US withdrawal from the treaty would be a terrible mistake & yet another indication to our allies that we don't care about their security," she tweeted Friday. "Trumps [sic] says he's a master negotiator. He can prove it by fixing INF."
Following Trump's announcement on Saturday, Bell tweeted simply an emoji of someone's head exploding.
The president conceded the nuclear weapons were "horrible," but declined to have the US be the only country playing by the rules.
"If they get smart, and if others get smart and they say 'Let's not develop these horrible nuclear weapons,' I would be extremely happy with that," Trump said. "But as long as somebody's violating that agreement, then we're not going to be the only one to adhere to it."