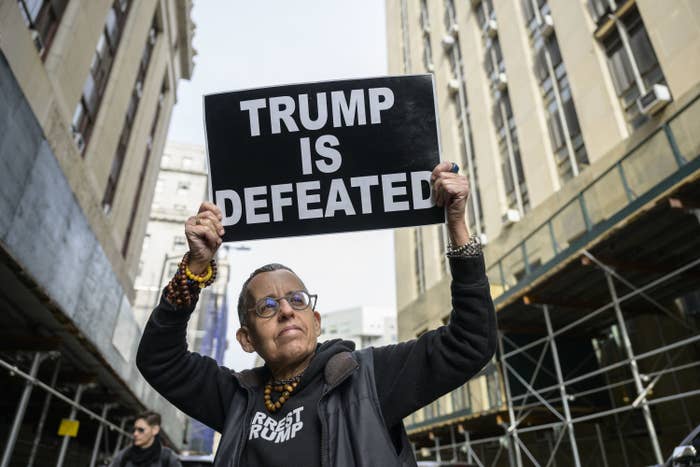 MANHATTAN — Tuesday was supposed to be the day that Donald Trump had predicted he'd make history, or perhaps infamy, by becoming the first former or current US president to be arrested and charged with a crime.
But when Tuesday came and went without any bombshells (albeit much bizarre spectacle), dozens of reporters, as well as a scattering of MAGA supporters and opponents, were forced to return once more on Wednesday to the courthouse offices of Manhattan's district attorney to await any new developments.
By lunchtime, though, it was clear, thanks to news first reported by Insider, that the grand jury set to decide any charges had been excused from coming in. This meant any announcement would be at least another day away.
"Ah! Well," as the Trump-era meme goes. "Nevertheless…"
Still, as Trump waits to learn his fate at his Florida estate Mar-a-Lago, the former president has been busy projecting an image of measured calm by remaining largely quiet on social media.
Wait, no. He is posting through it.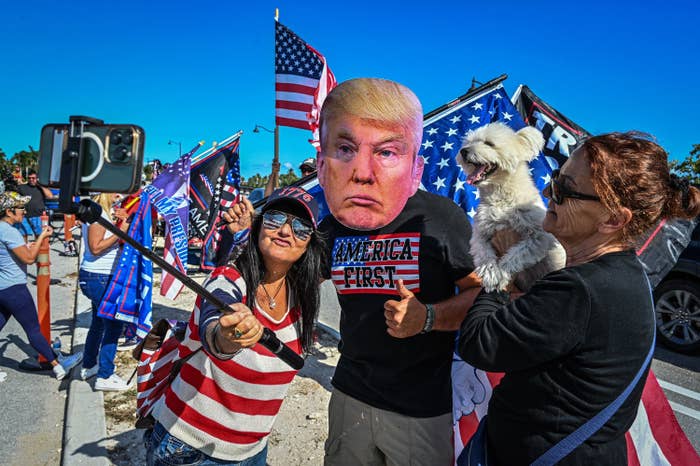 Since his message on Saturday in which he predicted the Tuesday arrest that never happened, the former president has posted or reposted more than 80 times on Truth Social, the Twitter clone he built after he was booted from that platform following the Jan. 6 Capitol insurrection.
Most of Trump's posts have involved him raging against Manhattan District Attorney Alvin Bragg, who is overseeing the case against Trump, which is thought to be centered around his involvement in a hush money payment made to adult performer Stormy Daniels, real name Stephanie Clifford, who claimed she had an affair with Trump prior to the 2016 election. Trump has admitted to reimbursing his lawyer, Michael Cohen, for the payment, but has denied having sex with Daniels.
In a series of rambling, evidence-free posts that alternated between messages in lower case or capital letters, Trump attacked Bragg as a Democrat prosecutor who has pursued a political vendetta against him at the behest of more powerful liberals.
"I FIND IT VERY HARD TO BELIEVE," Trump wrote in one such post that is emblematic of how well he is taking all this, "THAT A RACIST, SOROS BACKED D.A., WHO LETS MURDERERS, RAPISTS, AND DRUG DEALERS WALK FREE, AND WHO HAS PRESIDED OVER THE BIGGEST VIOLENT CRIME WAVE IN THE HISTORY OF NYC, IS USING THE POWER OF HIS OFFICE TO PERSECUTE, INDICT, AND PROSECUTE A FORMER PRESIDENT OF THE UNITED STATES OF AMERICA — FOR NO CRIME! THE WITCH HUNT NEVER ENDS, BUT WE WILL MAKE AMERICA GREAT AGAIN!!!"
Trump has also repeatedly sought to link Bragg to billionaire George Soros, whose political donations are frequently the target of antisemitic attacks on the right, but whose ties to the DA appear to be weak.
Additionally, Trump has previewed an argument his lawyers are expected to make should he be charged: that any indictment would fall outside the statute of limitations on such a crime. "They are MANY years beyond the Statute of Limitations which, in this instance, is TWO YEARS," he wrote Monday. "More importantly, THERE WAS NO CRIME!!!"
The expected charge against Trump — that he allegedly falsified business records to conceal another crime (in this case, a likely violation of federal election law) — would typically have a legal deadline of five years from the date of the alleged conduct (i.e., 2016).
But prosecutors also have more time under the law to bring charges where a defendant "was continuously outside this state" like Trump, who spent years living at the White House and in Florida.
Trump has also repeatedly attacked the nature of the case expected to be brought against him, highlighting on Wednesday an excerpt from a New York Times story that analyzed the untested legal strategy of mixing state and federal charges.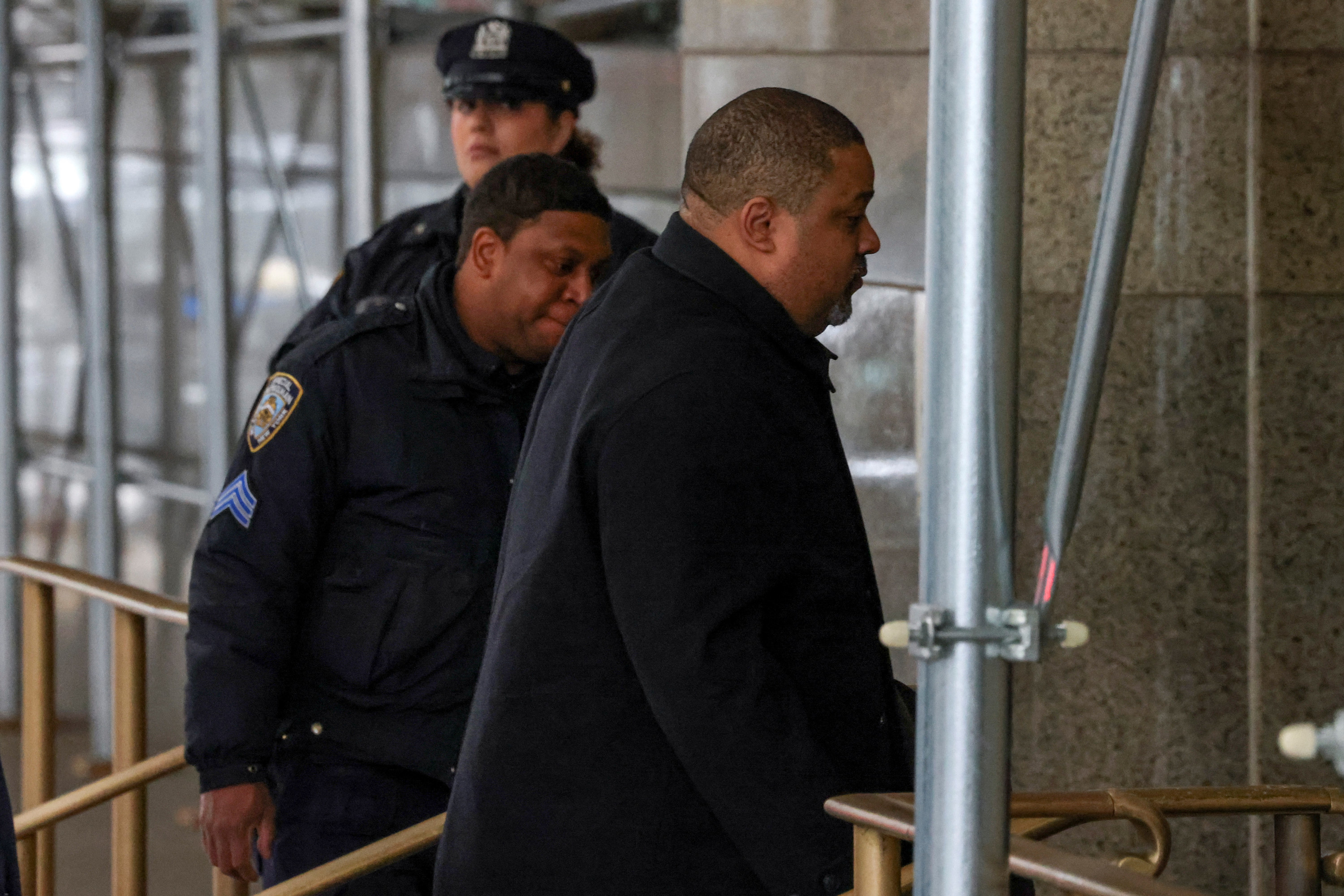 Aside from Bragg and former Trump lawyer turned grand jury witness Michael Cohen, the only person Trump has attacked more in recent days online is Florida Gov. Ron DeSantis, a potential opponent in the 2024 Republican presidential primary. DeSantis, however, is yet to announce his 2024 candidacy — much to Trump's apparent annoyance.
"Ron DeSanctimonious is running—without running! He's doing this to subvert Election Law," Trump wrote on Wednesday, using a nickname for the governor. "Run Ron, Run! Others have done it before, though, so I can't really blame him—But he should take a look at his Polls, which are crashing like few people have seen before."
"That's because he's merely an average REPUBLICAN Governor who has great Public Relations, far better than deserved," Trump wrote.
Trump began attacking DeSantis in the wake of the 2022 midterms, when conservative media and other right-wing figures began urging him to run for president.
As speculation about the possible indictment intensified this week, Trump has enjoyed shows of support from a number of high-profile Republicans, but DeSantis has been a touch more circumspect.
"I don't know what goes into paying hush money to a porn star to secure silence over some type of alleged affair," DeSantis said on Monday at a news conference. "I can't speak to that."
In an apparent show of just how ugly the Republican primary could get, those comments from the governor prompted Trump to question, without evidence, whether DeSantis might be accused of impropriety from underage or male individuals.
On Wednesday, dozens of uniformed NYPD officers remained on the streets around the Manhattan courthouse, where steel barriers have been set up to control any protests that might occur.
Bragg was photographed arriving for work earlier in the morning, but made no comment to the gathered press as he hurried inside.
In a surreal scene that transpired barely a block away later in the morning, cast and crew for the show Law & Order: Special Victims Unit gathered opposite another courthouse to film a scene for an upcoming episode.
A pro-Trump protester carrying a sign against Soros and Bragg managed to briefly slip among the background actors and cause a disruption before filming for the scene ended.
The popular crime drama routinely lifts storylines from actual news headlines, including a controversial 2016 episode (which was pulled from the schedule following Trump's victory) about a business mogul running for president whose campaign is shaken when he faces accusations of sexual assault.