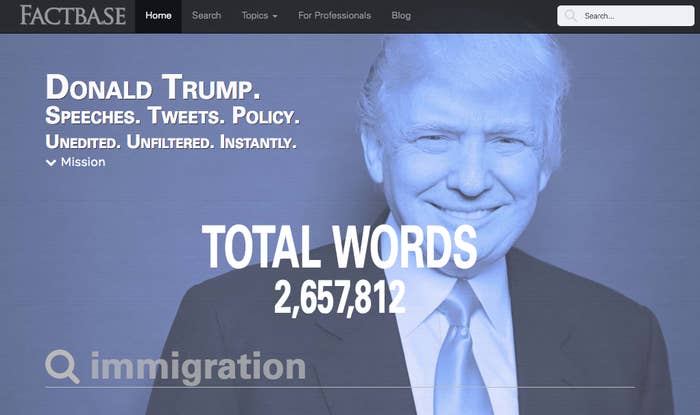 A new website is aiming to help reporters and members of the public keep track of Donald Trump's positions on issues by searching through everything the president-elect has ever publicly said or tweeted.
Factba.se was launched by Virginia husband and wife team Bill Frischling and Jennifer Canty earlier this month as part of an effort to empower people who may be skeptical of the media to be able to search for themselves through Trump's remarks.
"How could you argue something is not true if you could see not only what this person said but the entire context around it?" Frischling told BuzzFeed News.
With the help of specially formulated software, the website has currently uploaded more than 2.6 million words Trump has said in interviews and speeches, as well as more than 30,000 of his tweets.
A search of the word "Russia," for example, yields more than 400 references across interviews, speeches, and online posts, which can then be read or viewed in their primary form.
The earliest interviews date back to 1987, Frischling said, adding there was still more remarks to find and upload.
"[Trump's] been a public figure nearly his entire life without ever having been in public office," he said..
Frischling, who works at the media company US News & World Report but plans to soon work on Factba.se full-time, said he hopes to eventually be able to upload everything Trump has ever said for users to search through.
"It's an aspirational goal," he said. "Is it possible to do that? Not sure, but we're going to try."
Frischling said he was motivated to build the site by his frustration with people using the term "fake news" to denigrate all media reporting.
"At least look at what he actually said if you don't 'trust the media,'" Frischling said. "If you don't trust what he said, then I can't help you."