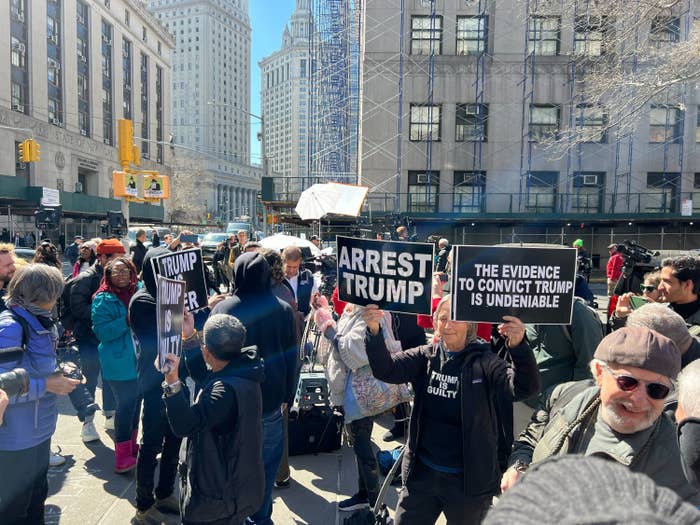 MANHATTAN — There's singing, as a smattering of anti-Trump demonstrators chant for the former president to be charged with a suite of crimes.
There's music, courtesy of a Trump supporter strumming on an acoustic guitar affixed with stickers labeling COVID-19 a "plandemic" and calling for Anthony Fauci and Bill Gates to be executed.
There's fashion, including a guy wearing a leather jacket resembling the Stars and Stripes and another sporting a furry vest, a hat with antlers, and a face decorated in red, white, and blue paint.
And there's press — tons and tons of press — swarming anyone willing to be featured in news broadcasts set to air around the world.
New York City's hottest club this week is the small public park opposite the criminal court where Donald Trump had indicated that he expected to be arrested and arraigned on Tuesday. While any indictment against the former president has still not been formally announced by Manhattan District Attorney Alvin Bragg, anticipation remains high that Trump may, at some point this week or next, become the first US president — current or former — to be charged with a crime.
"No one is above the law. Trump is like anyone else and needs to be held accountable," Julie DeLaurier, a Brooklyn resident who was carrying a homemade sign depicting Trump in a prison uniform behind bars, told BuzzFeed News. "If he's made accountable in any way, for anything, it's a victory."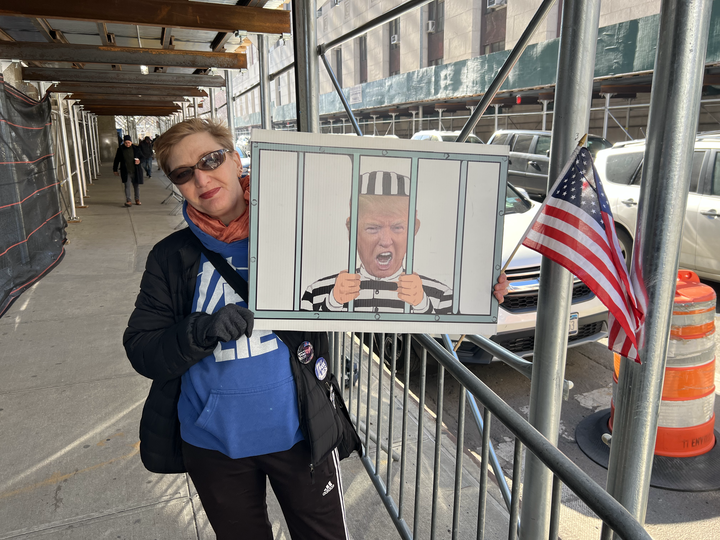 That possibility of a Trump indictment has brought scores of people — admittedly, most of them reporters — to effectively camp outside the court on Tuesday, creating a circuslike atmosphere at times. The Daily Show comedian Jordan Klepper drew a crowd as he interviewed Trump supporters, while reporters speaking Spanish, German, or Portuguese filmed dispatches for their own networks. Tourists passing by took selfies in front of banners that read "ARREST TRUMP" or "ULTRA MAGA" and were themselves photographed by news cameras as they did. At one point, the man wearing the antlers rode past on a bicycle lined with fake fur calling Trump "the Chosen One."
"Yeah, film the crazy guy! Get your content right here!" the man yelled at reporters, who dutifully filmed him shouting at them.
For weeks, it had seemed as if prosecutors in Georgia might be the first to charge Trump over alleged interference in the 2020 election following evidence that was presented to a grand jury in that state. But the quickening pace of the separate New York investigation has turned the world's eyes to this section of lower Manhattan, where the district attorney's office sits amid a sea of imposing government buildings and a courthouse with a large inscription that reads, "Equal and exact justice to all men of whatever state or persuasion."
The exact charge or charges that Bragg might bring have not yet been announced, but they are expected to focus on Trump's role in the payment of $130,000 in hush money to adult film star Stormy Daniels in the final weeks of the 2016 election. Daniels, whose real name is Stephanie Clifford, has said she had sex with Trump in 2006 while he was married — a claim he has denied.
Falsifying business records can be a felony in New York if it is done to conceal evidence of another crime — in this instance, a violation of election campaign finance laws. Trump's former lawyer Michael Cohen was sentenced to prison in 2018 for his role in facilitating the payment in order to suppress the story. Cohen has said he's since appeared as a witness before the Manhattan grand jury to give evidence against his former boss.
Bragg is still said to be presenting his case to a grand jury of New Yorkers, who reportedly weren't even meeting on Tuesday — something that barely seemed to matter to the crowds outside.
"I'm here because I feel like what's going on is political persecution," said New Jersey resident and Trump supporter Philippe Lejeune, who was silently strolling before the cameras with a sign that accused Bragg, a Democrat, of focusing on prosecuting political enemies at the expense of violent criminals. "It's more than that. It's more of a political hit job that's kind of going on.
"This is such an overreach for the department for us to do this to the president," Lejeune said. "This hasn't been done in the history of the country — putting a president in jail — and if you're going to do it, do it for a good reason."
In a post on his website Truth Social on Saturday, Trump railed against any impending charges and called on supporters like Lejeune to protest. "THE FAR & AWAY LEADING REPUBLICAN CANDIDATE AND FORMER PRESIDENT OF THE UNITED STATES OF AMERICA, WILL BE ARRESTED ON TUESDAY OF NEXT WEEK," Trump wrote. "PROTEST, TAKE OUR NATION BACK!"
Trump's words, reminiscent of his remarks prior to the attack on the Capitol by his supporters, have prompted authorities in New York to prepare for the possibility of violent protests. Dozens of uniformed police officers were scattered in the neighborhood around the courthouse, which was mostly encircled by metal barricades.
On Tuesday morning, it appeared to be business as usual inside the courthouse, where defendants appeared for scheduled arraignments. Outside, though, the presence of demonstrators, media, and onlookers caused at least one guard to remark, "This is crazy!"
Around 9 a.m., DeLaurier and roughly 10 other anti-Trump demonstrators gathered in front of cameras across the court's entrance, holding signs reading, "TICK TOCK TIME'S UP!" and "JUSTICE MATTERS!"
A counterprotester soon arrived holding a sign that tied Bragg to Jewish philanthropist and donor George Soros, whom the man's sign had misspelled as "Geogre" — something soon mocked by the anti-Trump demonstrators. "Antisemites aren't the best spellers," DeLaurier said.
It often appeared difficult for some media to discern who was a legitimate pro-Trump demonstrator and who was someone parodying them. Walter Masterson, a comedian who dresses in MAGA gear in order to interview Trump fans, was filmed by scores of news cameras as he held a megaphone and called on police to "arrest Hunter Biden's laptop!"
"Nancy Pelosi and George Soros designed the banking system and Animal Crossing," Masterson joked.
Nearby, a man who was drinking a large can of Coors Banquet beer shouted about Biden stealing the last election by orchestrating fraudulent votes from dead people.
"Prove it! Have another beer!" a counterprotester shouted at the man, who was later seen drinking a large can of Foster's.
Joanne, a 19-year-old New York City resident who declined to give her last name, said she came down to the courthouse area with two friends to witness the spectacle for themselves. "It's a historic sign!" Joanne excitedly remarked after being given a sign that read, "Trump is defeated."
"If-slash-when he gets arrested today, that will be proof that he and other people like him are not above the law, that they are people just like us who deserve to be treated just like us, and have the laws applied to them just like us," she told BuzzFeed News.
But with no concrete sign of an imminent indictment, the mood among both media and protesters eventually felt restless — bored, even — by lunchtime. The man wearing antlers eventually began meditating in the sunshine as a woman sat nearby on a park bench holding a sign that read, "Trump digs his own grave."
"This is ridiculous!" one photographer said to another.
"Hey, at least we're being paid," the man responded.