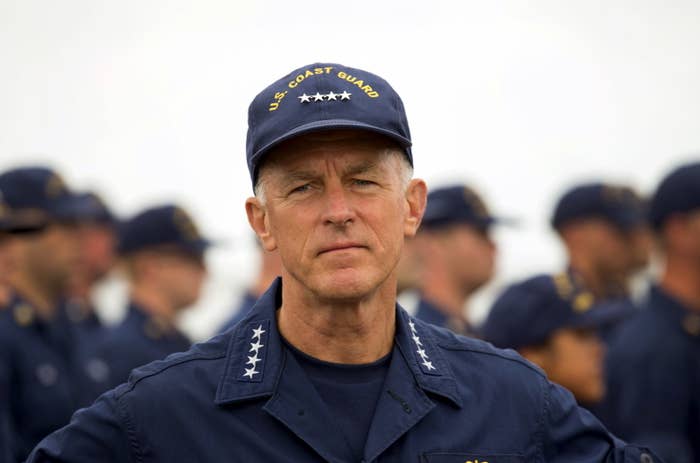 The head of the US Coast Guard said on Tuesday that he will not "break faith" with transgender service members under his command, despite President Trump's call for banning their involvement in the military.
The president last week announced via Twitter, without warning, that he would no longer "accept or allow Transgender individuals to serve in any capacity in the U.S. Military," citing health care costs and "disruption."
The White House said the administration was still working to determine the specific details of the policy change, with press secretary Sarah Huckabee Sanders unable to say, for example, what would happen to transgender service members currently on active duty.
But speaking at the Center for Strategic and International Studies headquarters in Washington, DC, on Tuesday, Coast Guard Commandant Adm. Paul Zukunft said he would not turn his back on them.
"The first thing we did [after Trump's announcement] is we reached out to all 13 members of the Coast Guard who have come out under a policy who declared themselves transgender," Zukunft said. "I reached out personally to Lt. Taylor Miller, who was featured on the cover of the Washington Post last week. If you read that story, Taylor's family has disowned her. Her family is the United States Coast Guard."
"And I told Taylor, 'I will not turn my back. We have made an investment in you, and you have made an investment in the Coast Guard, and I will not break faith,'" he said.
In an interview with the Washington Post last week, Miller had spoken of her shock and despair at Trump's announcement.
"You can't just post it on Twitter and call it a day. It just really upset me that I didn't get an official military guideline. Nobody really knows the next step. It's scary," she told the newspaper. "You have all these people who were comfortable with coming out. They told their leadership, and they trusted everyone. Now their lives and their families are in jeopardy."
Adm. Zukunft said that after Trump's announcement he also reached out to the former secretary of homeland security, John Kelly, who was formally installed as the president's new chief of staff on Monday. According to Zukunft, Kelly then contacted Secretary of Defense James Mattis.
The Coast Guard has also assembled a team of military Judge Advocate General's Corps lawyers on the issue, Zukunft said.
Asked about Zukunft's comments at Tuesday's White House press briefing, Sanders said she was not aware of his remarks.
"I haven't heard those comments or had a chance to speak with any[one] about it, but I know that the goal is to work with all of the relevant departments, primarily the Department of Defense, to lawfully implement that new policy," she said.
Chairman of the Joint Chiefs of Staff Joseph Dunford said in a letter last week that there will be no changes for transgender personnel until the president sends further guidance.
"We will continue to treat all of our personnel with respect," Dunford said.
Army and Navy leaders echoed that message, saying all service members should "be treated with dignity and respect."
The Williams Institute at the UCLA School of Law estimates that there are more than 15,000 transgender members of the various branches of the US military. The RAND Corporation estimates that there are between 1,320 and 6,630 transgender personnel in the active service, and between 830 and 4,160 in the selected reserve.