Female actors are publicly debating whether the Time's Up movement, the campaign launched by women in Hollywood to combat sexual harassment and fight gender inequality, is too elitist and hasn't done enough to include their less famous colleagues.
After the #MeToo movement, the Time's Up initiative was formed by more than 300 women in Hollywood, including big names such as Reese Witherspoon, Shonda Rhimes, Natalie Portman, Emma Stone, and Kerry Washington. The group was able to convince most women attending January's Golden Globe awards to wear black in solidarity.
But Westworld star Thandie Newton has told News Corp she believes she wasn't invited to be part of the movement because she wasn't famous enough.
"Even now, the Hollywood community I felt was my community, and even though I understood and had compassion for those that didn't want to talk, at the point when Time's Up was put together, to not be invited to be a part of it, was very, very painful," she said.
Newton added she thinks she "wasn't hot enough" to be a public face for the campaign.
"I wasn't mainstream enough and I wasn't going to be at the Oscars this year, even though I am having a kind of renaissance in my career, which is kind of cool," she said.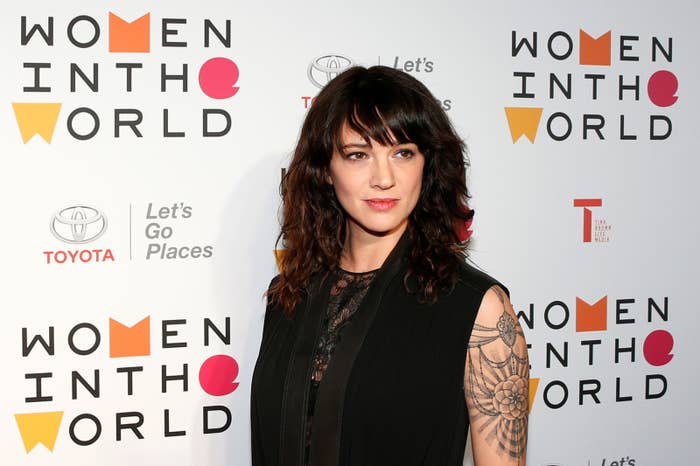 Amber Tamblyn, the star of Joan of Arcadia and Sisterhood of the Traveling Pants who says she's been part of Time's Up since its inception, then pushed back on the criticism.
"Maybe ask Saru Jayaraman from the National Restaurant Association or Ai-Jen Poo, director of the Domestic Farm Worker's Allience [sic] if they feel like they're Hollywood elitists," she tweeted. "They're both a part of #TimesUp. As are many women from across industries." (Jayaraman is actually the cofounder of Restaurant Opportunities Centers United, and is not affiliated with the National Restaurant Association trade group.)
Oscar nominee Jessica Chastain then responded to Argento, saying she tried to invite the Italian star to the group's first meeting, but she was unable to — a claim Argento pushed back on slightly.
Chastain then said "anyone" can be part of the Time's Up movement and praised Argento for coming forward with her Weinstein allegations.
"We didn't start a movement. You did," she tweeted at Argento. "At the first meeting in NY I thought 15 women would show up and was surprised when there were 50 in my house! The power behind all of this was women wanting to make a change. Anyone can be a part of it if they want."
She also urged Newton to attend a meeting, saying she'd be happy to include her.
But then Tamblyn appeared to further criticize Newton for feeling as if she needed an invitation to be part of Time's Up.
She also appeared to lament the "disheartening dialogue" taking place publicly.
Representatives for Argento, Chastain, and Tamblyn did not respond to requests for comment.
This isn't the first time female actors have publicly clashed over the Time's Up movement.
Tessa Thompson, who also stars in Westworld, criticized Lena Dunham in January after the Girls creator appeared in a photo with Time's Up activists, drawing angry comments from people who objected to Dunham's past defense of a writer accused of sexual harassment.
"Lena was not anywhere present in our group during the countless hours of work for the last two months. We hosted an open house for the actresses for red carpet messaging and Lena presence was a surprise to us all," Thompson wrote in a comment that was subsequently deleted.
She later tweeted a clarification, that has also since been deleted, in which she said she "in no way, [wants] to diminish Lena Dunham and her work, her voice, and her importance."