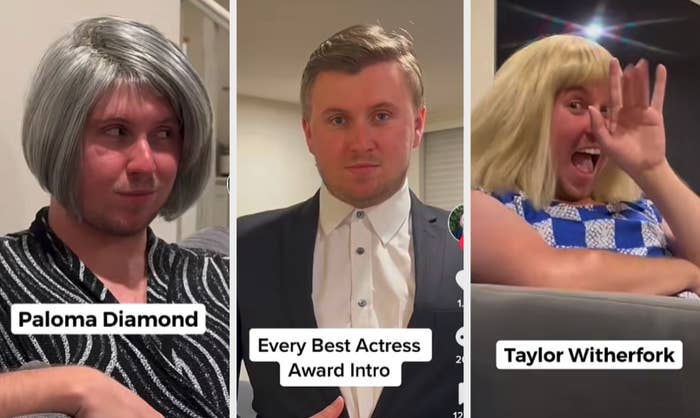 With the Oscars having aired Sunday night, another awards season for Hollywood has finally come to a close.
Yes, exhausted gay men around the world can finally put down their weapons after months of feuding between Team Michelle Yeoh versus Team Cate Blanchett and Team Angela Bassett versus Team Jamie Lee Curtis. Peace at last.
But alas, there's one final mystery from this awards season that is yet to be answered: Will Paloma Diamond finally take home a prize? Or is this Taylor Witherfork's year?
The two "actresses" are creations of Julian Sewell, a 27-year-old high school English teacher in Auckland, New Zealand, whose recent TikTok parodying awards show introductions has exploded in virality, drawing more than 10 million views on that platform alone.
"A lot of people find that part of the Oscars really awkward, where they go, 'This actress for this movie,' and then they just zoom in on the actress and everybody around them claps," Sewell told BuzzFeed News in a phone interview. "It's just really weird. It's an awkward part of the Oscars, in my opinion. And so I just decided to kind of make that the focal point of the video."
Like many people in the early days of COVID lockdowns, Sewell got really into TikTok in March 2020 while stuck inside with his sister. Since then, he's built a following of more than 370,000 users for his sketches and impersonations.
In 2021, Sewell got his hands on his first wig and began doing impressions of then–Kiwi prime minister Jacinda Ardern — and his wig collection appears to have grown as much as his follower count.
In his video posted over the weekend, Sewell dons no fewer than five different wigs to impersonate five actors and their Oscar-bait movies.
Crucially, each film clip is immediately contrasted in classic Oscars telecast style with a reaction shot of the nominated actor — looking smug, grateful, nervous, or overwhelmed — as audience applause builds.
"If I didn't have the claps or the applause sound effects added to the video, I don't think it would have done as well," Sewell said. "I think that's what makes the video, in my opinion."
The end result is a pitch-perfect parody of the types of films Hollywood honors each year and the seriousness with which it goes about honoring them. Both the actors and their movies feel familiar — and funny — because we've seen them being feted year in and year out.
The idea for the skit came to him and his sister on Friday evening as they were talking about the upcoming Academy Awards. She grabbed a phone as they improvised both actor names and film genres, filming each scene in no more than two takes. Sewell denied he had any specific actors in mind when he envisaged each performer, but rather different "actress archetypes."
First up, there's Paloma Diamond, a veteran actor who Sewell imagined is most likely nominated every year and is feeling cocky. The fake movie, The Remedy, was so named, Sewell said, because it just sounded to him like it would be nominated for a ton of Oscars.
"Obviously, she's got a bit of an ego," Sewell said of Diamond, who appeared to be something of a fan favorite among viewers online thanks to her self-assured confidence. "People can root for whoever they want to root for, but that's my interpretation about it. She's quite smug about it, but maybe it's just because she hasn't won and she knows that this year she's going to win."
Second, there's Lorelai Lynch, who is up for, Sewell imagined, a Holocaust film that required an Eastern European accent. "Maybe that's half the reason why Lorelei was nominated: because she does the accent so well," Sewell joked.
Next up, there's Jane Farroway, who appears to be starring in some sort of sultry revenge thriller.
"I think everyone kind of understands that Jane Farroway hasn't been nominated before," Sewell imagined of the character and her overwhelmed reaction shot — the kind seasoned Oscars watchers have seen a million times. "She's just excited to be nominated and she knows she won't win, but it's such a privilege to her to have this whole experience that has probably just kickstarted her whole career."
The fourth actor is Justina Sorgen, star of Awake, Alone, and Aware on the Streets of Topeka, Kansas — a film that is so ingeniously named by Sewell that many Oscar viewers joked that they were surprised it didn't walk away with a win or two on Sunday night.
Sewell said he feels that each awards season brings a movie with a mouthful of a name that features a place (think Three Billboards Outside Ebbing, Missouri, or The Banshees of Inisherin). "I knew that it was just going to be a film that was probably up for heaps of Oscars. 'Awake, Alone, and Aware,'" he said. "And that's what they would call it! They wouldn't call it by the full name. They'd be like, 'Ah, seven Oscars for 'Awake, Alone.'"
Finally, there's Taylor Witherfork, a young ingénue who I imagined was nominated for a role in a disaster movie named Hail, but which Sewell said he felt was probably more of a Pablo Larraín–esque arthouse film that explored big existential questions as its protagonist slides into madness. "You know those very long, very slow, very indulgent movies," Sewell said.
Infuriatingly, Sewell's TikTok ends without a winner being announced, but he teased that he's got another video coming soon in which one of the five actors will be crowned as the victor. Yet he gave no indications as to whether it'll be Paloma Diamond. "You'll just have to wait and see," he said.
As for the real Academy Awards on Sunday, Sewell confessed he didn't watch the live telecast (which was shown on Monday lunchtime in New Zealand) because he finds the ceremony too long.
But he said he was glad that Michelle Yeoh took home the actual Oscar for Best Actress. "I was rooting for her from the very beginning," Sewell said.
Paloma Diamond loses again.
https://www.tiktok.com/@juliansewell/vide
UPDATE
Scandal at the fake Oscars!