She's a self-proclaimed "animal communicator" and "psychic medium" who lives in Washington.
According to her website, Anderson discovered she could talk to animals at an early age and has since "learned how to understand their thoughts and feelings" -- just like Eliza Thornberry!
On Wednesday, Anderson posted to her Facebook page, claiming she had spoken with Cecil the lion, who was infamously hunted to death by an American dentist last month in Zimbabwe.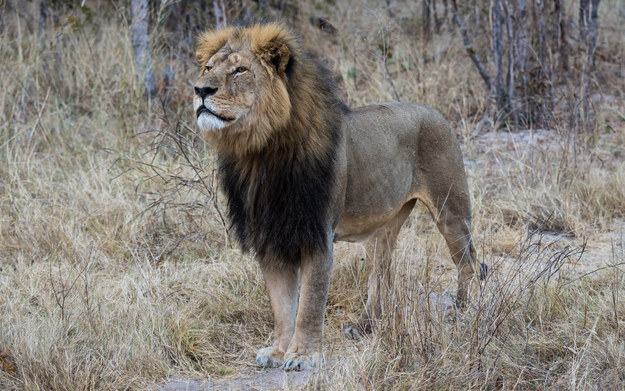 "I just connected with Cecil the lion who was recently killed," she wrote. "I wanted to let him know how loved and honored he is. I was moved to tears to hear his words. His message is profound."
According to Anderson, Cecil had the following message:
Let not the actions of these few men defeat us or allow darkness to enter our hearts. If we do then we become one of them. Raise your vibration and allow this energy to move us forward.

What happened does not need to be discussed as it is what it is.

Take heart, my child, I am finer than ever, grander than before, as no one can take our purity, our truth, or our soul. Ever.

I am here. Be strong and speak for all the others who suffer needlessly to satisfy human greed. Bring Light and Love and we will rise above this.
BuzzFeed News made contact with a representative for Anderson on Sunday morning, but a request for an interview was not immediately granted.
The post, which has been shared more than 3,000 times, attracted a ton of comments.

"As I would expect this noble creature to speak," this woman wrote.

"It's not surprising that such a regal and magnificent soul would have such a heartfelt message to share," wrote another.

But others were more skeptical.

This guy was having some fun talking about Cecil's cubs' "mane concerns."

This guy said he spoke to his friend "Brad the omniscient unicorn."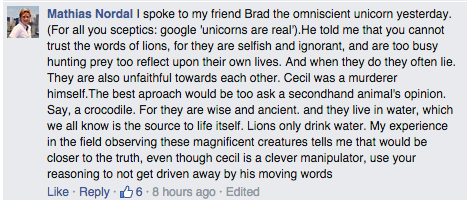 But Anderson wasn't having anything to do with her haters.