This Restaurant Apologized For Hosting Tila Tequila And A Bunch Of White Nationalists
The eatery is donating $10,000 in profits to a group that fights anti-Semitism.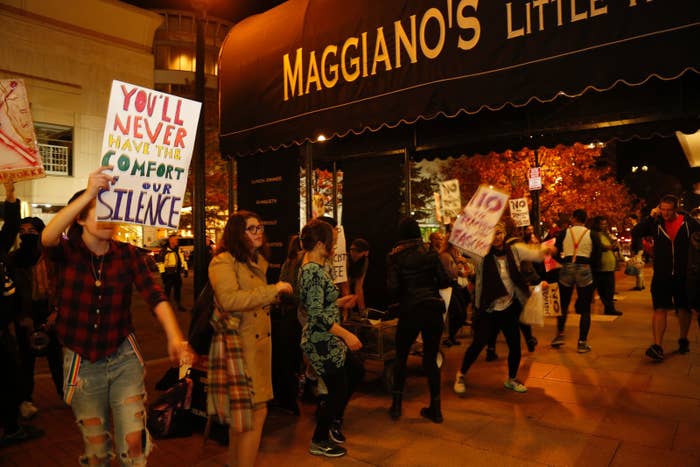 A Washington, DC, restaurant apologized on Monday for hosting a gathering of white nationalists in which internet celebrity Tila Tequila and other guests made a Nazi salute.
Maggiano's Little Italy restaurant on Friday night hosted a banquet for guests of a conference organized by alt-right think tank the National Policy Institute (NPI).

The gathering drew a demonstration of anti-fascist protesters, which prompted the closure of the restaurant.
"This was a last minute booking made Friday afternoon, and the reservation was made under a different name, therefore we were not aware that NPI was dining with us or what the group represents," restaurant management said in a statement posted on Facebook.
During the NPI event, Tequila was photographed alongside two men making a Nazi salute, then uploaded the picture to Twitter with the caption "Seig heil!"
"Well, obviously, we were doing the Roman salute," Tequila told the website The Tab on Monday. "We were just trolling around."
Managers at Maggiano's apologized for hosting the event and condemned Tequila's tweet.
"This expression of support of Hitler is extremely offensive to us, as our restaurant is home to Teammates and Guests of every race, religion, and cultural background," the restaurant staff said.

Maggiano's owners pledged to donate $10,000 in profits made on Friday to the Anti-Defamation League, a prominent Jewish NGO that combats anti-Semitism.

The NPI conference was on Monday also condemned by the US Holocaust Memorial Museum, which urged Americans to "confront racist thinking and divisive hateful speech."