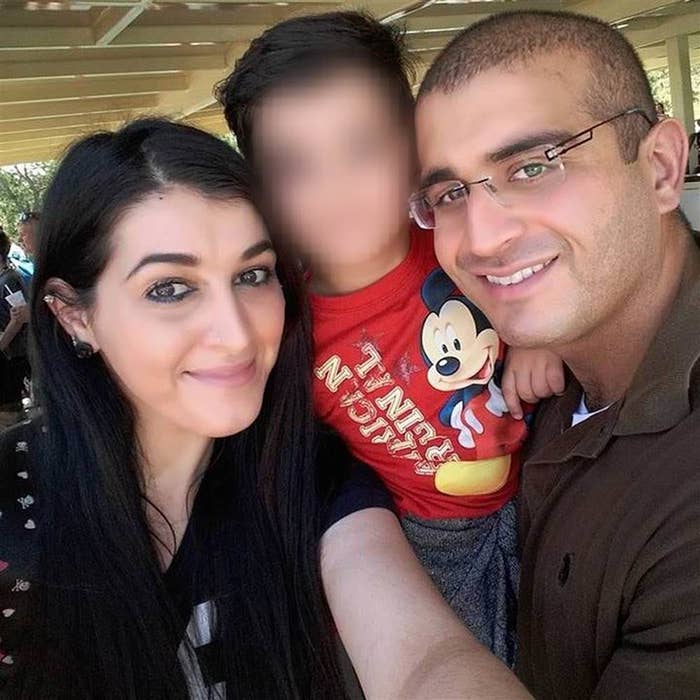 The wife of the man who killed 49 people in an Orlando gay bar last year in the deadliest mass shooting in US history was arrested Monday and charged with obstructing the investigation into the incident, officials said.
Noor Salman was arrested by FBI agents in San Francisco and charged with aiding and abetting by providing material support, federal officials told the New York Times, which first reported the arrest.
The charges were filed in Florida, but Salman will make her first appearance in Oakland on Tuesday.
In an emailed statement to BuzzFeed News, Salman's lawyer, Linda Moreno, denied Salman had any knowledge of the impending slaughter and maintained she was a victim of domestic abuse by her husband, Omar Mateen.
"Noor Salman had no foreknowledge nor could she predict what Omar Mateen intended to do that tragic night," Moreno said. "Noor has told her story of abuse at his hands. We believe it is misguided and wrong to prosecute her and that it dishonors the memories of the victims to punish an innocent person."
According to the indictment, which was unsealed Tuesday, Salman is charged with one count of aiding and abetting Mateen during a period that lasted from at least April 2016 through June 12, 2016, the day of the attack.
Salman is also charged with one count of obstruction of justice. She is accused of lying to law enforcement from the Fort Pierce, Florida police department and F.B.I. with the intent of hindering the investigation into the shooting.
In addition to these charges, federal authorities are also seeking $30,500 worth of assets to be forfeited if Salman is convicted.

The indictment was originally filed on Jan. 12, 2017 and was originally sealed. In a motion filed the same day, federal prosecutors wrote that sealing the indictment was necessary so that "disclosure of the existence" of the document did not "hinder of impede arrest efforts." Salman was arrested on Jan. 16.
Salman told the New York Times in November that she was "unaware" her husband was planning to launch his attack.
"I was unaware of everything," she said. "I don't condone what he has done. I am very sorry for what has happened. He has hurt a lot of people."
But Orlando Police Chief John Mina said Monday that he knew "within days" of the June 12 attack that Salman "had some part and aided Omar Mateen in this horrific tragedy."
"No doubt in my mind based on the information I knew and I received over the past seven months that she knew, that she aided, and that she could have prevented this tragedy," Mina told CNN.
Attorney General Loretta Lynch said the decision to prosecute Salman was part of officials' promises to fully investigate the case.
"We said from the beginning we were going to look at every aspect of this case, every aspect of this shooter's life — to determine not just why did he take these actions, but who else knew about them, was anyone else involved, is there any other accountability that needs to be had here in this case," Lynch told MSNBC.
Mateen called 911 while he was inside the Pulse nightclub and pledged allegiance to ISIS, but officials said there was no evidence he was directly trained by the militant group.