This Is The World's Most Expensive Photograph
And it's not even in color. What a ripoff.
It may look simple enough, but this work, titled "Phantom" and taken by Australian/U.S. photographer Peter Lik, has made art history, selling for an astonishing $6.5 million and setting a record for the most expensive photograph of all time.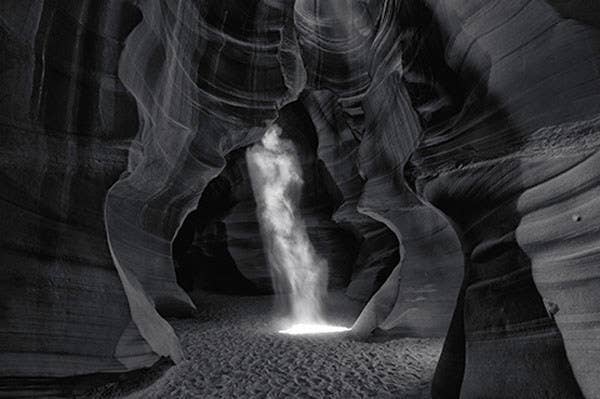 The work sold to a private collector, who also bought two other Lik works, "Illusion" and "Eternal Moods," for $2.4 million and $1.1 million, respectively.
"The purpose of all my photos is to capture the power of nature and convey it in a way that inspires someone to feel passionate and connected to the image," Lik said in a press release.
"Certain textures and contours found in nature lend themselves beautifully to black and white photography," said Lik. "The intensity of contrasting light and dark spaces was surprising, but made for some of the most powerful images I've ever created."
"Phantom" was taken in Arizona's Antelope Canyon, an area routinely catalogued by photographers, both budding and professional, because of its curved rocks and beams of light.
If you're wondering whether it's just you who thinks the buyer may have overpaid, fear not.
The Guardian has described "Phantom" as "a posh poster you might find framed in a pretentious hotel room."
"This record-setting picture typifies everything that goes wrong when photographers think they are artists," art critic Jonathan Jones wrote for the paper. "It is derivative, sentimental in its studied romanticism, and consequently in very poor taste."
"Someone has been very foolish with their money, mistaking the picturesque for high art," Jones wrote.
But it's not like the previous record holder was a stunningly complex photo, masterfully captured amid a frenetic scene.
German artist Andreas Gursky's "Rhein II," which sold in 2011 for more than $4.3 million, depicted the River Rhine with buildings and people digitally removed.