Donald Trump said Wednesday that Hillary Clinton "should get an award" from jihadist militants because she is "the founder of ISIS."
Speaking in Daytona Beach, Florida, the Republican presidential nominee told a crowd of supporters that Clinton's policies as secretary of state helped birth the terror group.
"Take a look at Orlando. Take a look at San Bernardino. Take a look at the World Trade Center. Take a look at what's going on, and then worldwide, and we let ISIS take this position," he said.
"It was Hillary Clinton that — she should get an award from them as the founder of ISIS. That's what it was. That's what it was. Her weakness. Her weak policies."
The crowd then chanted "Lock her up! Lock her up!"
Founded by Sunni cleric Abu Bakr al-Baghdadi, ISIS emerged as a militant group in the chaos of the Syrian civil war, which began in 2011.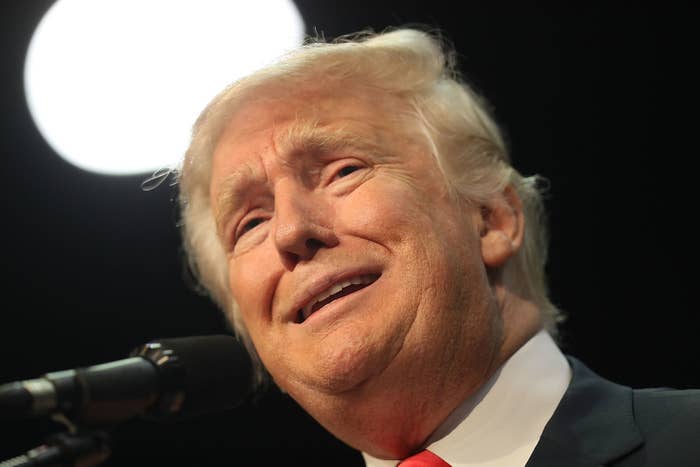 Trump also accused the Clinton campaign of running dishonest advertisements against him, claiming his comments about Fox News anchor Megyn Kelly and a reporter with a disability were taken out of context.
He also repeatedly brought up a Wall Street Journal report published Wednesday that revealed a large cash payment was made to Iran at the same time four US hostages were freed in January. The Obama administration said the $400 million payment reported by the Journal was part of a $1.7 billion settlement reached with Iran over a decades-old failed arms deal dispute.
However, Trump repeatedly claimed Wednesday the money was a ransom paid to secure the hostages' release, which he said would set a bad precedent for future hostage or prisoner negotiations.
A day after President Obama called on Republicans to withdraw their endorsements of Trump, the Republican nominee mocked him for playing "more golf than people on the PGA tour."
"I should play Obama for the presidency," he said. "I'll do it. Then I'd be assured of winning, OK?"