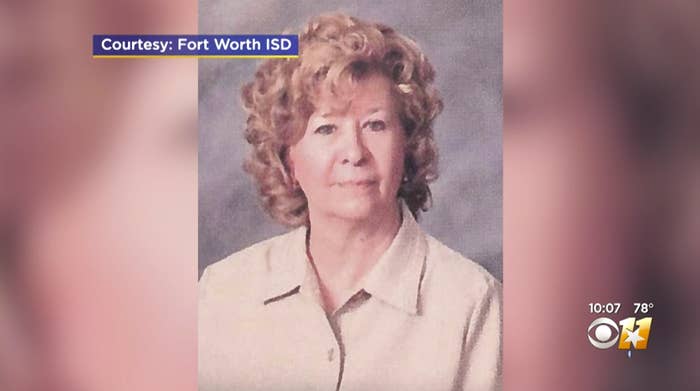 A teacher in Fort Worth, Texas, has been fired after she wrote a series of tweets addressed to President Trump asking for his help in "investigating and removing the illegals" in her school.
Georgia Clark, an English teacher since 1998, had thought her tweets last month to the president were private communications, but didn't realize she'd been posting her comments for all to see.
"Mr. President, Fort Worth Independent School District is loaded with illegal students from Mexico," Clark tweeted on May 17 from an account that was subsequently deleted.
Clark said "the Mexicans refuse to honor our flag" and asked for assistance in tracking down a local immigration official who could investigate and remove the students.
"Anything you can do to remove the illegals from Fort Worth would be greatly appreciated," she added.
Clark identified herself by name in at least one of the tweets and included two direct phone numbers for the president to reach her at.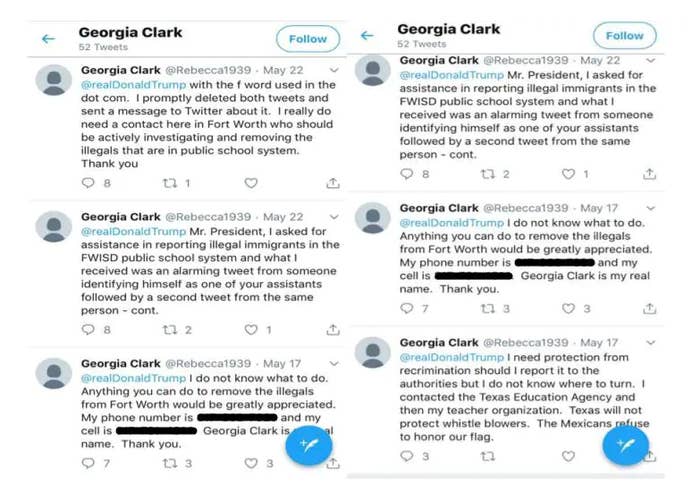 According to a school district investigation report provided to BuzzFeed News, Clark admitted that she wrote the tweets but said she "did not realize the tweets were public."
When asked about the tweet with her phone number, "Ms. Clark stated that she has been getting several messages on her home and cellphone calling her a 'racist bitch,'" the report states. "Ms. Clark stated that she generated a police report."
She was subsequently placed on administrative leave with pay.
At a special meeting of the Fort Worth Independent School District on Tuesday evening, more than a dozen members of the public urged officials to fire Clark. No one spoke in her defense.

"Her comments were hurtful, irresponsible, misleading, and disrespectful to the students she is supposed to protect and educate," said parent Penny Clanton.
"Let's get one thing straight, ma'am," added Ernie Moran, another teacher in the district, "no human is illegal."

The Supreme Court ruled in 1982 that undocumented children are entitled to attend public schools under the Equal Protection Clause of the Constitution.
Clark's remarks "created a threat that will directly result in children missing the education to which they are legally entitled because their parents will keep them home out of fear," said Mindia Whittier, a parent of a ninth-grader and a lecturer at the University of Texas at Arlington.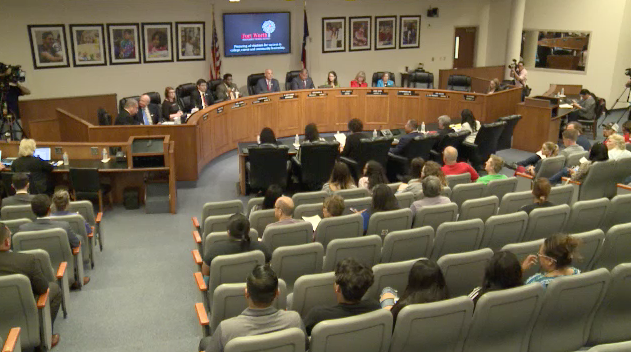 All eight members of the board subsequently voted for Clark to be fired for "good cause."
"We wish to ensure these students that all children and their parents and/or guardians, that all children are welcome in Fort Worth ISD," school board President Jacinto Ramos Jr. said.
This was not Clark's first brush with disciplinary proceedings.
In 2013, she was found to have referred to a group of Latino students as "little Mexico" and a Caucasian student as "white bread."
Her attorney did not immediately respond to a request for comment. And both numbers she had listed in her tweets have been disconnected.