Target Registers Crashed At Stores Across The Country, Leading To Huge Lines
"Everyone just kind of dropped their stuff where they were and walked out," said one Florida shopper. "The go-backs for those employees are going to be something else."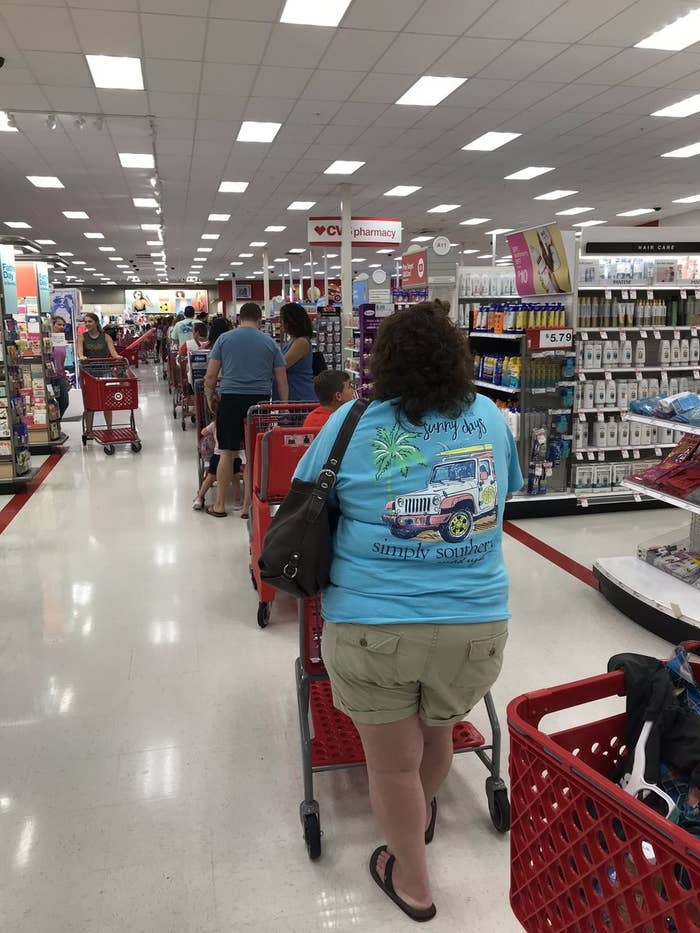 Software at registers in Target stores across the US suddenly crashed Saturday, leading to huge lines of customers and people abandoning piles of goods in the aisles.
Shoppers complained of extensive waits at checkout lines in stores across the country as clerks were forced to use cellphones to process people's purchases.
"The line was so long," Mississippi resident Jeff Clark, 48, told BuzzFeed News of his experience at a Target in D'Iberville on the Gulf Coast. "We stood in line for about an hour."

On Twitter, the apologetic Target customer service account told shoppers from Minnesota to Texas that the company was experiencing a "systems issue."
"We are aware of a systems issue in store and are working as quickly as possible to get this fixed," read messages from the @AskTarget account. "Thank you for your patience!"
Target spokesperson Danielle Schumann told BuzzFeed News staff that the outage lasted about two hours and affected all of the company's stores. She said "an internal technology issue" was to blame for the crash.
"Our technology team worked quickly to identify and fix the issue, and we apologize for the inconvenience and frustration this caused for our guests," Schumann said. "After an initial but thorough review, we can confirm that this was not a data breach or security-related issue, and no guest information was compromised at any time."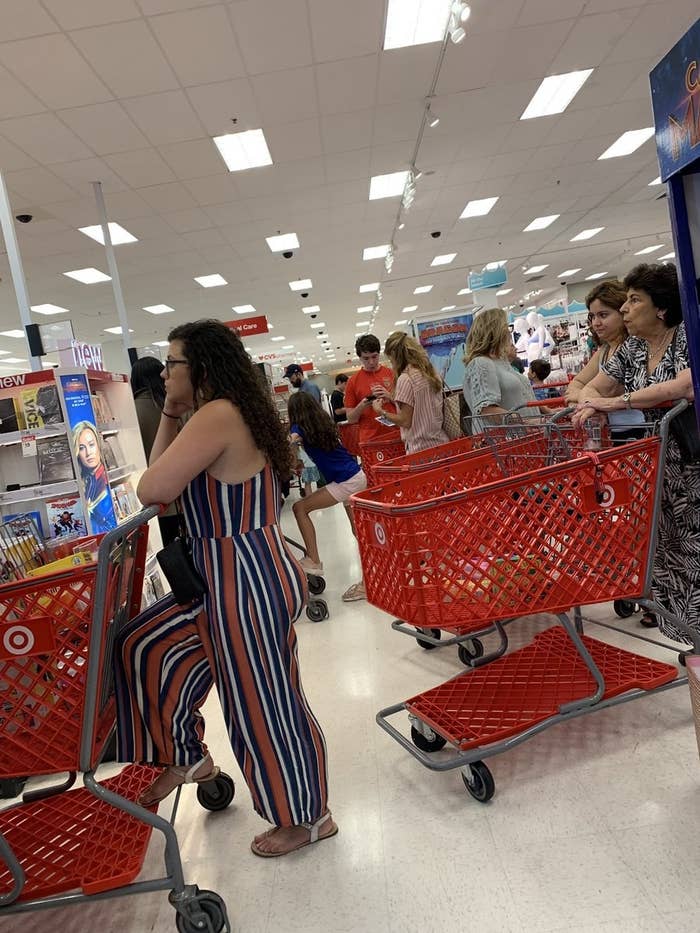 Blair Driscoll, a 35-year-old living in Tampa, Florida, told BuzzFeed News she and her husband were running errands at their local store when they heard a message on the loud speaker advising customers that the registers weren't working.
"We thought it was just our store," Driscoll told BuzzFeed News, "but when we got near the front, someone said, 'No, it's all of them.'
"Fifteen minutes later, we were still in line," she said, "and we became friends with the people in line."
Driscoll estimated she waited up to 55 minutes to check out.
"The people that stuck it out were really great," she said.
Both Driscoll and Clark, as well as others on social media, said store employees handed out free drinks and snacks in a bid to mollify angry customers.
"They handled the situation like pros," Clark said. "They kept bringing out Starbucks shooters for everyone because what better way to calm an intense crowd than by giving them caffeine shots!
"The crowd didn't get unruly," he added. "Just a little whinging here and there."
Driscoll said she witnessed shoppers give up and abandon their intended purchases and carts in the middle of aisles.
"Everyone just kind of dropped their stuff where they were and walked out," she said. "The go-backs for those employees are going to be something else."
CORRECTION
Jeff Clark's first name was incorrect in an earlier version of this story.