These Syrians Were Finally Fleeing Their Besieged Towns But Then They Were Attacked
"There are dead people everywhere. You can see tens of burnt out cars, bodies everywhere."
A convoy of buses evacuating thousands of Syrians from besieged cities was targeted by an explosion on Saturday, leaving dozens of people dead.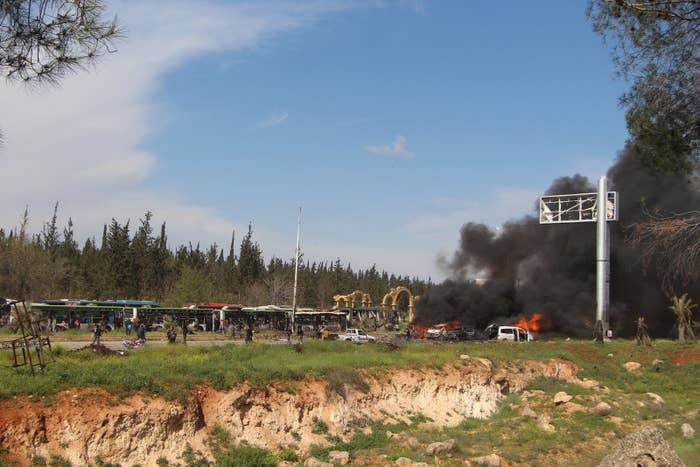 As part of a deal, negotiated with the help of Iran and Qatar, the buses began evacuating people from four towns — Madaya and Zabadani in rural Damascus, which are under rebel control, and the government-held Fuaa and Kefraya in Idlib province — on Friday after enduring more than two years of horrific conditions.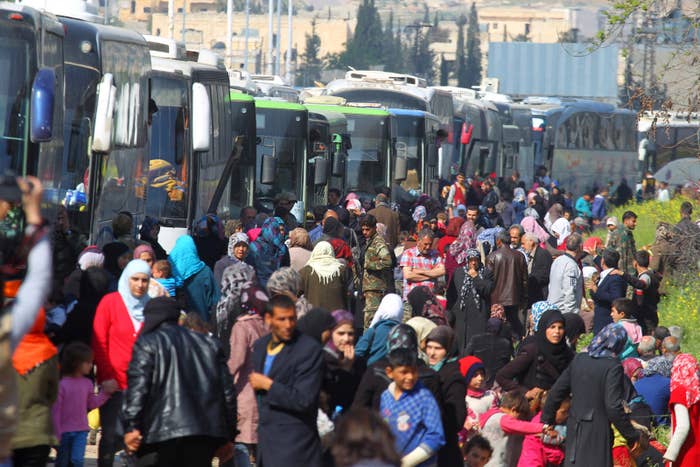 The monitoring group said at least 112 people had been killed in the blast near Aleppo, but state television put the figure at 39. And the Syrian Civil Defense in Aleppo, a group of rescue workers also known as the White Hats, said its volunteers removed at least 100 bodies from the scene.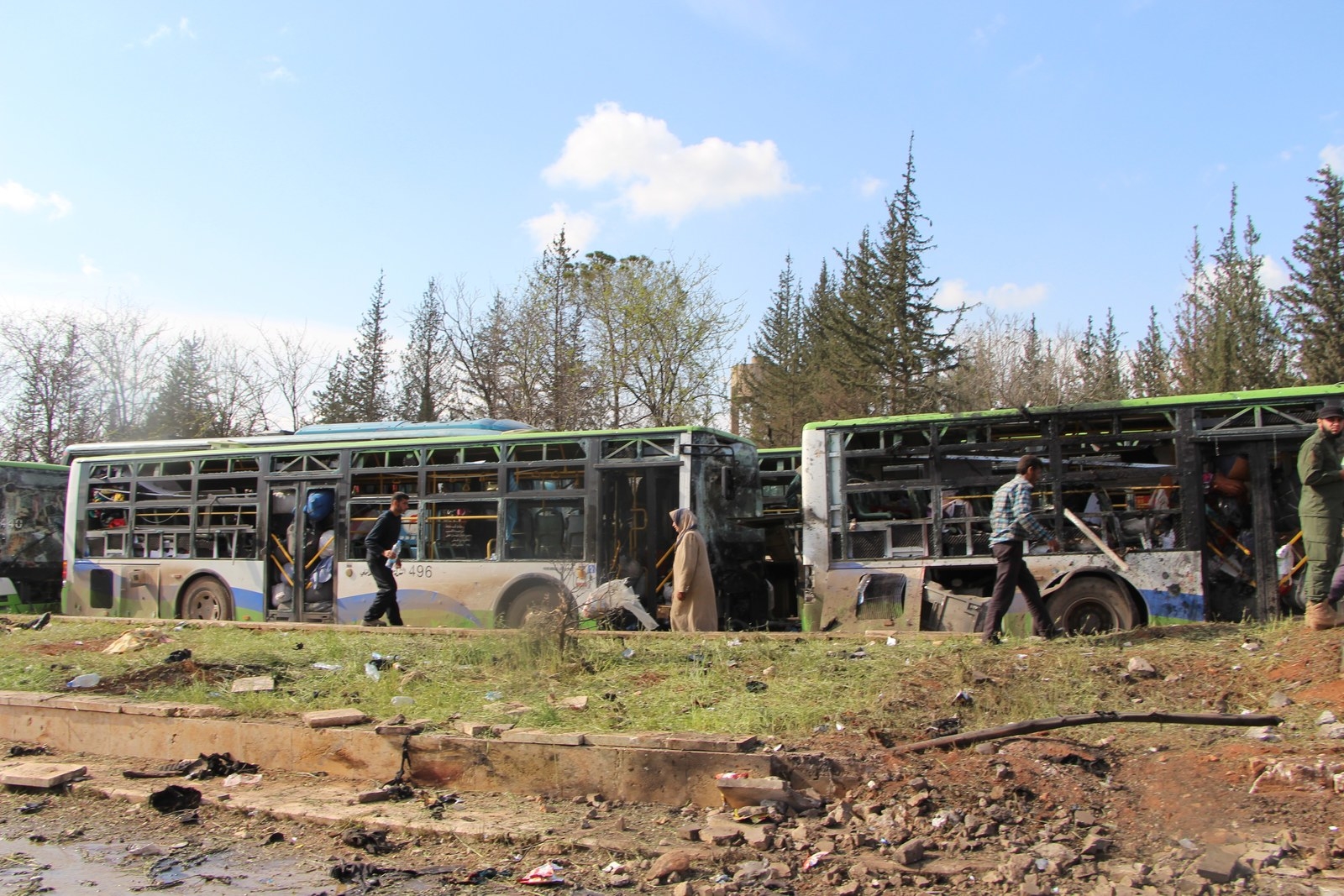 "There are dead people everywhere. You can see tens of burnt out cars, bodies everywhere," a witness told a Syrian news agency in comments translated by the BBC.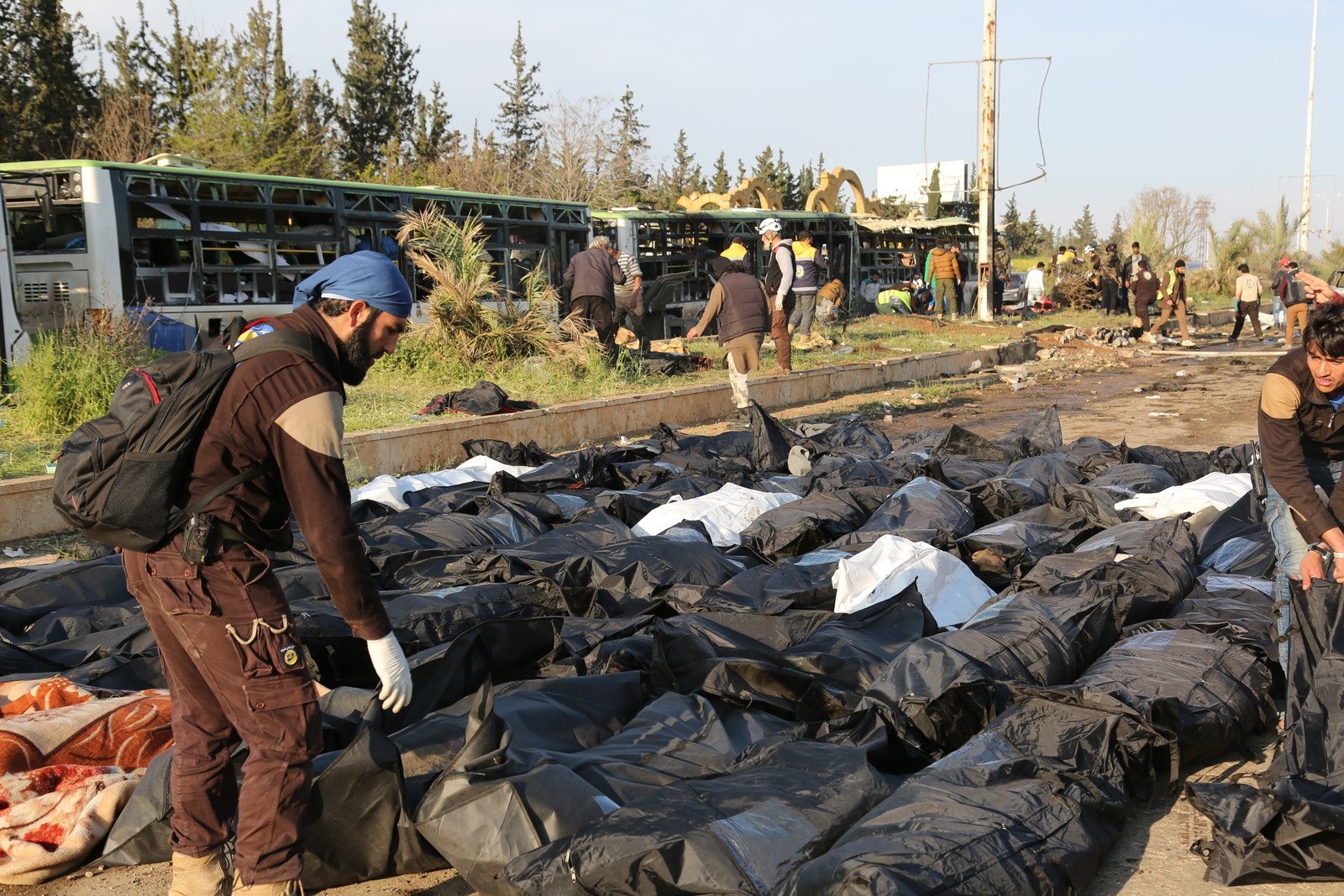 A previous attempt to evacuate Syrians from Fuaa and Kefraya failed in December when rebels attacked and burned buses en route to the towns.
In a statement Saturday evening, the US denounced the attack, and also condemned the forced migration of Syrian civilians.
"The United States strongly condemns today's barbaric attacks against innocent civilians, including women and children, in northern Syria," Mark Toner, acting spokesperson for the US State Department said in a statement obtained by The Hill.
"We deplore any act that sustains and empowers extremists on all sides including today's attacks, as well as forced migration, increased displacement, and all forms of violence directed against civilians in Syria," he said.
The United Nations similarly expressed outrage, and called on the parties involved "to ensure the safety and security of those waiting to be evacuated."
"We express our condolences to the families of the victims of the incident and wish those injured a speedy recovery," Stephane Dujarric, a spokesperson for the UN Secretary General said in a statement. "Those responsible for today's attack must be brought to justice."
Further evacuations are expected to go ahead Sunday, with more than 3,000 Syrians still waiting to be removed.
Rami Abdurrahman, who heads the Britain-based Syrian Observatory for Human Rights, and Hezbollah's Al-Manar TV said the evacuations would go ahead, the Associated Press reported.
After Saturday's blast, some 60 buses carrying 2,200 people, including 400 opposition fighters, entered areas held by rebels in the northern province of Aleppo, Abdurrahman said. More than 50 buses and 20 ambulances carrying some 5,000 Foua and Kfarya residents entered the government-held city of Aleppo, Syrian state TV said.