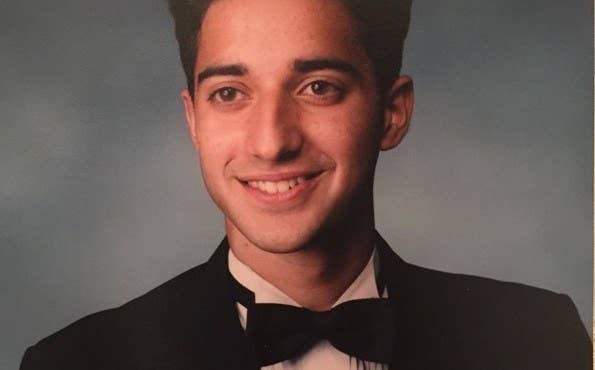 Adnan Syed, whose murder conviction in 2000 was explored in the wildly popular Serial podcast, returned to court on Wednesday in Maryland to argue that he deserves a new trial.
The appearance at the Baltimore City Circuit Court is the culmination of years of legal petitions by Syed's lawyers and supporters for what is known as "post-conviction relief."
The three-day hearing is expected to center around claims from the defense team that Syed's original trial attorney, Cristina Gutierrez, provided "ineffective assistance of counsel" by not contacting Asia McClain, a potential alibi witness who claimed to have seen Syed in a local library at the time prosecutors said he killed his ex-girlfriend, Hae Min Lee, in 1999.
The defense team also wants to introduce new evidence to challenge the incoming phone call records that were used in the original trial to place Syed at the scene of the crime. A fax cover sheet from AT&T that was not included as evidence at the trial contained the disclaimer that "outgoing calls only are reliable for location status. Any incoming calls will NOT be considered reliable information." Syed has argued this non-inclusion amounts to either prosecutorial misconduct (if it was not provided to his defense team) or ineffective counsel by Gutierrez .
Making his first public appearance since he became internationally famous in the This American Life spin-off podcast, Syed arrived in court in shackles and a prison uniform, looking very different from the smiling high school senior he was in photos circulated by the podcast. He sported a kuffi, which is a cap worn by some Muslim men, and has also grown a long beard during his time in prison.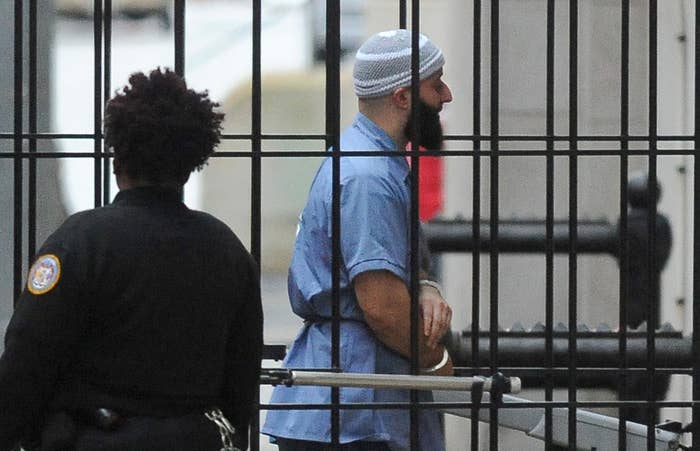 Also in court was Sarah Koenig, who spent months digging into the case for Serial, which became the most downloaded podcast in history, generating legions of obsessive fans around the world.
Syed's attorney, C. Justin Brown, told the court his client deserved a new hearing because McClain was a "big piece of the puzzle" whose evidence jurors never heard, according to reporters in court. He argued Gutierrez never called McClain because of health issues that affected the attorney's professional judgment.
Appearing for the state, Maryland Deputy Attorney General Thiru Vignarajah told the court Syed "was convicted because he did it — and the state proved it" using evidence that was "simply overwhelming."
According to those in court, Vignarajah dismissed the defense's arguments about Gutierrez being ineffective because she failed to contact McClain. He instead argued she had made a tactical decision in choosing not to contact the potential witness.
For their first witnesses, Syed's attorneys called lawyers Phil Dantes and Bill Kanwisher, who previously worked with Gutierrez and testified that they saw a decline in her standard of work due to her failing health. Guitierrez died in 2004.
State attorneys objected successfully to much of the testimony, claiming the issue of Guitierrez's capacity had already been covered during a previous 2012 post-conviction relief hearing.
After a lunch break, Asia McClain took to the stand, represented by her own attorney.
Asked directly by Syed's lawyer if she was with him on Jan. 13, 1999, at the Woodlawn Public Library, McClain responded, "Yes, I was." She told the court she struck up a conversation with Syed while waiting for her boyfriend, adding that he seemed "completely normal."
"It was kinda weird if he was normal and calm, and now he's in jail for murder," she said.
McClain added that she wrote to Syed the day of his arrest, and again the following day, stating she remembered being with him in the library that afternoon, but was ultimately never contacted by Gutierrez.
After Syed first applied for post-conviction relief in 2010, McClain said she was approached by trial prosecutor Kevin Ulrick, who convinced her that her evidence was not relevant. It wasn't until she was interviewed by Sarah Koenig for Serial that she realized the potential importance of her evidence.
"I came to find out, as Sarah said, maybe it is important," McClain said. "It definitely placed a greater weight on my heart."
"I felt it was the right thing to do," she said of her decision to testify Wednesday. "In order for justice to be served, all the information has to be on the table"
McClain is due to be cross-examined on Wednesday.
After the hearing, state officials distributed to the press a statement from Hae Min Lee's family who said they had chosen not to attend.
"Although this has made us relive a nightmare we thought was behind us, we thank the State for standing up for us and continuing to seek justice," the statement read. "We believe justice was done when Adnan was convicted in 2000, and we look forward to bringing this chapter to an end so we can celebrate the memory of Hae instead of celebrating the man who killed her."