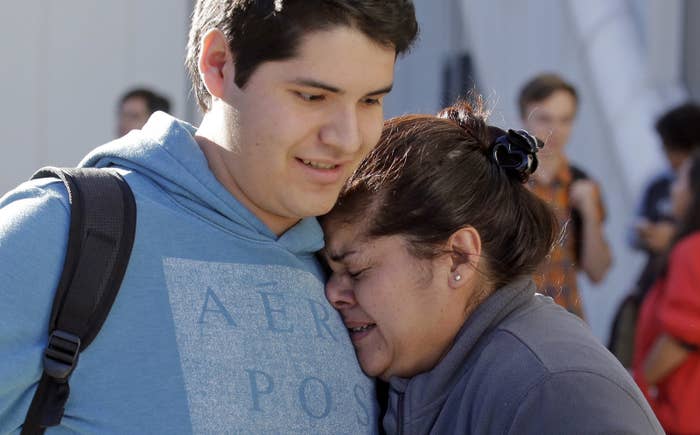 A straight-A student at a Utah high school on Tuesday stabbed five classmates in a locker room as they were getting ready for PE class, authorities said.
Police were called to the Mountain View High School in Orem, south of Salt Lake City, at 7:47 a.m. local time to respond to reports of students with multiple stab wounds, Chief Gary Giles told reporters.
An officer stationed at the school also rushed to the scene, where staff members had managed to corral the 16-year-old boy into a bathroom area, Giles said.
"He still had a knife at the time and so those staff members did place themselves in harm's way," the police chief said.
After being hit with a Taser by the school's police officer, the sophomore student was taken into custody at 7:53 a.m. with self-inflicted stab wounds to his neck, Giles said.
The five other male students sustained wounds to their necks and upper torsos and were rushed to local hospitals.
Giles said their conditions ranged from fair to critical, but the local Alpine School District said they were expected to survive.
Neither the alleged attacker nor the injured students were immediately identified.
The 16-year-old alleged attacker had transferred to the school this year after being homeschooled, said Kimberly Bird, an assistant to the Alpine School District superintendent.
In addition to maintaining good grades, the student attended class regularly and had no prior discipline issues, she told reporters.
"Sometimes these things are unseen," Bird said, adding that the district would examine its methods and training for detecting mental illness among students.
Giles said his officers were still investigating a motive and could not say whether bullying was a factor.
Investigators were also examining if the incident had started as a fight between two students, and whether others who intervened were then also injured.
"Had it not been for the quick reaction of the high school staff, our school resource officer, and the fire department, the situation could have been a lot worse," Giles said.
CORRECTION
The incident took place at Mountain View High School in Orem, Utah. A previous version of this article incorrectly named the school as Mountain Valley High School.