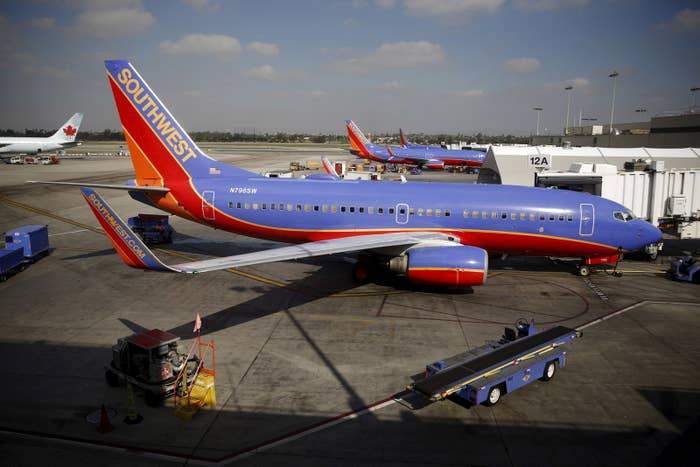 A man says he is bringing legal action against Southwest Airlines after an employee allegedly discriminated against him, his husband, and their young children by denying them family boarding privileges during a flight over the weekend.
Grant Morse, his husband Samuel Ballachino, their three young children, and Morse's 83-year-old mother were flying from Buffalo, New York, to Fort Lauderdale, Florida, on Saturday when Morse said an airline gate agent denied them family pre-boarding.
"We were humiliated and embarrassed and stood there looking like second-class citizens," he said.

The airline said the issue was the family trying to board with Morse's mother.
Morse alleges that when his family approached the waiting area for families with young children, a female Southwest employee repeatedly told them, "This is for family boarding." He said they explained multiple times to the gate agent that they were married spouses traveling with their biological children, but that the employee continued to refuse to allow them all to board early.
"They did not see us as a family even after I told them we are married, this is my husband, these are my kids," Morse told BuzzFeed News.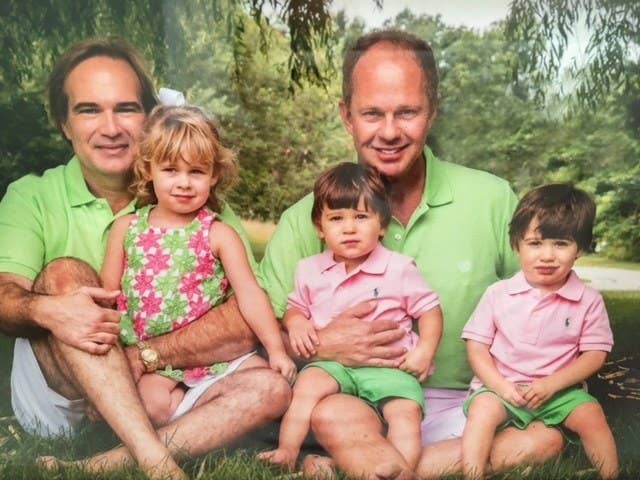 Morse said that the gate agent eventually said one of the men could board with the three children, while the other would have to wait with his elderly mother.

"How can you expect one father to board three children under the age of 6, push three strollers, and a diaper bag at the same time? It's physically impossible," he said.
When local Buffalo station WGRZ first reported the story, Southwest initially pointed to their family boarding policy. The policy states that "an adult traveling with a child 6 years old or younger may board during Family Boarding."
Morse said he understands the policy could be interpreted as meaning only one adult may board with children, but said he interprets it as meaning one adult with each child.

"Does that mean if you have six kids under 6 they're only going to allow one adult on board? That's bullshit," he said.
"I always see during family boarding a mother and a father with one kid getting on board," he said.
He also said that a heterosexual married couple and their child were allowed to board as he and his husband were forced to wait.
The family were eventually allowed on the plane during general boarding. But Morse said flight attendants had saved his family of six just four seats at the back of the plane.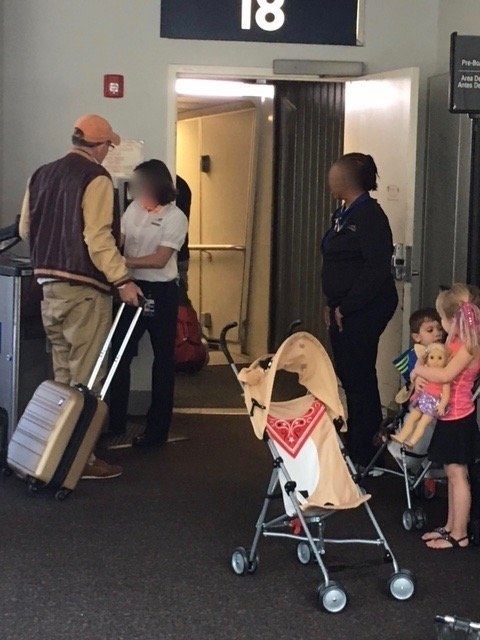 After this story was first published, company spokesperson Brandy King provided an emailed statement, denying discrimination was to blame.
According to King, the agent was objecting to the men trying to board with Morse's elderly mother:
The conversation in the boarding area had nothing to do with discrimination, we welcomed both parents to board the aircraft with their children. The parents expressed disappointment that the Family Boarding policy was not applicable to another member of their group. Prior to the departure of Flight 5136 from Buffalo to Fort Lauderdale on May 20, we welcomed all families to board the aircraft during Family Boarding between the "A" and "B" boarding groups. Our Operations Agent informed two parents that another member of their group was ineligible to board under Family Boarding and asked that she board in her assigned boarding group. The two parents did not agree with our policy, and our Flight Crew worked to save seats together on the aircraft for the family as the conversation continued in the gate area. Our Family Boarding Policy is explained on Southwest.com and our Employees work hard to follow the policy to accommodate families traveling together while also maintaining boarding priorities for all of our Customers.




We welcome onboard hundreds of millions of Customers each year. Southwest neither condones nor tolerates discrimination of any kind. Our Company could not survive if we believed otherwise. In fact, a cursory view of our workforce, as well as our expansive, multi-cultural Customer base, is a reliable indicator that we exalt and appreciate diversity.
Morse flatly denied the airline's version of events. "That is false. That is 100% not accurate," he said.

When asked to further explain the airline's policy, King said it was "not uncommon" for employees to allow both parents to utilize family boarding":
It's not uncommon for our Employees to allow both parents to utilize family boarding, which is what we offered the parents in this situation. We do not include extended family to avoid the "B" and "C" Customers from being pushed back in boarding position by the high number of family boarding passengers that can accumulate without limitations. If a passenger requires extra assistance, we recommend they utilize our preboarding option
Morse said he had filed complaints with the airline and the US Department of Transportation's Aviation Consumer Protection Division, a copy of which he provided to BuzzFeed News.

He said he is seeking a written apology from the airline's CEO and a commitment to diversity training. Morse also wants the gate agent fired and her supervisor, who he said did not remedy the situation, disciplined.
He said he was hiring a lawyer and would donate any financial compensation his family received to anti-discrimination charities.
Morse said he is yet to personally hear from any airline representative.

Morse cried as he recounted his daughter asking him why they weren't being allowed on board.
"That crushed my heart ,knowing my daughter and sons have experienced their first act of discrimination," he said. "That's crushing."