Six Guantanamo Detainees Transferred To Uruguay Are The First To Be Sent To South America
It's the largest number of prisoners transferred from the Cuba prison since 2009, according to The New York Times.
Six detainees of the U.S. military prison in Guantanamo Bay, Cuba, have been transferred to Uruguay, the Pentagon announced early Sunday.
Those transferred to the South American country included four Syrians, one Tunisian, and one Palestinian.
The Department of Defense identified the men as Ahmed Adnan Ahjam, Ali Hussain Shaabaan, Omar Mahmoud Faraj, Abdul Bin Mohammed Abis Ourgy, Mohammed Tahanmatan, and Jihad Diyab.
All the men had been detained because of their suspected ties to terrorist organizations, but none of them were ever charged.

Three of the Syrian detainees who were released.

No public picture is available of Palestinian Abdul Bin Mohammed Bin Abess Ourgy.
Diyab, a Syrian, has carried out lengthy hunger strikes during his 12-year detention, leading a federal court judge in May to lift an order that barred the military from force-feeding him.
It is the largest transfer of Guantanamo prisoners to another country since 2009, and the first incidence of detainees being resettled in South America, according to the New York Times.
"The United States is grateful to the Government of Uruguay for its willingness to support ongoing U.S. efforts to close the Guantanamo Bay detention facility," the Pentagon said in a statement. "The United States coordinated with the Government of Uruguay to ensure these transfers took place consistent with appropriate security and humane treatment measures."
The transfer is part of the Obama administration's continuing efforts to shutter the controversial camp, which was opened in 2002 as part of the so-called "War on Terror."
Last month, authorities released one prisoner to Saudi Arabia, while five others were sent to Eastern Europe.
Uruguayan President Jose Mujica, who was himself imprisoned during military rule in his country in the 1970s and '80s, said Friday his country was determined to offer its hospitality to "human beings who have suffered a terrible kidnapping in Guantanamo Bay", the BBC reported.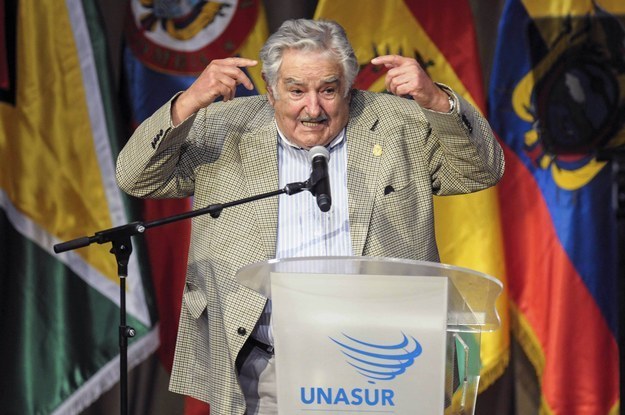 But an opinion poll from October showed 58% of Uruguayans were against bringing Guantanamo detainees to the country, according to the BBC.