A sheriff's deputy was fatally shot, and two other deputies seriously wounded, as they tried to serve an eviction notice in rural Colorado on Wednesday, officials said.
At around 9:30 a.m. local time, the three Park County deputies attempted to serve the eviction notice on the property in Bailey, southwest of Denver, when a man opened fire with a rifle, the Jefferson County Sheriff's Office said on Twitter.
The man was later identified as Martin Wirth, who was killed in the shootout.
Cpl. Nate Carrigan, a deputy who has worked with the Park County Sheriff's Office for 13 years, died at the scene.
Two others were also injured. Master Patrol Deputy Kolby Marin, an 11-year veteran in Park County, was flown to a hospital for surgery after being shot multiple times in the lower extremities, authorities said. Marin's injuries were described as life-threatening.
Capt. Mark Hancock, a 21-year veteran of the department, was grazed by a bullet at his ear.
SWAT officers were also called to the property, the Park County Sheriff's Office said in a statement, and at one point had the property surrounded.
The address, 36 Iris Drive, had been listed on the website Colorado Foreclosure Resistance Coalition.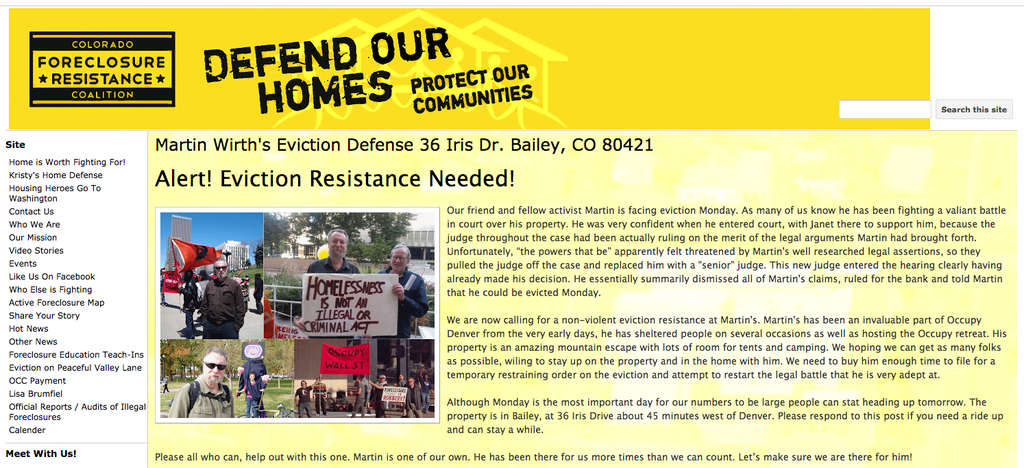 The website, as well as an accompanying YouTube video, request a call for "non-violent...resistance" against an eviction notice issued against Wirth, who the website lists as the property occupier.
"In an effort to defend our constitutional rights, I am calling for all people to stand with me in a non-violent eviction defense of my property," reads a statement purportedly from Wirth on the website.