Sharp Contrast In Media's Reporting Of Sydney And Paris Sieges
Only in one city did media broadcast interviews with terrorists, as well as secret, and possibly dangerous, details of the sieges.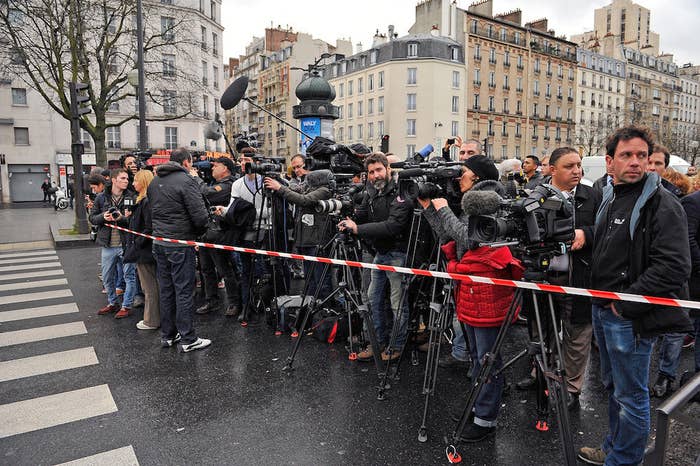 Several hours after he burst into the Lindt chocolate cafe in Sydney's Martin Place on Dec. 16, 2014, gunman Man Haron Monis had been growing increasingly more frustrated. He had been trying repeatedly to have his hostages call the newsrooms of Australia's largest television and radio stations in order to relay his demands live on air. Not one station would.
As the Guardian later reported, Australian police were aware that Monis had been forcing hostages at gunpoint to contact reporters, as well as film videos and upload them on social media. Police had contacted the media organizations to request they refrain from airing any news from inside the besieged cafe. Monis was to remain isolated and not to receive the mouthpiece he so craved.
Several weeks later, as terror struck this time in the Paris, the French television station BFMTV aired phone interviews between its newscasters and Chérif Kouachi, one of the brothers behind the deadly Charlie Hebdo attack, as well as Amedy Coulibaly, an Islamist holding several people hostage in a kosher supermarket after shooting a policewoman the day before.
"We're just telling you that we are the defenders of the prophet, peace and blessings be upon him, and that I, Cherif Kouachi, was sent by 'Al Qaeda in Yemen,' ok?" Kouachi told BFMTV's audience.
In one exchange relayed around the world, Kouachi even used the words the reporter had seemingly fed him.
Kouachi: But we are not killers. We are defenders of the prophet. We don't kill women, we don't kill anyone. We defend the prophet. If someone offend the prophet then there is no problem, we can kill him. But we don't kill women. We're not like you. You're the ones killing the children of Muslims in Iraq, in Syria, in Afghanistan. That's you. Not us. We have honor codes in Islam.

Journalist: But right now you avenged yourself, no? You killed people?

Kouachi: We avenged ourselves exactly. You said it well. You said it yourself, we avenged ourselves.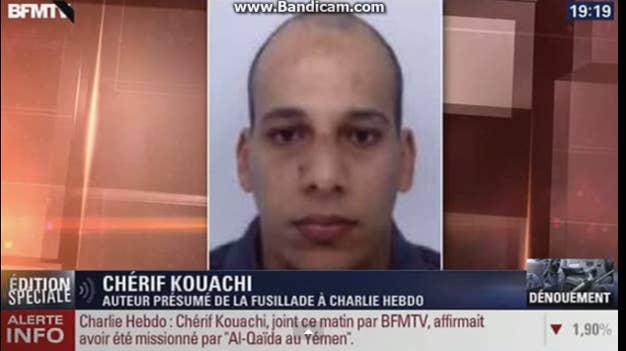 In Sydney, camera crews had been kept several blocks back from the Lindt cafe for their rolling coverage of the hostage drama. As day turned into night, television stations were only able to broadcast obstructed shots filmed at a distance as police finally stormed the cafe.
In comparison, BFMTV once again had the scoop on its competitors in Paris, broadcasting a clear shot of anti-terror police preparing to storm the kosher supermarket on Jan. 9, followed by a dramatic explosion.
Four hostages were killed in the siege. Police said they were dead before officers stormed the building.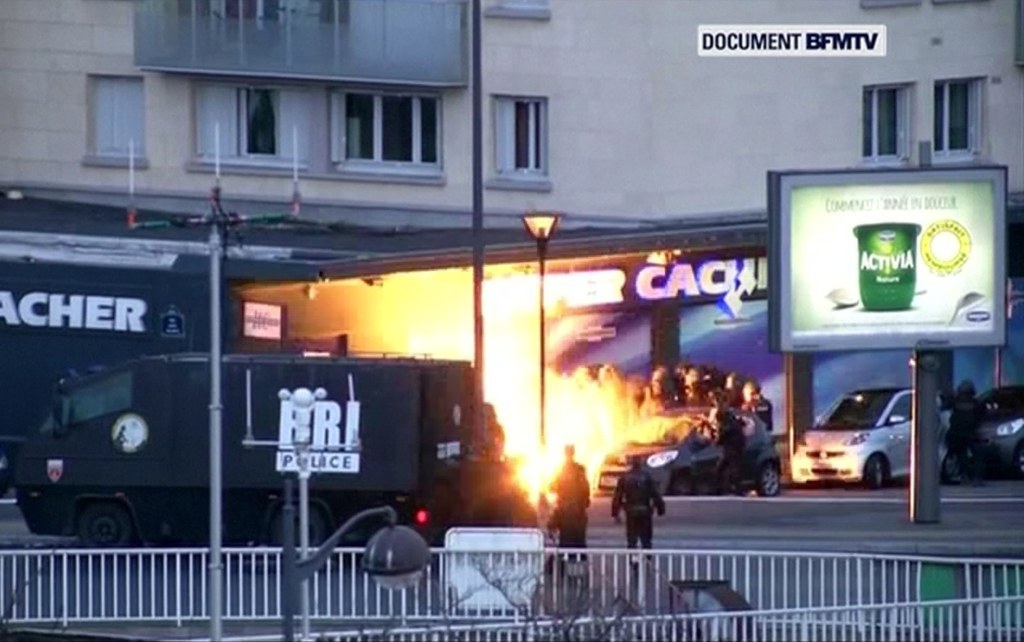 France 2 also broadcast live footage from a cameraman just a few feet away from a group of police huddled near the supermarket.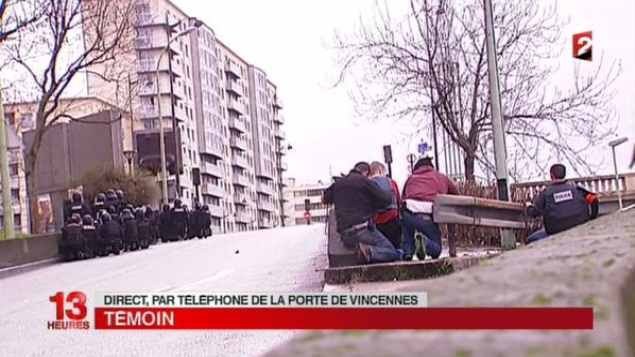 Several people had been hiding inside a freezer room in the market's basement. They had been ushered in there by a young Muslim store clerk, now being hailed for his heroism and quick-thinking.
But, once again, BFMTV had a scoop, apparently airing information about those people's location.
"You made a big, big, big error, BFM," one of the survivor's wives told the station once the siege had ended. "Because you were live with the people in the cold room. They told you there were six down there with a baby and two minutes later it came up on BFM and the terrorists were watching BFM."
"Luckily they didn't see the title that flashed at the bottom of the screen," she said.
France's top electronic media watchdog, Le Conseil supérieur de l'audiovisuel, had on Friday called for television and radio stations "to act with the greatest judgement" in reporting on the two sieges underway in Paris.
The council's notes to editors stated its advice was based on "the dual objective of ensuring the safety of the [reporting] teams and allowing officers to fulfill their mission with all the required efficiency."
On Twitter, French police had asked media "not to relate anything but official information communicated by the authorities."
"Don't disturb the work of [counter terrorist police] by relaying non-official information," they wrote.
Much of the reporting during the French siege, particularly that of BFMTV, seems to run counter to what media academics and watchdogs advise.
"If staking out a location where a raid will occur or if accompanying officers, reporters, and photographers should demonstrate great caution in how they act, where they go, and what clues they might inadvertently give that might compromise the execution of the raid," Bob Steele of the Poynter Institute, a media think tank, wrote in an online post.
Steele also issued some guidelines on reporting during a hostage crisis:
> Always assume that the hostage-taker, gunman, or terrorist has access to the reporting. (What is reported via television may compromise the safety of hostages, ongoing negotiations or rescue plans.)
> Avoid describing with words or showing with still photography and video any information that could divulge the tactics or positions of Special Weapons and Tactics (SWAT) team members.
> Be forthright with viewers, listeners, or readers about why certain information is being withheld if security reasons are involved.
> Seriously weigh the benefits to the public of what information might be given out versus what potential harm that information might cause. This is especially important in the live reporting of an ongoing situation.
> Strongly resist the temptation to telephone a gunman or hostage-taker. Journalists generally are not trained in negotiation techniques, and one wrong question or inappropriate word could jeopardize someone's life. Furthermore, just calling in could tie up phone lines or otherwise complicate communication efforts of the negotiators.
> Notify authorities immediately if a hostage taker or terrorist calls the newsroom. Also, have a plan ready on how to respond.
On social media, BFMTV has been criticized for its reporting, with one cartoonist tweeting an image labelled "BFMTV third accomplice" and depicting the terrorists directing one another by watching news reports.