Donald Trump said Tuesday that "Second Amendment people" could potentially stop Hillary Clinton from naming justices to the Supreme Court.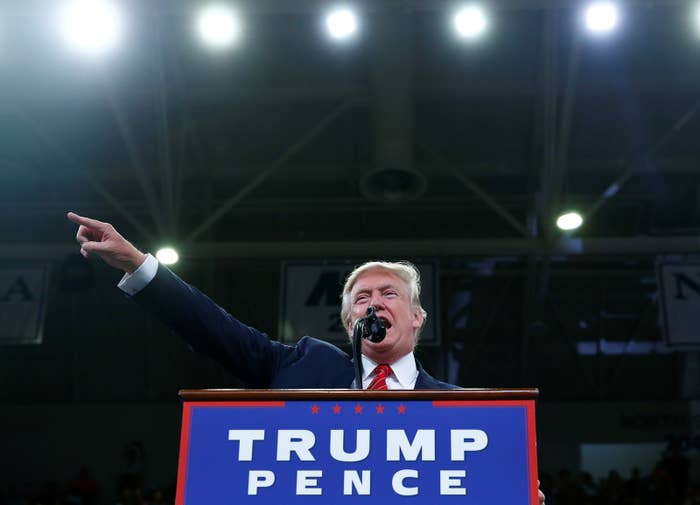 "Hillary wants to essentially abolish the Second Amendment," he said to boos from a crowd of supporters. "If she gets to pick her judges, there's nothing you can do, folks. Although the Second Amendment people, maybe there is. I don't know."
The Republican presidential nominee made the comments while outlining differences between him and Clinton during a rally in Wilmington, North Carolina.
"But I'll tell you what," he continued, "that will be a horrible day. If Hillary gets to put her judges — right now, we're tied, you see what's going on."
Trump told supporters it was crucial Clinton be barred from being elected so as to ensure a majority of conservative justices on the Supreme Court.
"Justice Scalia was going to be around for 10 more years at least, and this is what happens. That was a horrible thing," he said, referring to Justice Antonin Scalia, whose death in February opened up a seat on the nation's top court. Senate Republicans have refused to hold a hearing for Chief Judge Merrick Garland, President Obama's nominee for the position.
Trump then touted his and his sons' membership of the National Rifle Association (NRA), which he said was "great."
A spokesperson for the Secret Service, which protects presidential nominees, told BuzzFeed News they were "aware of the comments," but declined to elaborate.
Trump later addressed the comment while speaking with North Carolina TV station WNCN, saying that "people that are in favor of the Second Amendment" have "tremendous political power."
"And I think they really are strong, they're united, and in fact the National Rifle Association just came out and they agreed that is absolutely the way they feel that way too," Trump said.
He went on to say that if Clinton wins, she will "decimate the Second Amendment, if not abolish it."
"And she'll do that through judges, through justices of the Supreme Court," Trump said.
After the rally, Trump senior communications advisor Jason Miller released a statement blaming the "dishonest media" for misinterpreting the comment:
It's called the power of unification – 2nd Amendment people have amazing spirit and are tremendously unified, which gives them great political power. And this year, they will be voting in record numbers, and it won't be for Hillary Clinton, it will be for Donald Trump.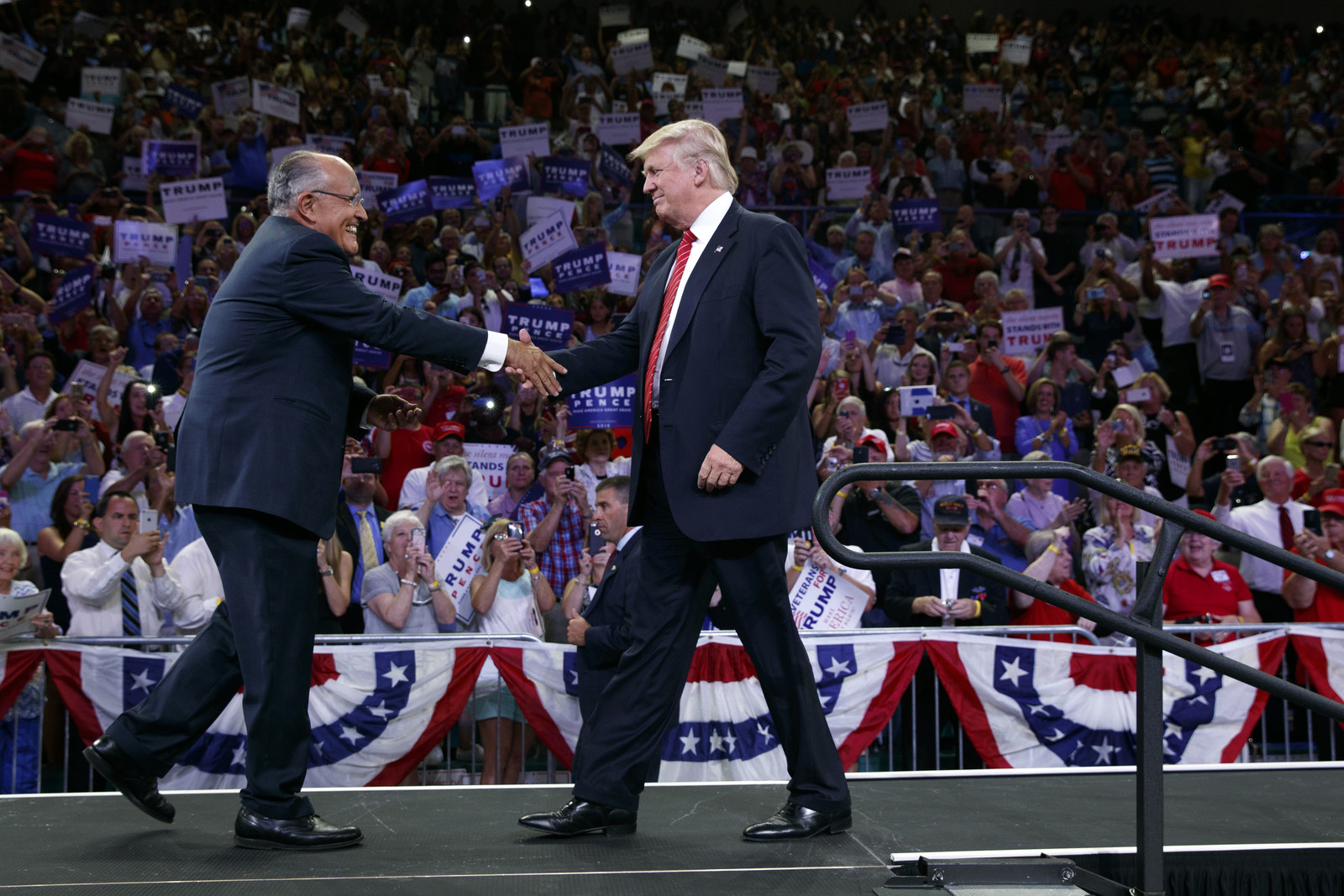 Hours later, at another rally in Fayetteville, North Carolina, former New York City Mayor Rudy Giuliani responded to the comments, saying Trump meant that voters could campaign against Clinton.
"What he meant by that was you have the power to vote against her, you have the power to campaign against her, you have the power to speak against her," Giuliani said before Trump took the stage.
The former mayor also blamed the outrage on the Clinton campaign, arguing they tried to "spin out that what he meant was that they would kill her."
"If you said that to me, I would say, 'Are you out of your mind?'" he said. "I saw it, I heard it, I saw how the crowd reacted."
Trump then addressed the comments on Fox News' Hannity Tuesday night, saying that he meant Second Amendment supporters could take political action against Clinton and "there can be no other interpretation."
Clinton's campaign manager, Robby Mook, condemned Trump's comments in a statement.
This is simple—what Trump is saying is dangerous. A person seeking to be the President of the United States should not suggest violence in any way.
House Speaker Paul Ryan said at a press conference Tuesday night he believed Trump's comment was "just a joke gone bad."
Ryan, who was just declared the winner in his Congressional primary race in Wisconsin, said he hadn't heard the quote himself, and had only heard about it.
"I hope he clears it up really quickly, you should never joke about something like that," Ryan said. " I think it's just a joke gone bad."
Pressed about his support of Trump and the nominee's controversial's comments, Ryan said he was not going to comment further, but noted that "there's never blank checks" when it comes to endorsements.
Tim Kaine, the Democratic nominee for vice president, said "he couldn't believe" Trump's quote.
And the NRA reacted on Twitter:
And Sen. Elizabeth Warren called Trump "reckless."
Former Congresswoman Gabrielle Giffords — a victim of gun violence — and her husband, retired astronaut Mark Kelly, said Tuesday that Trump's comments "may provide a magnet for those seeking infamy."
In a statement, the couple condemned Trump's remarks, saying "we must draw a bright red line between political speech and suggestions of violence."
"What political leaders say matters to their followers," the statement adds. "When candidates descend into coarseness and insult, our politics follow suit. When they affirm violence, we should fear that violence will follow."
The statement concluded by calling on Americans, including Trump and his supporters, to condemn the comments.
Erika Soto Lamb, a spokesperson for anti-gun group Everytown for Gun Safety, also reacted:
Did Donald Trump just suggest that someone stop Hillary Clinton with a gun? This is just the latest example of Trump inciting violence at his rallies -- and one that belies his fundamental misunderstanding of the Second Amendment, which should be an affront to the vast majority of responsible gun owners in America. He's unfit to be president.
Trump incited outrage last month when he essentially called on Russian operatives to hack Clinton's private emails. He later said he was being sarcastic.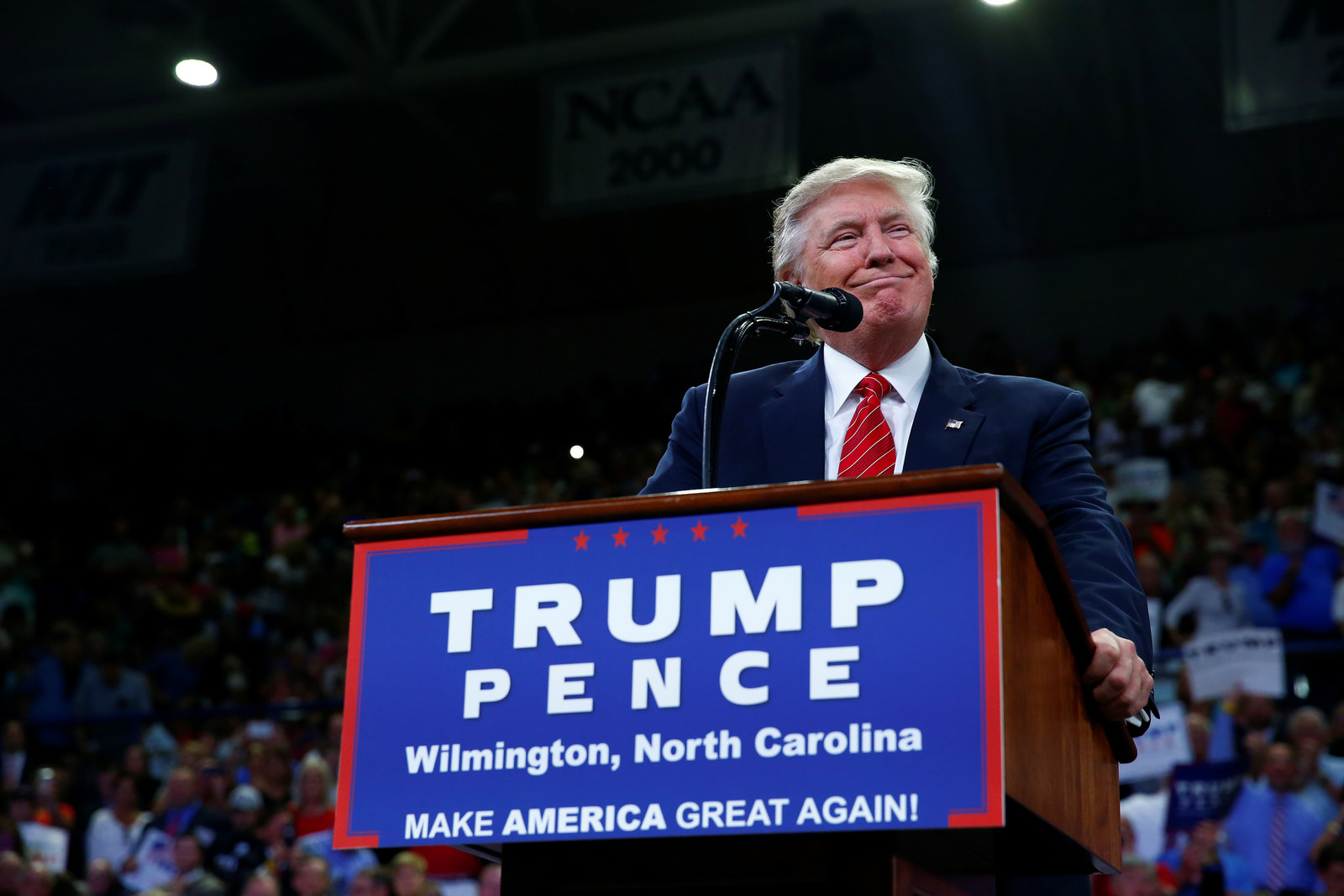 Tuesday's remarks during one of Trump's trademark unscripted rally speeches came after months of trying to reset the candidate's campaign to reverse a drop in the polls.
His attacks against the parents of a dead Muslim American soldier and initial reluctance to endorse senior Republicans drew scorn and generated a litany of bad headlines for the nominee and broader GOP.
On Monday, he delivered a restrained, scripted address in Detroit, Michigan, outlining his economic policies. However, it was repeatedly interrupted by protesters.
Also on Monday, 50 former national security and foreign policy Republican leaders, and sitting GOP Sen. Susan Collins of Maine, all publicly denounced Trump and said they would not be voting for him in November.