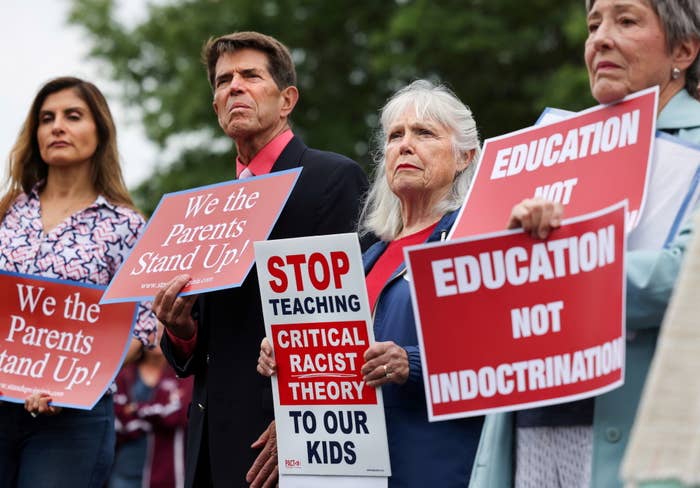 They have railed against face masks and COVID-19 vaccines during rowdy school board meetings that have sometimes descended into chaos and violence.
They have protested against critical race theory and protections for transgender students.
And now they are heading to the polls.
Riding a wave of issues they themselves have weaponized, right-wing activists hope that school board elections scheduled for next week's Election Day will be a litmus test for their supporters' energy — and the wider electorate's taste for such culture wars.
Across the country, school board races that had long been sleepy nonpartisan affairs are suddenly contentious, flush with cash, and dominated by national political debates that have swamped the local level.
"It's sad to see this national stuff become our district," said Nick Allan, a former teacher fielding questions about critical race theory as he runs for school board in Grand Junction, Colorado.
CRT, a college-level framework designed to analyze legal, political, economic, and historical systems through the concept of race as a social construct, is not being taught in classrooms there or in most schools across the country. "These are normally mellow races," Allan said.
The phenomenon is no coincidence. Republican officials and right-wing groups around the country are training candidates to run for school board positions, looking to groom future political stars.
"In Ohio, there are so many people that are so energized about change in schools. I've never seen anything like it," said Dan Regenold, who runs StopCriticalRaceTheory.com. The site is an initiative of Regenold's Empower U, an online conservative platform offering classes that include a training video posted in July about how to run for school board that he said was attended by 103 people. In the class, one speaker urged viewers "to rise up" from what he dubbed "the American Resurgency" and "run for public office, including school board, in the name of self-governance and restoring [the country's] constitutional republic."
"I think it'll become a regular class," Regenold said.
But ahead of next year's midterm elections, the hyperlocal strategy also enables the GOP to continue to stoke supporters' anger after former president Donald Trump's loss — a fervor fueled by disinformation, anti-elitism, and anti-intellectualism that has since fractured into everything from objections to vaccine mandates or masking requirements to opposition to critical race theory.
"The path to save the nation is very simple — it's going to go through the school boards," Trump adviser Steve Bannon said on his podcast in May.
Across the country, threats against school board members over the past year and a half have been very real, despite what top Republicans continue to say. Some have received death threats. Others have had to be escorted by police out of meetings to their cars. Many have decided to quit. "I didn't want to leave my house anymore," wrote Kurt Thigpen in July after he resigned from the Washoe County school board in Nevada. "I was constantly looking over my shoulder."
Much like the tea party movement that was set up in opposition to the Obama administration in 2010, it's hard to say whether the anger first trickled up to the right-wing media and elected officials on the national stage, or whether it trickled down as a form of astroturfing. In many cases, the outrage is now on a loop. What's certain, though, is that Republicans are weaponizing it.
"[These school board races] are being used to fuel certain party rhetoric. They are being used as a rallying cry to take back whatever folks feel was lost," said Devin Del Palacio, the president of the National School Boards Association's (NSBA) National Black Council of School Board Members. "These school board races are being leveraged as a tool of division."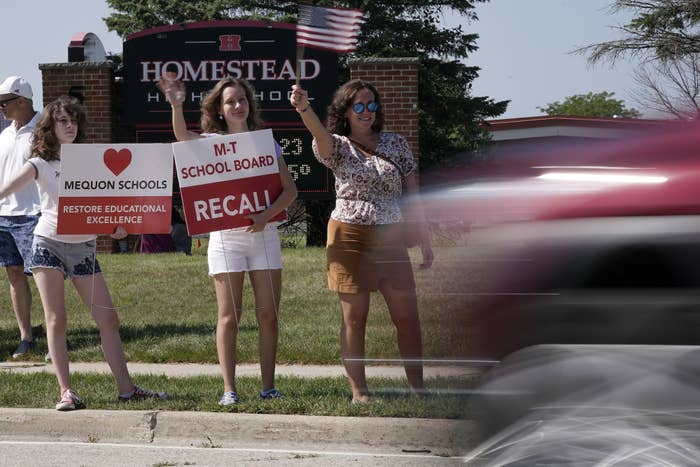 One sign of how energized and organized these voters are is the number of school board members who are now battling recall efforts, not simply periodic elections. Ballotpedia, a nonpartisan election-tracking website, is following at least 82 school board recall efforts against 212 board members across the country — roughly three times higher than in previous years.
Recall proponents have successfully gained enough signatures to put at least eight school board members on the ballot again on Nov. 2 — four of whom are from Wisconsin's Mequon-Thiensville district in the northern Milwaukee suburbs.
Further north in Manitowoc County, Jeanette Deschene is working to recall two members of her school board. She is hoping the results of the Mequon-Thiensville recall will help her get the signatures she needs to begin in Manitowoc. Deschene has begun homeschooling her 8- and 10-year-old children because she objected to school masking requirements and believes, without evidence, that people are trying to teach critical race theory in local schools.
"What I hear from our opposition is that they want the truth of our history to be taught in schools and that comes with white supremacy and white privilege, which creates division at a young age," she said. "There are two sides to that. At what age is it appropriate to introduce some of those truths?" (Deschene later clarified she does not believe concepts of white supremacy and white privilege were necessarily historical truths.)
Both members who Deschene is working to unseat, Meredith Sauer and board president Dave Nickels, told BuzzFeed News they were not working to introduce CRT into Manitowoc schools. Nickels said he'd never even heard of it until it was brought up by a member of the public at a school board meeting.
"CRT is clearly being used as a vehicle to threaten the public," he said.
"I believe there are foundations who are funding a concerted national movement to overturn local school boards by misleading district voters," Sauer said. "CRT has become a centralized focus to rally behind to unite and shift back to where some feel more comfortable."
Citing the pandemic in particular, Sauer said, "There is no doubt that the last few years have shifted a discussion that used to be apolitical and has driven school board candidates to become more politicized."
The school board races are coming after almost two years of a loud national battle over history. The New York Times' Pulitzer Prize–winning 1619 Project outraged top conservatives who objected to extra emphasis being placed on the legacy of slavery in the US. In response, then-president Trump established a "national commission to promote patriotic education" that he dubbed the 1776 Commission.
The murder of George Floyd in 2020 sparked nationwide protests and counterprotests that further fueled the fight over history. Looking for the opportunity to keep his base engaged and angry amid a tough election, Trump and his allies cited the removal of statues of enslavers around the world as evidence "that the history and culture of our great country [is] being ripped apart."
Although Trump lost, the racial division remained, said Heather DuBois Bourenane, executive director of the Wisconsin Public Education Network, a nonpartisan group that advocates for public schools in that state.
"After the fall elections, there was a certain brand of racism that was looking for a new home, and it has certainly found it in the current attacks on equitable schooling," DuBois Bourenane said. "I find that extremely disturbing."
Educators have been insistent that critical race theory is not taught to children in US K–12 schools. Still, CRT has become something of a catchall boogeyman for any educational discussion of equality or diversity.
"It's unfortunate that CRT has been hijacked and used as a tool to stir up emotion and fear and divisiveness in our community when it's not even being taught in our schools," said Del Pacio, with the NSBA.
Del Pacio, who also serves as a board member in Arizona's Tolleson Union High School District​, blames federal politicians for what he sees as the poisoning of local races.
"The many conspiracy theories floated by our elected officials and the last president have definitely seeped into local government and local elections, and because of this rhetoric, we're definitely seeing more unruliness," he said. "Education should be nonpartisan, and because of what's happening at the national stage, it's becoming partisan."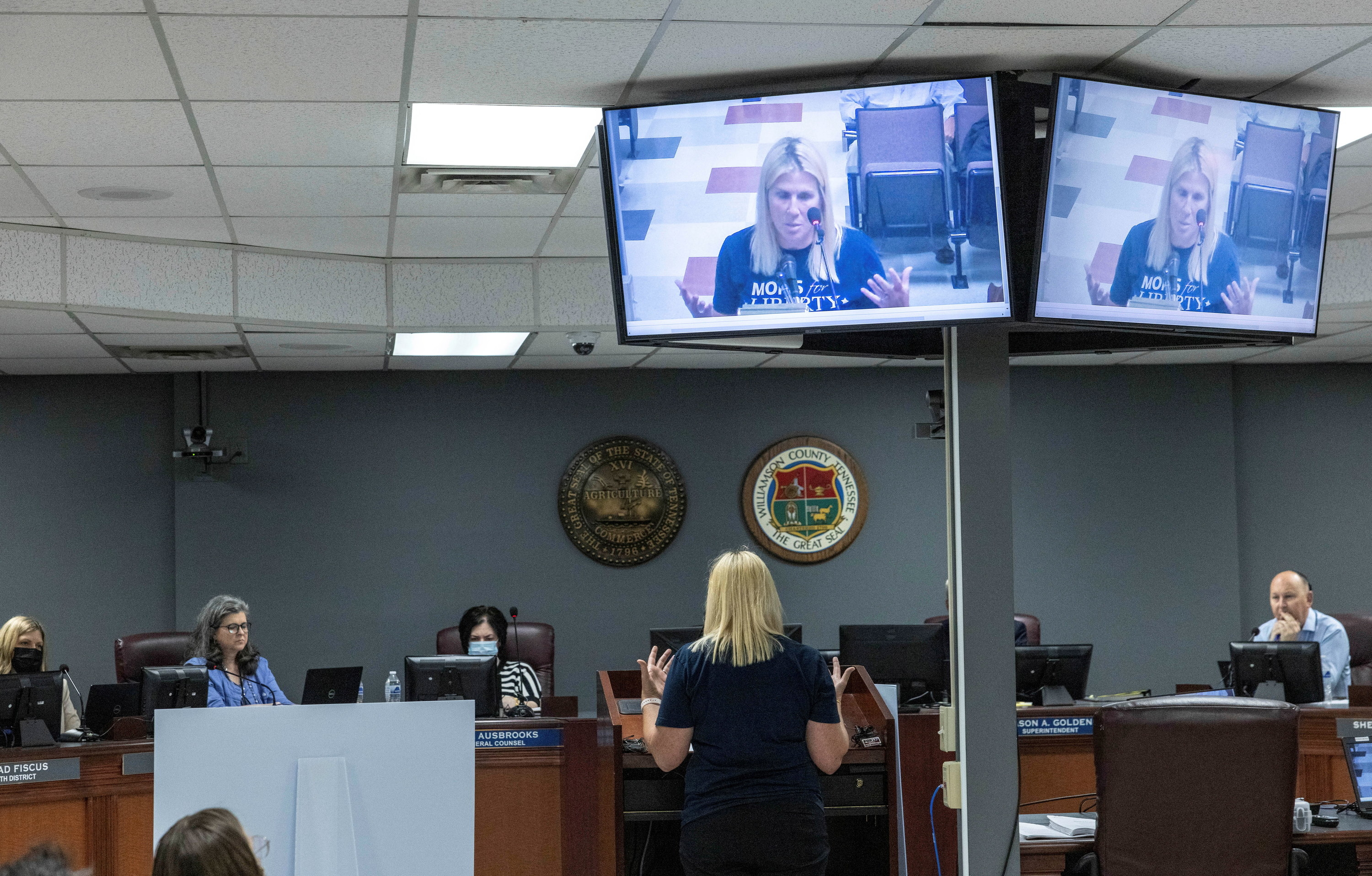 The NSBA has found itself under intense scrutiny in recent weeks. In September, the not-for-profit federation of state groups sent a letter to President Joe Biden requesting federal law enforcement assistance to deal with violent threats made against members. The letter, which prompted Attorney General Merrick Garland to order FBI and DOJ officials to meet with school board members and create a task force to respond to such threats, suggested that some could be compared to domestic terrorism. Top right-wing figures subsequently accused the group of comparing any parent who complains of school boards to terrorists. The NSBA subsequently apologized for "some of the language included in the letter," but the fallout has continued and the controversy rages (and is mischaracterized) in conservative media.
Del Pacio said he was appalled to see the NSBA's original letter be twisted into an attack on any parent exercising their First Amendment rights by federal leaders who he said were seeking to distort the truth and add fuel to the fire.
"This isn't about parents who are concerned about policies. This is about people who are literally making threats of violence," he said. "It was sad to see that representatives at the federal level would not be in support of this as they would for their own safety."
DuBois Bourenane, with the Wisconsin Public Education Network, said she welcomes ideological diversity on school boards, but believes the current attacks are driven by actors seeking to further dismantle and defund public education.
"I believe what's being skillfully orchestrated here is distrust," she said. "It's not about who's on our school board. It's about creating a sense of distrust in our educators and our educational system so we can further undermine it.
"Creating this false binary between the political right that is fueling this moment and the imaginary left that is supposedly controlling what's happening in schools touches on the core lie. Our schools are not being driven by a leftist agenda that's trying to brainwash kids in any way."
But in Manitowoc, Deschene is adamant she is fighting against people who want to teach her children "the white man is evil" and may turn a mask mandate for kids in schools into a vaccine mandate. (Deschene said she was being terminated from her job in the billing department of a local medical center for not being vaccinated against COVID-19.)
Even if recall elections fail in her state, Deschene said she hopes the momentum from the school board races carries on to future elections.
"You woke up the mama bear. A lot of it is that mentality," she said. "We don't want to see our country decline any more, and that starts with the next generation."