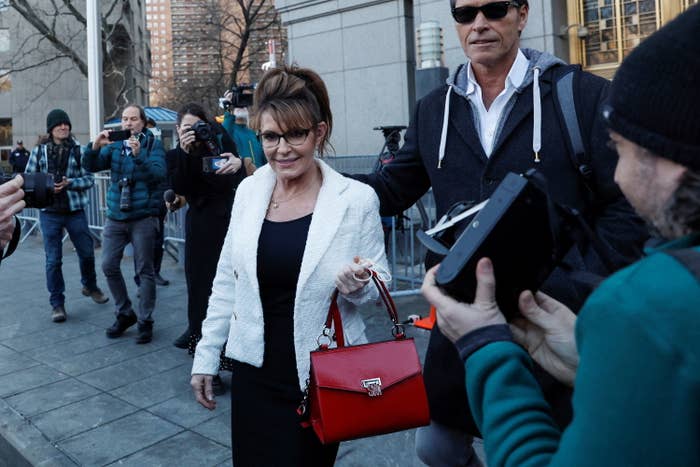 MANHATTAN — "Are you planning to cross-examine Ms. Palin?" the federal judge asked the lead attorney defending the New York Times before the jury entered the courtroom on Thursday for the second week of her libel lawsuit against the newspaper.

When the attorney told the judge he would indeed be cross-examining Palin, the judge quipped, "You are a brave man."
But the former Alaska governor — who burst onto the international stage with a 2008 convention speech in which she accepted the Republican nomination for vice president by joking that only lipstick differentiated hockey moms like her from pit bulls — sought to paint herself using a different canine metaphor during her court testimony on Thursday: as an underdog.
Wearing a white blazer and black pencil skirt, and with her hair in its trademark bouffant style, Palin spoke about the "disturbing" death threats that she and her family have received during her time in public life. She revealed that she doesn't get many requests to help other conservative politicians on the campaign trail anymore, suggesting her stardom had somewhat faded. And she testified that she felt "powerless" and "mortified" after the Times ran a 2017 editorial that incorrectly asserted a link of incitement between her former political action committee and a 2011 mass shooting in Arizona — a statement that prompted Palin to sue the newspaper for defamation.
"It was devastating to read again the false accusation that I had anything to do with murdering innocent people, and I felt powerless," Palin told the jury of nine New Yorkers.
Palin sought to cast her fight against the newspaper, which her attorneys have said will be "an uphill battle," in almost biblical terms. "I knew I was up against Goliath, and I felt collectively the people were David — that I was David," Palin said.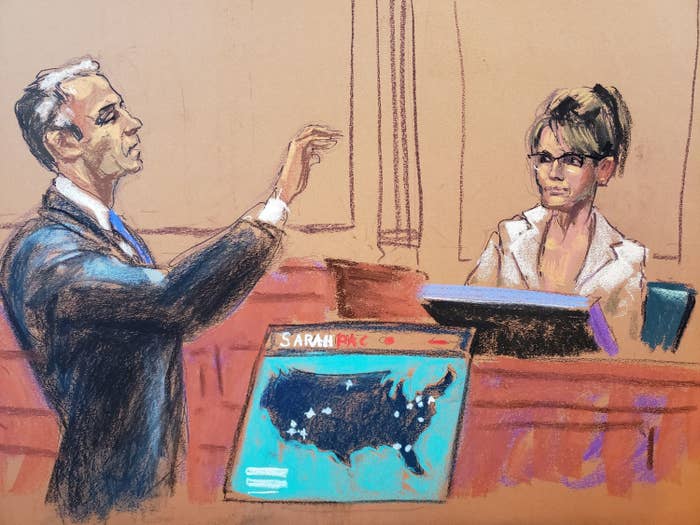 At the heart of Palin's lawsuit against the Times and former opinion editor James Bennet is an editorial the newspaper ran on June 14, 2017, some 12 hours after a Bernie Sanders supporter opened fire on a group of Republican members of Congres practicing at a Virginia baseball field, wounding Rep. Steve Scalise. The editorial compared that shooting to another one in Arizona in 2011, in which a man seriously injured Rep. Gabby Giffords and killed six others.
"The link to political incitement was clear," read the language Bennet added to the piece during his editing process, referring to the Arizona shooting and a 2010 map produced by Palin's PAC that featured gun crosshairs over the districts of Democrats like Giffords who had voted for Obamacare and were up for reelection in competitive races.
But as critics of the paper soon pointed out after the editorial ran online that night, there was no established link between that map and the gunman in the Giffords shooting, who had a mental illness.
In his testimony on Wednesday, Bennet told the court he had inartfully expressed the point he was trying to make about heated political rhetoric in the runup to the Giffords shooting. Only the shooter and his "derangement" were to blame for the attack, Bennet said, but the Palin PAC map was still indirectly connected to the incident because it expressly named and targeted Giffords.
"I've regretted this pretty much every day since I meant it was simply a connection to this larger environment," Bennet said Wednesday of his original choice of words. "If I thought it caused the violence, I would've used the word 'caused.' It would have saved me a couple of words."
The crosshairs map was criticized for its gun imagery when it was first published by Palin's PAC and then again in the wake of the Giffords shooting. Palin told the court on Thursday she found those criticisms at the time to be "mortifying" and untruthful. The Arizona shooting had particularly horrified her, she said, because one of the victims, 9-year-old Christina-Taylor Green, was roughly the same age as Palin's daughter Piper.
The symbols map, she conceded, could be viewed as being crosshairs, but could also be seen as "emojis," "surveyor's markers," or "bull's eyes," she argued. It was not, she said, urging violence.
"I took issue with the interpretation that anybody would have that it was some kind of call to violence," Palin said.
When the Times referenced the map in its 2017 editorial, Palin said she felt the newspaper was politicizing a tragedy. Earlier that day, she had given an interview to the conservative website Breitbart (which she then reposted to her own website) warning the media and others against blaming Sanders for the actions of his supporter. Now, she said, the Times had done just that.
"The New York Times — the be-all and end-all, the loud voice in media — had already taken that knee-jerk reaction and I felt was trying to score political points," she said.
In a confusing moment of testimony, Palin contended this was not the first time the newspaper had printed the false assertion. When the Times attorneys objected, Judge Jed Rakoff felt compelled to intervene, asking Palin whether she was saying the newspaper had printed this falsehood before. "Precisely," she said, accusing them of having "led the charge" in trying to connect the map and the Arizona shooting before the 2017 attack.
But in a moment that recalled the vague answers she famously gave to journalist Katie Couric in 2008 about what newspapers she read, Palin was again unable to cite any specific examples. This bizarre testimony prompted an almost 20-minute break wherein the judge and opposing counsel conferred in a separate room, while Palin sat quietly in the witness box before the jury.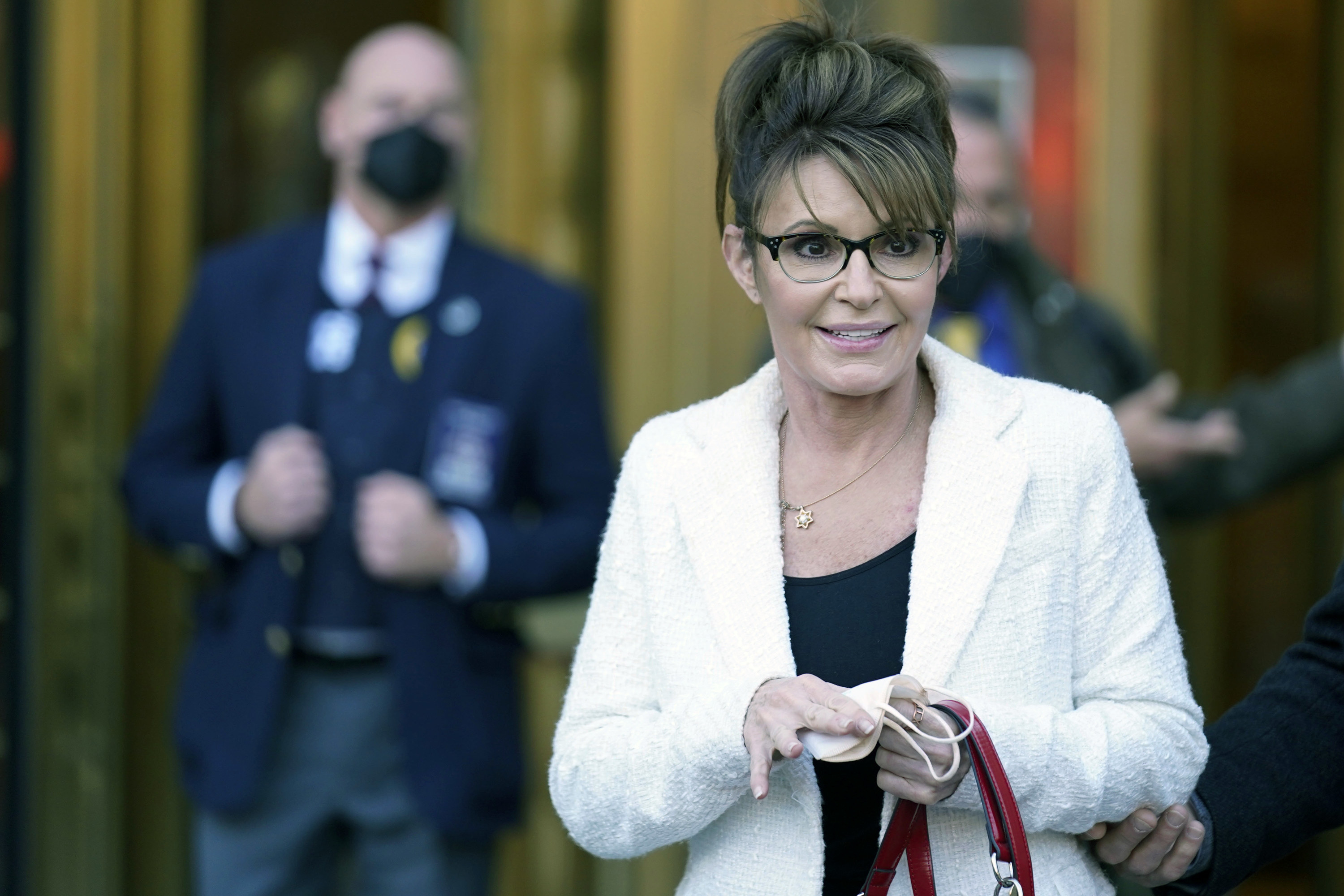 Later, in an attempt to convey the distress for which she is seeking emotional damages, Palin said the newspaper editorial led to stress and difficulty sleeping. "​​It's hard to lay your head on the pillow and have restful nights when you know lies are told about you," Palin said.
But Times attorney David Axelrod (not to be confused with the Obama campaign adviser with the same name) grilled Palin about whether she had taken medication for this stress or ever met with a doctor, counselor, or even priest to discuss it.
"No," she replied, having earlier recalled a motto she said she lives by and has even printed on sweatshirts: "Suck it up, cupcake."
The Times attorney also quizzed Palin about her use of the word "incite" in comments she released in 2011 shortly after the Giffords shooting — the very word that Bennet has argued he was using in an indirect way about Palin six years later. "Especially within hours of a tragedy unfolding," read Palin's 2011 comments, "journalists and pundits should not manufacture a blood libel that serves only to incite the very hatred and violence they purport to condemn. That is reprehensible."
Asked what she meant by "incite," Palin said, "'Incite' meaning to stir up and call to action the hatred and violence they like to condemn."
Axelrod also repeatedly asked questions of Palin that sought to cast her as someone who remains a very prominent and "polarizing" public figure (and will thus be subject to a higher standard of proof in a defamation trial). He noted she has continued to speak of the possibility of running for office again, gives paid public speeches, and appears occasionally on Fox News. He also pointed out that Palin even stumped in Alabama in 2017 for the unsuccessful Senate campaign for Roy Moore — months after the Times published the falsehood that she said had damaged her reputation.
To try to further undercut Palin's argument that she was harmed by the piece, Axelrod also had her testify about her 2020 appearance on The Masked Singer in which she rapped the Sir Mix-a-Lot song "Baby Got Back" while dressed as a fluffy pink bear.
"Objection!" Palin joked as soon as the TV appearance was raised. She eventually said they paid her "good money" and added, "It was the most fun 90 seconds of my life."
Closing arguments will start Friday morning and the jury may begin deliberations as soon as Friday afternoon, although a verdict is not likely until at least Monday.