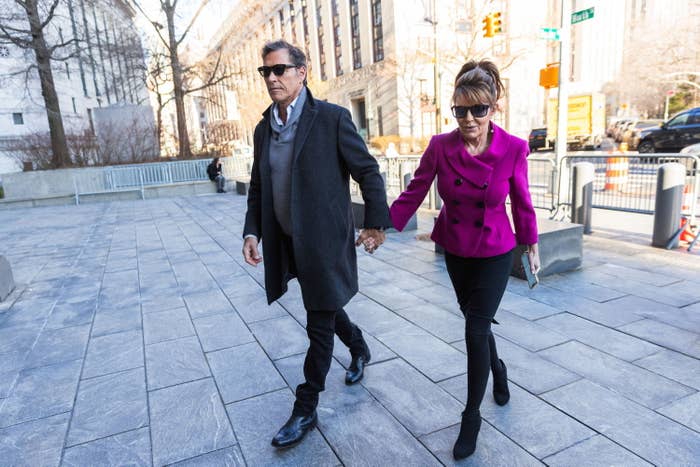 Sarah Palin began giving testimony in a Manhattan federal court on Wednesday as part of her defamation lawsuit against the New York Times and its former opinion editor James Bennet over a 2017 editorial that falsely suggested there was a link of incitement between a deadly mass shooting and her political action committee.

The former Alaska governor and 2008 Republican nominee for vice president took the stand for only 15 minutes before the court adjourned for the day, providing the jury of nine New Yorkers brief details about her family and her rise in politics. She will continue testifying on Thursday.
Palin said she is still "holding down the fort in Wasilla" — the town near Anchorage where she began her political career, first in city council then as mayor — looking after her youngest son, who is disabled, as a "single mom." (She and ex-husband Todd Palin finalized their divorce in 2020. She was photographed arriving to court on Wednesday holding hands with former NHL player Ron Duguay.)
She then briefly described how she came to be selected by the late Sen. John McCain to be his running mate against Barack Obama and Joe Biden. "I didn't know I was being pursued until I was called and asked if I wanted to meet with Sen. McCain the next day," said Palin, recalling how she flew immediately to Arizona to meet him. "Right then they asked me if I would run and I was very, very honored and excited."
According to excerpts of a new book by New York Times political reporter Jeremy W. Peters that were released this week, the moment McCain picked Palin — who would later come under fire for her lack of experience and knowledge of national and international affairs — he mimed shaking a pair of dice and told advisers, "Fuck it. Let's do it."
In her testimony, Palin seemed to concede that the McCain camp didn't fully grasp what they were getting into by picking her. "I was thrust into a different kind of spotlight. I was very, very used to local government," she said. "I don't think they were prepared for me necessarily because I was new to the national stage."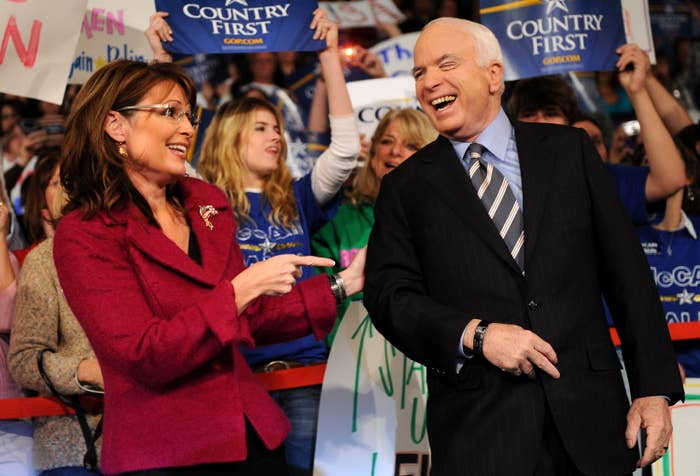 When Palin resumes her testimony on Thursday, it is expected that she'll be asked extensively about her reaction to the June 14, 2017, Times editorial that falsely said "the link to political incitement was clear" between a crosshairs map published by her PAC and the 2011 shooting attack on Rep. Gabby Giffords in Arizona. (There was no link ever established between that map and the gunman in the Giffords shooting, who had a mental illness.)
Bennet, the ex-opinion editor who inserted that wording into the Times editorial, testified earlier on Wednesday how he deeply regretted using the word "incitement" in the piece, as he never intended to say Palin's PAC caused the Arizona attack. Instead, he said, he inartfully expressed the point he was trying to make about heated political rhetoric in the runup to the Giffords shooting.
"I've regretted this pretty much every day since I meant it was simply a connection to this larger environment," Bennet testified. "If I thought it caused the violence, I would've used the word 'caused.' It would have saved me a couple of words."
He said he didn't ever imagine that readers would infer he was suggesting the Arizona shooter acted because of Palin's map, which had placed gun sights or crosshairs over the districts of politically vulnerable Democrats, including that of Giffords. However, he said he was also working quickly in order to meet an 8 p.m. print deadline for the next day's newspaper.

"I should have slowed down," Bennet said, "but to my mind when you say somebody is deranged… I don't personally believe that anybody but that person is responsible — and their derangement — for an act like this."
His testimony is central to the Times' defense. The newspaper's attorneys have argued Bennet didn't act — as the law requires for Palin to be successful — with "actual malice" (i.e., with knowledge or "reckless disregard" for the statement's falsity), but instead fumbled the wording on the point he was trying to make against a looming deadline.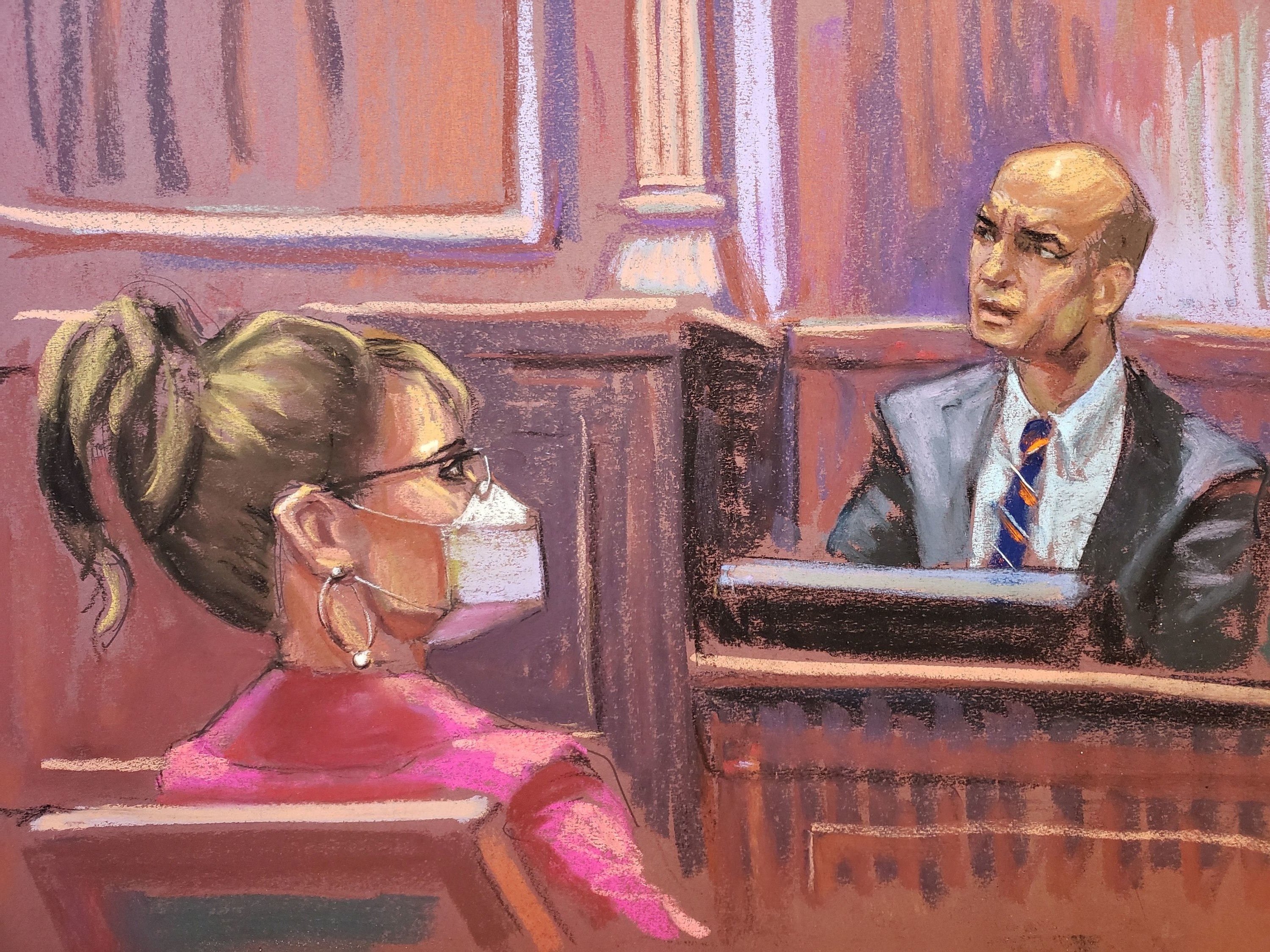 Gautam Hans, a Vanderbilt University professor of law who studies the First Amendment, told BuzzFeed News that the Palin trial is providing jurors and the public with an insight into the workings of how the news media operates under the protection established by the "actual malice" precedent, which could come up for review at the Supreme Court if Palin loses and enough sympathetic justices vote to hear her case.
"You get a sense in the testimony of how the news gets made, of how people write stories on fast-moving deadlines and the challenges that can result," Hans said. "They probably would not have written the story so quickly as they had if they were concerned about defamation liability."
The Times editorial ran some 12 hours after a Bernie Sanders supporter opened fire on a group of Republican congressmen playing baseball in Virginia, seriously injuring Rep. Steve Scalise. Bennet said that when his writer Elizabeth Williamson wrote the first draft of the editorial, which he later changed while editing, there was no information yet that showed Scalise or the other Republicans who were attacked had been directly targeted by name with violent rhetoric by left-wing politicians in the same way that Giffords had been by Palin's PAC months prior to her shooting.
This was what he told Times's conservative columnist Ross Douthat, who emailed Bennet that night to express his concern at the editorial and its false assertions. Douthat testified Wednesday that Bennet's response made him feel that Bennet "was reading the editorial in a different way" to what Douthat felt was "the most natural reading."
Bennet told jurors he was "really concerned" to read Douthat's late night email and subsequently see other conservative writers on Twitter with the same takeaway of the piece. "I realize the editorial was being read in a way we did not intend," he testified.
After a mostly sleepless night, he described tasking Williamson and a fact-checker to go back and research the Arizona shooting and then work with him and others to correct the editorial as needed. More than 12 hours after it was published online, the piece was amended and a correction was added, which Bennet said was crucial because they "had made this mistake that muddied the record and that's just a terrible thing to do as a journalist."
"We don't promise to be perfect," he said. "We promise to try our damndest to be perfect, and when we're not we try to fix it."
Palin attorney Shane Vogt asked Bennet why the Times put out a tweet saying they had "got an important fact wrong" when Bennet claimed he was never intending to imply incitement as a fact.
"You did not tell the public, 'I used the word incitement in an improper way,' did you?" Vogt asked.
"I don't think I did," Bennet responded.
Times attorney David Axelrod (not to be confused with the former Obama campaign adviser with the same name) then asked Bennet why the correction didn't just note that they hadn't intended to imply a direct link.
"Those corrections sound like they're kind of weaselly... like you're blaming the readers," Bennet said. "This was the most direct and forthright way to do it."
Bennet conceded he never directly apologized to Palin after he discovered the Times had a practice against apologizing over errors. He left the paper in 2020 following outrage over his decision to publish a piece by Republican Sen. Tom Cotton calling for the military to be used against racial justice activists. But even after leaving, he said he still did not apologize to Palin because she was suing him and the paper.
"If I were her, I wouldn't think an apology was being made in good faith," he said. "It would look like an effort to get out of a lawsuit."