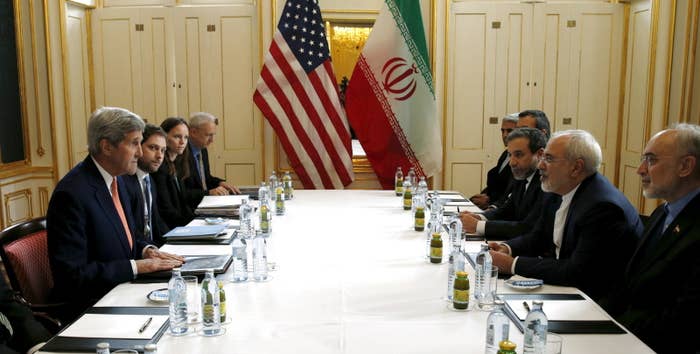 The U.S. has imposed new sanctions on Iran the day after Tehran had its nuclear-related penalties lifted as part of a historic agreement to curb its nuclear program.
The U.S. Treasury Department announced on Sunday that the sanctions will be levied on 11 people and companies who are involved in procuring items for the country's ballistic missile program.
"Iran's ballistic missile program poses a significant threat to regional and global security, and it will continue to be subject to international sanctions," Adam J. Szubin, the acting under secretary for terrorism and financial intelligence, said in a statement.

The new sanctions were announced a day after the U.S., European Union, and United Nations formally lifted their nuclear-related sanctions against Iran, implementing a historic agreement struck in July between Iran and six world powers to curb Tehran's nuclear program.
The sanctions were lifted after the U.N. nuclear watchdog, the International Atomic Energy Agency (IAEA), released a report on Saturday confirming that Iran had complied with the necessary terms of the agreement.
"It was issued after agency inspectors on the ground verified that Iran has carried out all measures required under the joint comprehensive plan of action (JCPOA) to enable implementation day to occur," said IAEA Director General Yukiya Amano in a video posted to YouTube.
"Relations between Iran and the IAEA now enter a new phase. It is an important day for the international community," he said.
U.S. Secretary of State John Kerry then released a statement confirming Washington would now keep its end of the bargain and lift its sanctions against Tehran:
I hereby confirm that the International Atomic Energy Agency has verified that Iran has fully implemented its required commitments as specified in Sections 15.1-15.11 of Annex V of the Joint Comprehensive Plan of Action (JCPOA). The U.S. sanctions-related commitments described in Sections 17.1-17.5 of Annex V of the JCPOA are now in effect.
The White House sent media a copy of the executive order President Obama signed to formally lift the sanctions.
Speaking in Vienna, Kerry said the U.S. was satisfied Iran had reduced its total stockpile of low-enriched uranium to 300 kilograms, removed two-thirds of centrifuges from nuclear facilities, and opened itself to inspection.
"Today we are confident it would take Iran at least a year to break out of the agreement," he said.
"Today marks the first day of a safer world, one we hope will remain safer for many years to come."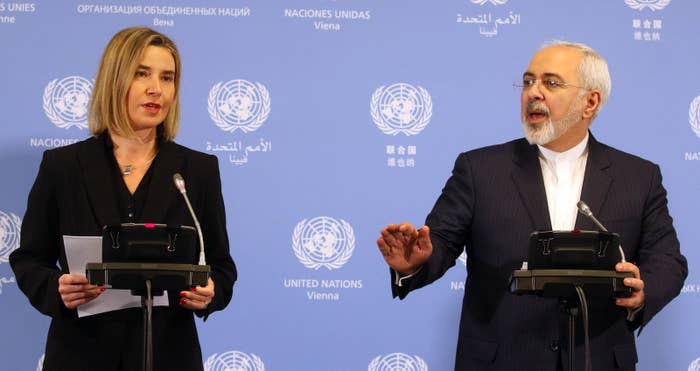 Speaking at a press conference in Vienna, Federica Mogherini, the High Representative of the E.U. for Foreign Affairs and Security Policy, confirmed the E.U. had also lifted its sanctions.
"Today, almost exactly six months after finalization of the historic deal, the [IAEA] has verified that Iran has implemented its nuclear related commitments," she said. "As Iran has fulfilled its commitments, today multi-lateral economic and financial sanctions related to Iran's nuclear program are lifted in accordance with the JCPOA."
"All sides remain firmly convinced that this historic deal is both strong and fair, and that it meets the requirements of all," she said.
Iranian Foreign Minister Javad Zarif spoke alongside Mogherini to read the same prepared statement in Persian.
The implementation of the deal came just hours after U.S. and Iranian officials confirmed a prisoner swap had taken place between the two countries, resulting in the release of Washington Post reporter Jason Rezaian, among others.
As part of the agreement, world powers will meet with Iran every two years, possibly more frequently if the situation warrants, to assess the implementation of the terms of the deal.

There will also be no new nuclear-related United Nations Security Council sanctions, or European Union nuclear-related sanctions or restrictive measures.
The more technical terms of the agreement mandate that Iran must begin phasing out its IR-1 centrifuge within the next 10 years. The centrifuge produces enriched uranium, a key element used to create nuclear bombs.
Tamerra Griffin contributed to this report.