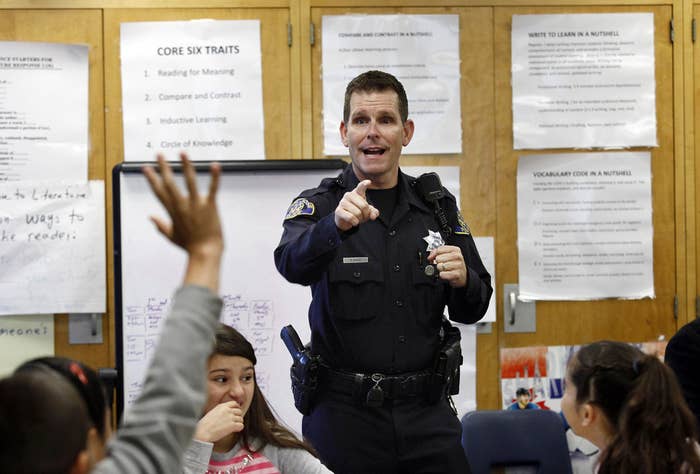 A group of roughly 80 protesters demonstrated outside San Jose's police department Thursday night, demanding the firing of a police officer who tweeted threatening and mocking messages to protesters angry over police killings of unarmed people.
Since BuzzFeed News broke the story last weekend of Officer Phillip White's tweets, the San Jose Police Department has come under extensive public and official pressure to sack the veteran officer for his remarks.
"By the way if anyone feels they can't breathe or their lives matter I'll be at the movies tonight, off duty, carrying my gun," White tweeted on Dec 13. He also vowed to use his "God given and law appointed right and duty to kill" if he or his family were threatened.
He has since been placed on administrative leave and is being investigated by SJPD's internal affairs unit — a group he once served in.
"When Officer White so brazenly wanted to tell the world that he thought he had a 'god given right to kill,' when he literally threatened people and said, 'Come see me with my gun,' we're going to end that guy's career today," Raj Jayadev, a member of the anti-racism group Silicon Valley De-Bug, told the crowd.
"And it's not out of vengeance, it's not out of being retaliatory. It's about public safety, and it's about integrity, and it's about not trying to make a mockery of a dead man's words," he said.
"The audacity to take that phrase, "I can't breathe," and transform it into something ugly, into something evil, is not something we will morally allow to pass by without any sort of consequence," Jayadev said.
Angry demonstrators marched from a county government building to the police building, reportedly delivering a copy of an online petition signed by more than 15,000 people to the city's police chief, Larry Esquivel.
"Being a native of San Jose, this is important to me, as a person of color and as a chief," Esquivel told the crowd, according to San Jose Inside. "Believe me, this is very troubling for us as an organization. It is not what we stand for, and can I guarantee you we are looking at this, as we have been, proactively and aggressively to bring justice."
Protesters also projected on to police walls images of White's tweets, originally captured by BuzzFeed News before he deleted his account.