Amid mounting public criticism of the San Jose police officer who wrote threatening tweets to protesters, BuzzFeed News has learned that the officer in question once served in the Internal Affairs unit now investigating him for his social media comments.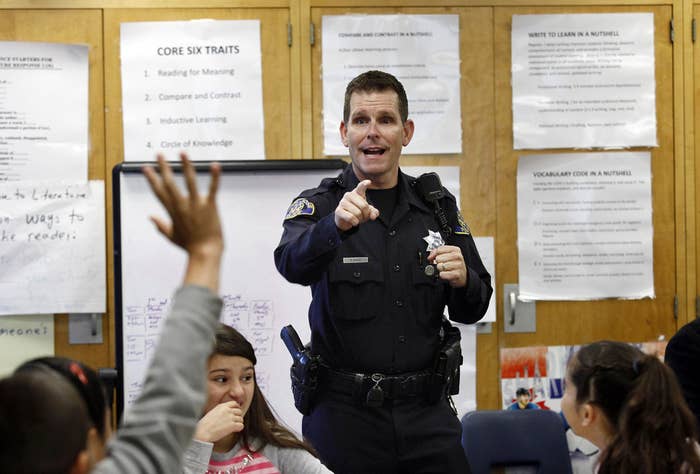 After BuzzFeed News broke the story on Sunday that Officer Phillip White had used his Twitter account to threaten and mock demonstrators protesting against police killings, public complaints over his behavior have been made to the San Jose Police Department of Internal Affairs and the city's Independent Police Auditor.
"By the way if anyone feels they can't breathe or their lives matter I'll be at the movies tonight, off duty, carrying my gun," White tweeted on Saturday night.
White also vowed to use his "God given and law appointed right and duty to kill" if he or his family were threatened.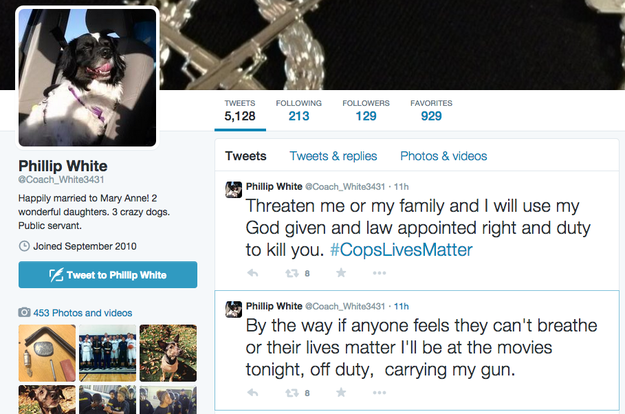 Had no public complaints been filed, the matter would have only been reviewed internally by the department.
"No one, not even a member [of the office of the Independent Police Auditor] would be permitted to have any oversight, so fortunately a member of the public called and complained and triggered our ability to have direct oversight of the review," police auditor Judge LaDoris H. Cordell told BuzzFeed News.
White was assigned to the Internal Affairs unit now investigating him between May 11, 2009, and March 19, 2011.
But Cordell is empowered to review the ultimate Internal Affairs report and determine whether it is complete, and whether its analysis is objective. She said she expects the SJPD to handle the matter swiftly because of the intense public scrutiny the case has generated.
White was placed on administrative leave with pay on Monday pending the outcome of the investigation, which is separate from the Internal Affairs probe that has now been launched.
"It is extremely important for the community to know the comments made on Officer White's private social media account do not reflect the thoughts or feelings of the men and women here at the San Jose Police Department," Police Chief Larry Esquivel said Monday in a statement. "Nor do we condone this type of behavior."


The city's Police Officer Association also disavowed the posts to ABC News.
"Disrespectful, offensive, and inappropriate comments on social media have no place in the public discourse involving the tragic loss of lives in officer-involved incidents around the country," James Gonzales, a spokesman for the association, told ABC. "We condemn these comments."
White, who has since deleted his Twitter account, has also since lost his part-time job as an assistant basketball coach with Menlo University as a result of the controversy.
And the city's outgoing mayor, Chuck Reed, called White's statements "inappropriate" and "insensitive."
"Peaceful protest is not only a right, but essential to our democracy," Reed said Monday in a statement.
Mayor-elect Sam Liccardo has also denounced White's posts.
"These statements understandably raise the concerns of many members of our San Jose community, and should be investigated thoroughly," he said. "The residents of San Jose need to know that these statements in no way reflects the fine character of our San Jose Police Department or its officers."
In the lead-up to Liccardo's election as mayor on Nov. 10, White was highly critical of the council member and his support for a pension reform proposal known as "Measure B."
"If Liccardo is elected mayor of San Jose it will be one more thing pitting police against citizens who also voted for Measure B," White wrote on Nov. 5.
"Don't get me wrong, I will still do my job. But, I will never ever go that extra mile that I once did," he wrote. "You get what you pay for."
"How can I sleep knowing that my life long career as a San Jose Police Officer may very well be in the hands of [Liccardo]," he wrote.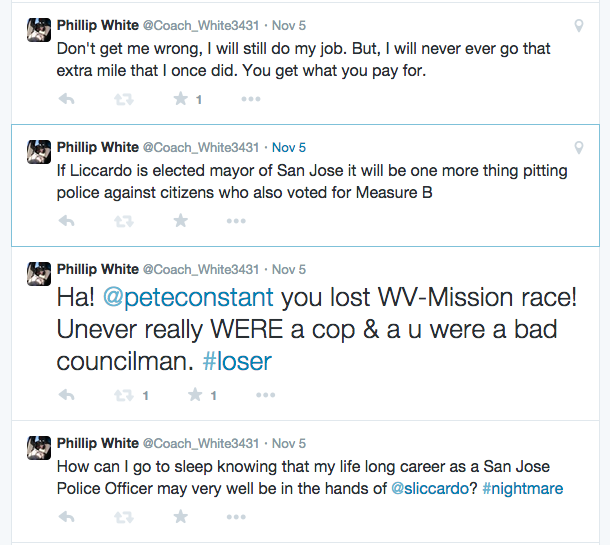 The damage to the entire police department's standing in the community has also taken a hit as a result of White's tweets.
Rev. Jethroe Moore, a founding member of the city's police community advisory board and president of the San Jose and Silicon Valley chapter of the NAACP, told BuzzFeed News he had been "dismayed, disappointed, and angered" by White's tweets.
"We're working down here so hard to develop a working relationship with the police and it seems as though he was trying to agitate things," Moore said.
He added that if the police department kept White on the force, it would continue to "erode trust and destroy" what trust has been built.
"We wan't him discharged," Moore said. "We believe it is a liability to the department and the city for him to stay on the force. Our expectation is that he is relieved from duties and we don't want him hired by another agency within our county borders."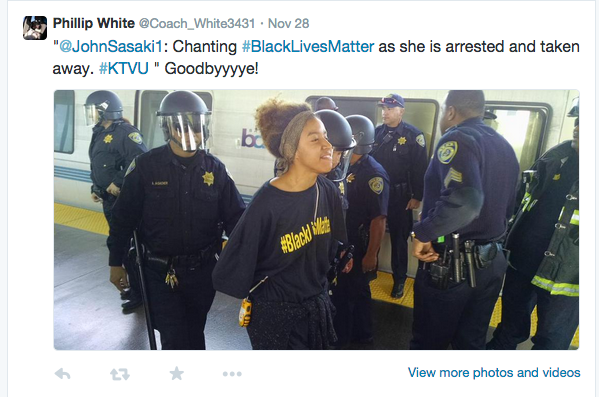 Both Cordell and Moore also expressed frustration that White's disciplinary review can remain secret under a provision of the California Peace Officers' Bill of Rights that prevents the public release of police disciplinary files or proceedings.
"Whenever something like this is done in public and is so threatening to the public, his discharge should also be public," Moore said.
Silicon Valley De-Bug, a community group that works to build relations between police and minorities, has started an online petition calling for White's dismissal. More than 12,500 people have signed it in less than two days.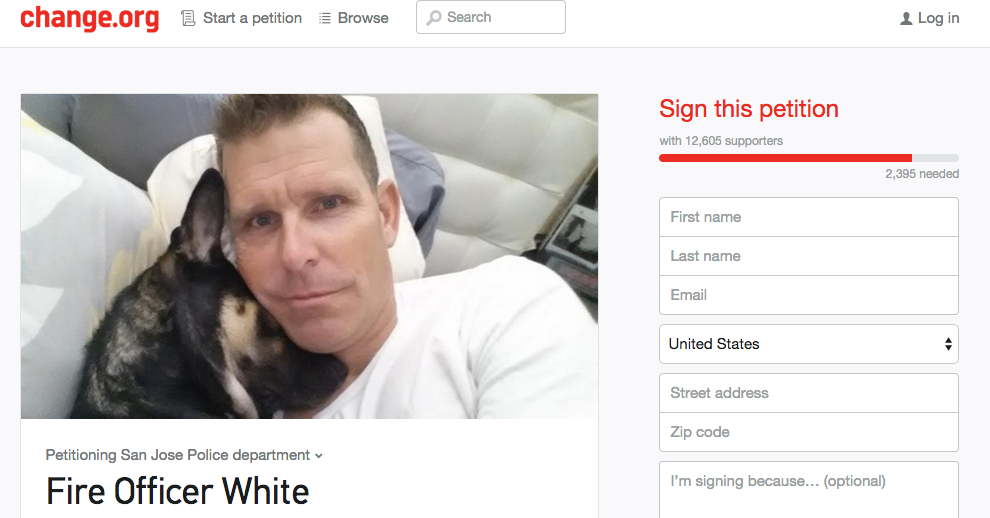 "What about black people stating that their lives matter inspires you to reach for your firearm? Is it our unwillingness to be irrelevant? Our want and yearning to be free and heard?" Silicon Valley De-Bug's Whitney Felton wrote in a post on the site.
The San Jose Mercury News also published a stinging editorial Monday, saying White's behavior had "eroded trust" between the community and police.
"It's hard to imagine White returning to active duty in San Jose, where his behavior from now on would be scrutinized in light of his own statements" the newspaper's editorial board wrote. "Defending your life or your family is one thing, but -- a "right and duty to kill you"? Really?"
"In San Jose, White's tweets confirmed the worst fears of minority communities who fear anyone in uniform," the editors continued. "He hasn't helped his colleagues who struggle every day to earn the community's trust."