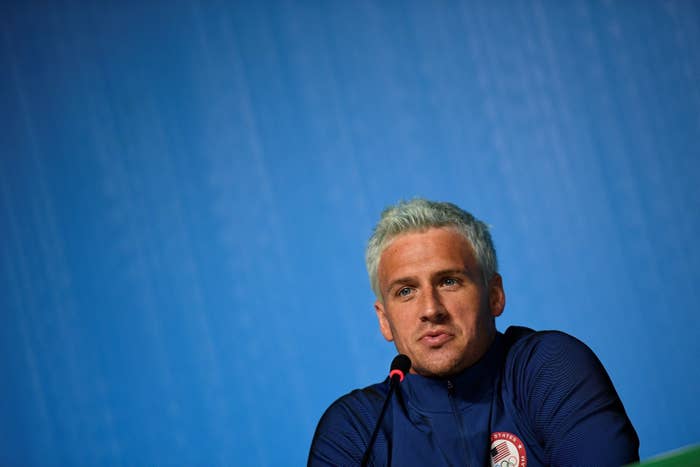 A Brazilian judge on Wednesday ordered US swimmer Ryan Locthe and teammate James Feigen to surrender their passports and remain in Brazil as police continue to investigate an alleged robbery of the athletes.
However, Lochte's lawyer, Jeff Ostrow, told BuzzFeed News that the swimmer had already returned to the US "in the last day or so."
"He came home as he was planning to do," Ostrow said. "They never asked him to stay for any further investigation. Had they asked, he would have participated in any way he could."
US Olympic Committee officials told the Associated Press police went to the athletes village on Wednesday to try to collect the swimmers' passports, but the team had already moved out. It was not immediately clear whether Feigen was still in Brazil.

Lochte, Feigen, and two other US swimmers say they were robbed at gunpoint while returning from a party early on Sunday morning.
Lochte told NBC their car was pulled over by men purporting to be police, when a man pointed a gun at his head and demanded the men hand over their valuables.
"The guy pulled out his gun, he cocked it, put it to my forehead and he said, 'Get down,'" Lochte said, describing the incident. "I put my hands up, I was like 'whatever.' He took our money, he took my wallet — he left my cell phone, he left my credentials."

However, police told the Associated Press they have uncovered little evidence of the robbery and said the swimmers were unable to provide officers with key details of the alleged robbery.
Police cannot locate the swimmers' taxi driver or any witnesses, the AP reported.
Ostrow maintained his client was telling the truth and said Lochte had "cooperated with Brazilian authorities."
He also defended his client's recollection of events to the authorities.
"They provided the details they were able to recall when they had a gun pointed to their head in the early mourning hours," he said.