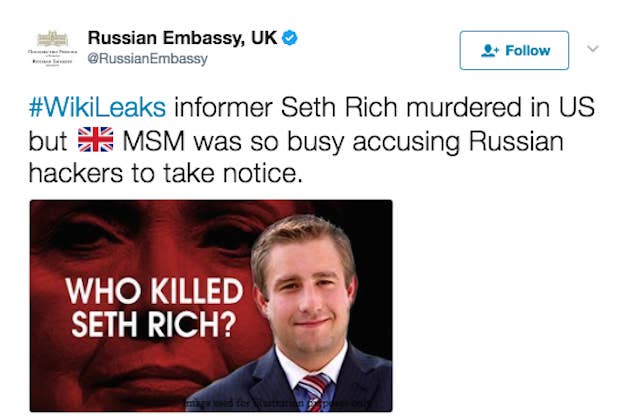 After Russia covertly worked to spread fake news during the 2016 US presidential election, the Kremlin on Friday took the overt step of blatantly peddling an unfounded conspiracy theory about Hillary Clinton.
A tweet from Russia's embassy in the United Kingdom on Friday accused US media of ignoring a conspiracy theory involving murdered Democratic National Committee staffer Seth Rich, whom they labeled a "WikiLeaks informer."
"Who killed Seth Rich?" read an image tweeted by @RussianEmbassy on Friday, featuring a photo of the slain staffer superimposed over an image of a malevolent looking Hillary Clinton.
Rich, 27, was fatally shot in July last year in Washington, DC, in what police have said was a suspected attempted robbery. His killer remains at large.
Days later, WikiLeaks released a trove of DNC emails, an act that intelligence officials have said was related to Russian meddling in the 2016 election.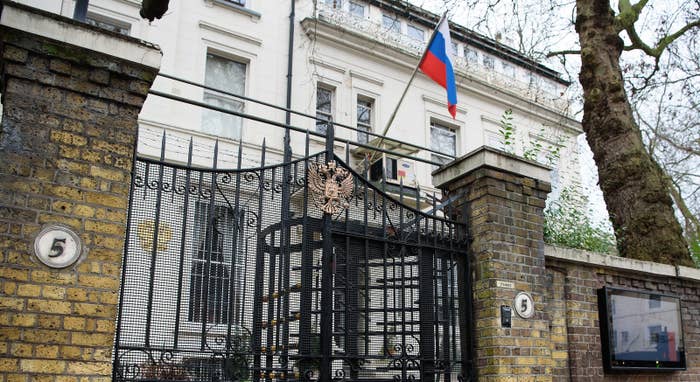 A local Fox station in Washington on Monday reported that a private detective hired by Rich's family had found "tangible evidence" he had been in touch with Wikileaks prior to his death. Fox News then reported that Rich "had leaked thousands of internal emails to WikiLeaks," citing a "federal investigator." (A person familiar with the matter confirmed to BuzzFeed News that the FBI is not investigating the case.)
Rich's family has strongly disputed the reports and have said they do not believe his death was connected to his role at the DNC.
The family also said the private investigator, Rod Wheeler (a Fox News contributor who was fired from the DC police department), was "paid for by a third party" and under his contract had been "barred from speaking to press" without explicit authorization from the family.
After the conspiracy lit up conservative media, Wheeler told BuzzFeed News and CNN that he had no personal knowledge of whether Rich sent emails to a contact at WikiLeaks.
"That story on Fox 5 last night was inaccurate," said Wheeler. "I don't even know where the computers are."
Rich family spokesman Brad Bauman, a Democratic political consultant, told BuzzFeed News that Rich's job at the DNC had nothing to do with IT or internal cybersecurity. "He wouldn't have had access to any of those emails," Bauman said.
After the Rich conspiracy received extensive coverage on Fox News this week, the family is now calling for a retraction and threatening legal action.