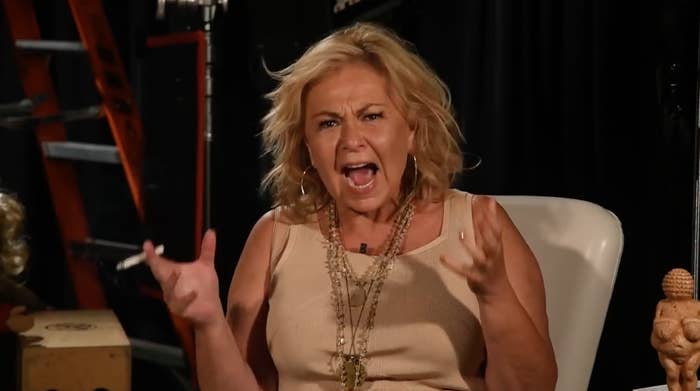 Dragging from a cigarette and appearing flustered, an unhinged Roseanne Barr has again blasted Valerie Jarrett, saying she sent out a racist tweet comparing the former Obama adviser to a monkey because she "thought the bitch was white."
In a video posted to her YouTube channel titled "Roseanne explains the Valerie Jarrett tweet," Barr is shown talking to off-camera producers who urge her to speak as if she's giving a presidential address.
"I'm trying to talk about Iran. I'm trying to talk about Valerie Jarrett wrote the Iran deal. That's what my tweet was about," she says.
"I know. You've explained this literally 300 times," says the producer.
"I thought the bitch was white!" Barr shrieks. "Goddamn it! I thought the bitch was white! Fuck!"
Barr's May 29 tweet about Jarrett, in which she said she was the "baby" of Egypt's Muslim Brotherhood political party and Planet of the Apes, drew immediate condemnation and prompted ABC to cancel her successful sitcom, Roseanne. (The network later picked up a spinoff of the show, The Conners, without Barr.)

The same day, Barr issued an apology to Jarrett and said she deeply regretted her comments. However, she soon began spreading conspiracy theories about Jarrett once again.
She later blamed Ambien for her original tweet. "It was 2 in the morning and I was ambien tweeting — it was memorial day too — I went 2 far & do not want it defended," she wrote on Twitter.
Later on Friday, however, she issued what she called her "official statement" on YouTube in which she blames her show's cancellation on her support for Trump.
"Hi, this is Roseanne Barr and I'd like to welcome you to my own studio, where I'm able to speak for myself to my fellow and sister Americans without the filter of the biased media," she says. "This was my statement from the very beginning, and it will continue to be forever because it is the truth."
Barr goes on to say that when ABC asked her to explain her tweet, "I told them I thought Valerie Jarrett was white." She says she also offered to on the talk show circuit to explain her actions, but the decision the decision was made to cancel her show "before even one advertiser pulled out and I was labeled a racist."
"Why, you ask? Well, the answer is simple. It's because I voted for Donald Trump and that is not allowed in Hollywood," she says.
In an interview last month, Barr broke down in tears as she described how she had "lost everything" as a result of the racist tweet.
"I horribly regret it," Barr said of the racist remark on the podcast.
"I've lost everything. And I regretted it before I lost everything and I said to God, 'I am willing to accept whatever consequences this brings, because I know I've done wrong. I'm willing to accept what the consequences are.' And I do. And I have."
Barr tweeted earlier this month that she was preparing to do a sit-down television interview. But she then said she had changed her mind.
"I'm going to film it myself & post it on my youtube channel in the next week-the entire explanation of what happened & why!" she tweeted. "I love you all-sign up & get ready."