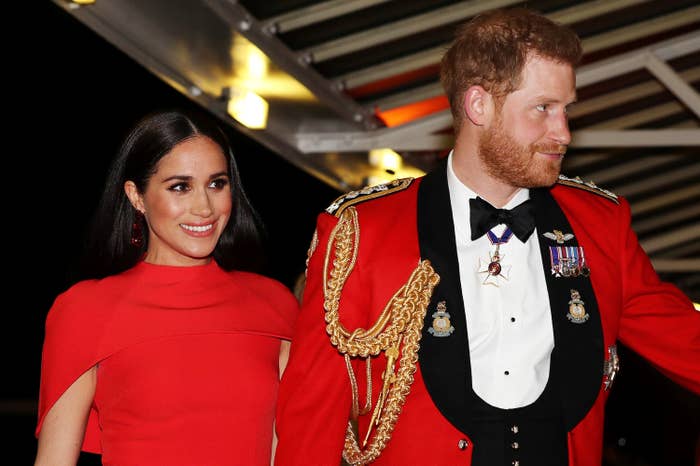 A Republican member of Congress has written a letter of protest to the British ambassador to the US, alleging that when the Duke and Duchess of Sussex recorded a video last month calling on American voters to "reject hate speech, misinformation, and online negativity," they were, in effect, campaigning against President Donald Trump.
"These actions represent a serious breach of the British Royal Family's policy of political neutrality and an inappropriate interference by one of our closest allies," Rep. Jason Smith of Missouri's 8th Congressional District wrote in the letter Friday.
Smith called on Dame Karen Pierce, the UK ambassador in Washington, DC, to request the British government ensure the pair "no longer attempt to interfere" in the US election "or be stripped of all titles, styles, and privileges which they currently retain."
Last month, as part of a special between ABC and Time magazine timed to coincide with National Voter Registration Day, Meghan and Harry called on Americans to head to the polls.
"Every four years we are told the same thing, that this is the most important election of our lifetime, but this one is," said Meghan, who like her son, Archie, is an American citizen as well as a member of the British royal family.
"As we approach this November, it's vital that we reject hate speech, misinformation, and online negativity," added Harry.
Harry and Meghan stepped back from the royal family earlier this year, reaching a deal with the Queen where they would no longer accept money from UK taxpayers or use their "royal highness" titles in exchange for fewer duties and more privacy. They now live in California.
In their voting video, the pair never mentioned Trump explicitly. A spokesperson for the duke and duchess said at the time the video was released they were merely calling for "decency and respect" and were not endorsing any candidate.
This point was referenced by several people on Friday, noting that Smith appeared to be linking the leader of his party to "hate speech, misinformation, and online negativity."
Others noted that in addition to Smith spelling Markle's name wrong, the lawmaker had ignored she is an American citizen and entitled to vote.
Rep. Raja Krishnamoorthi, a Democrat representing the 8th District of Illinois, also weighed in.
Still, senior royal aides told the Times newspaper in the UK last month that the comments had violated the agreement the pair made in splitting from the senior royals. They suggested the Queen and others would have to further distance themselves from the remarks.
When President Trump was asked about the comments at a White House press conference and was falsely told the pair had explicitly endorsed Joe Biden, he said he was "not a fan" of Meghan's.
"I wish a lot of luck to Harry — because he's gonna need it," said Trump.
Before she became a royal and was still an actor on Suits, Meghan had spoken out against Trump, calling him "divisive."
The Los Angeles–born actor dubbed him "misogynistic ... and so vocal about it," and said she was considering remaining in Canada, where she filmed Suits, if he won.
Last year, Trump was asked by the Sun newspaper about her old comments ahead of his state visit to the UK.
"I didn't know that," Trump said. "What can I say? I didn't know that she was nasty." (He later denied making the comments.)

President Trump, of course, has himself interfered in British elections. Ahead of the UK election in December, he called on Brits to reject Labor leader Jeremy Corbyn.
"Corbyn would be so bad for your country. He'd be so bad, he'd take you in such a bad way. He'd take you into such bad places," Trump said in October 2019.
In 2016, as he was running for president and British voters were contemplating Brexit, Trump said they would be "better off" without the European Union.
Representatives for the duke and duchess, Smith, and the British Embassy in Washington, DC, did not immediately respond to a request for comment.