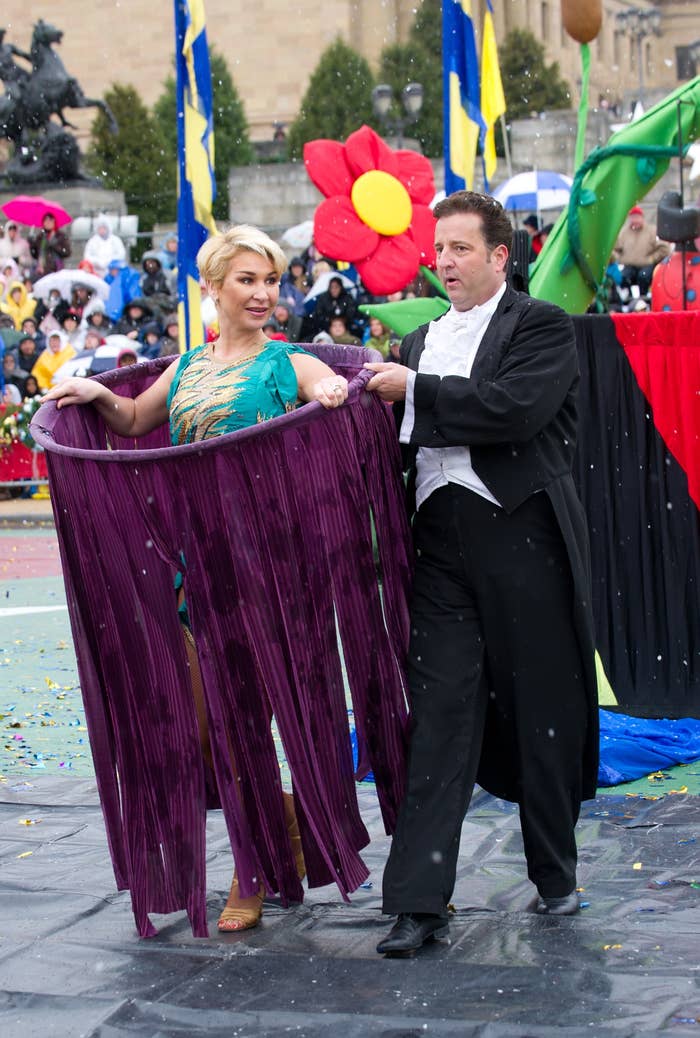 The journalists at BuzzFeed News are proud to bring you trustworthy and relevant reporting about the coronavirus. To help keep this news free, become a member and sign up for our newsletter, Incoming.
David Maas, one-half of a magic act whose quick costume changes delighted audiences at sporting events, in viral clips, and on some of TV's biggest shows, died Sunday from the coronavirus. He was 57.
His agent and manager, Wayne Hoffman, told BuzzFeed News Maas died in a hospital near his home in Chicago after being admitted on Nov. 15. "He seemed in good spirits prior. It was vey sudden, very quickly escalating," Hoffman said
In the mid-1990s, Maas and his future wife, Dania Kaseeva (pronounced Dan-ya), met while working at a circus where she was performing with a hula hoop and he was the ringmaster. The two quickly fell in love.
Wanting to remain together while on the road, they began developing their "Quick Change" act. Together with a seamstress flown over from Kaseeva's native Russia, they created a series of costumes that could be revealed one after the other. Their routine, a variation of a long-standing tradition in magic, combined ballroom dancing and illusions, with Maas regularly lifting a curtain over his partner that could then be dropped dramatically to showcase her in a vibrant new outfit. In perhaps their most stunning moment, Maas would shower his partner in sparkling confetti as yet another dress seemed to appear from thin air.
"It's very, very magical and very, very visual no matter where you're sitting," Maas told the Chicago Sun Times in 2006 after appearing on America's Got Talent and making it to the NBC show's semifinals. A clip of their performance went viral around the world and was viewed more than 21 million times.
Hoffman, a mentalist and illusionist himself, said he was thrilled to take on the pair when he began his talent agency two years ago. "Their reputations proceeded themselves as the greatest quick change magic act in the world," he said. "Knowing what I know about illusion and magic, when I first saw their act it felt like it wasn't a trick. It felt like real magic."
For more than 20 years, Maas and Kaseeva were frequent performers at halftime shows for the NBA, the WNBA, and college tournaments. "The first seven years we were married, we did not have one full week off," Kaseeva once told ESPN of their work ethic.
Fans adored the pair. ESPN declared them "the most successful halftime act in sports," while Sporting News ranked them in 2014 as the best halftime act in college basketball.
"Before Quick Change, halftime was a time for fans to go get more food or maybe use the restroom," the story read. "If the halftime show is Quick Change, you can bet plenty of those people are staying in their seats."
In 2015, they also assisted Katy Perry with a quick change act of her own during tour performances of her song "Hot N Cold."

"I can't share, magically, [what we do]," Maas told MTV. "It's not easy. It's a lengthy, long process that we worked on for years and years and years. To teach [Perry], you have to go in and you have to be with her physically — because they're made specifically for her body."
In 2007, the pair appeared on an episode of The Oprah Winfrey Show where they performed their routine for the talk show host and her audience.
"How did you do that?" Winfrey asked.
"I could tell you," Maas said, "but then we'd have to make you disappear."
Hoffman, the manager, said Maas was a gregarious and outgoing man who was always the life of the party and would be deeply missed by all, but especially his widow.
"It's like losing your husband and your job at the same time," said Hoffman. "There is no David without Dania, and no Dania without David. They are David and Dania. You can never separate them."