This is Michael Richman and John Rabbia.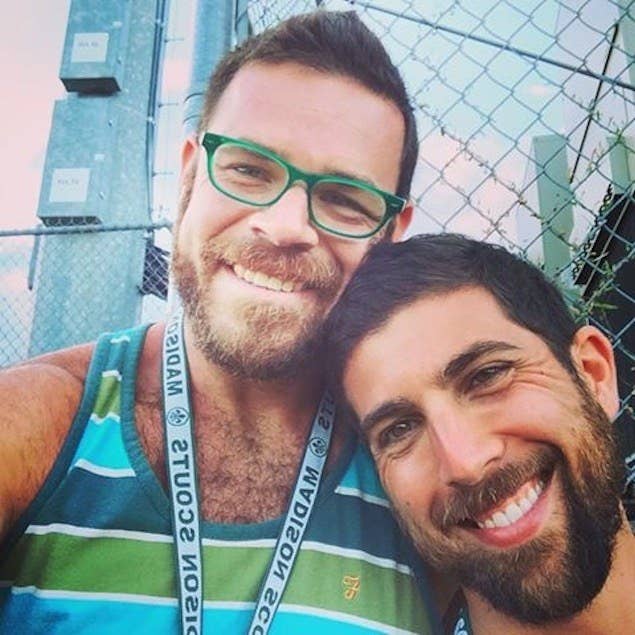 The couple, both of whom practiced competitive flag-twirling when they were younger, met at New York Pride three years ago when they joined a parade group of flag dancers called — yep — The Flaggots.
After two years in a long-distance relationship, Rabbia moved to NYC from upstate New York last year and immediately knew he wanted to marry the love of his life — so he began planning the perfect proposal.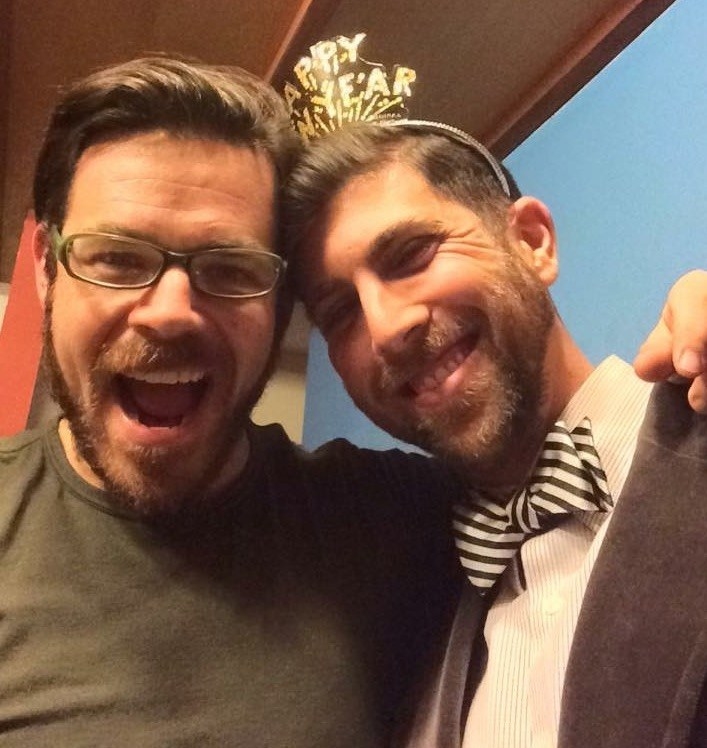 So, at New York Pride on Sunday, as the pair performed, little did Richman know that his partner had enlisted their flag-twirling friends to create one hell of a festive proposal.
As the poppy beats of Jesse Glynne's "Hold My Hand" blared, the dancers tossed and twirled their rainbow flags in sync before the parade float judges.
The spinning colors were mesmerizing.
"The routine itself, there was so much to keep track of and you don't want to look like a fool," Rabbia told BuzzFeed News. "I almost had to not think about the fact that I was about to propose because I didn't want to screw up."
But unbeknownst to Richman, the dancers had secretly rehearsed a separate version of their routine.
So, as the dancing ended, a friend feigned a sprained ankle to distract Richman while Rabbia strolled down to his partner through a sea of fluttering rainbows.
Rabbia then got down on one knee and popped the question.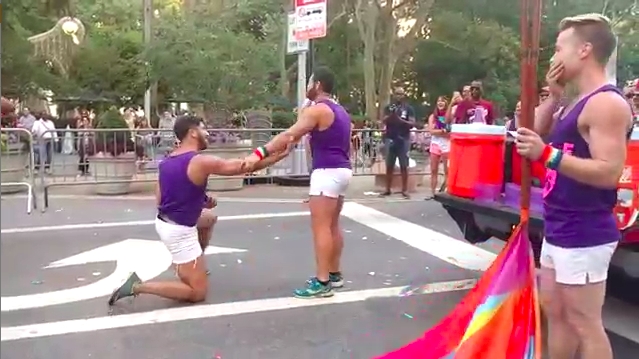 "Michael was like, 'Are you kidding me?!' He was sobbing," Rabbia said.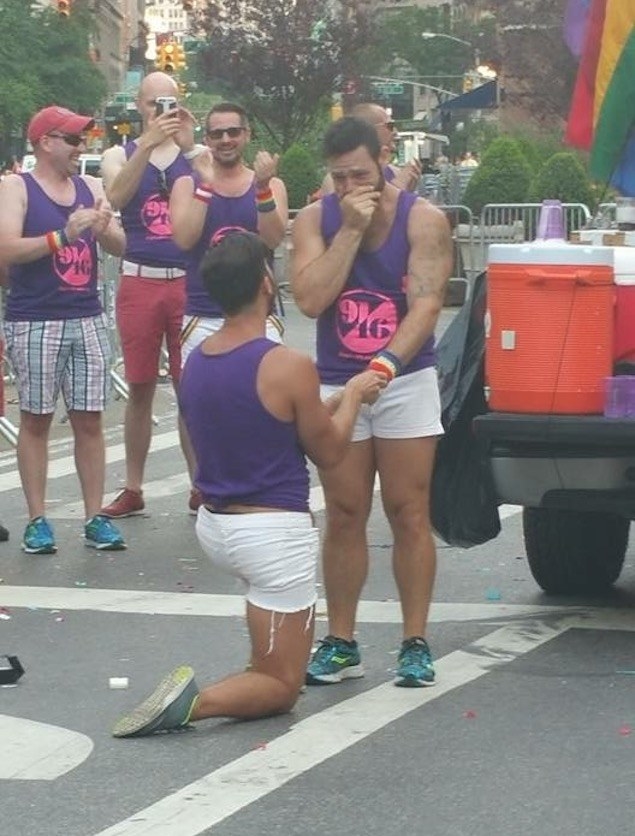 This guy was having the appropriate reaction. 😭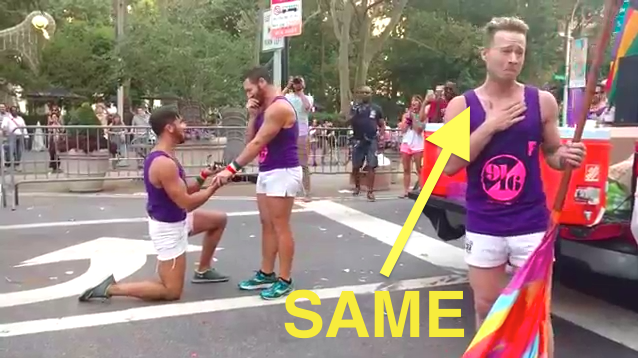 Everyone then rushed the pair to hug and congratulate them.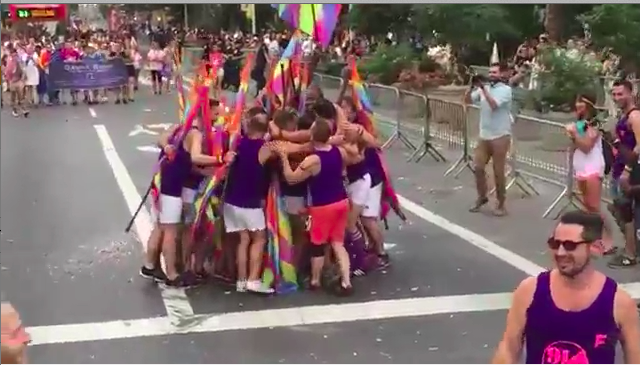 After the proposal, the dancers still had to complete the rest of the parade route. The newly engaged couple continued on the march, but in some more appropriate tank tops.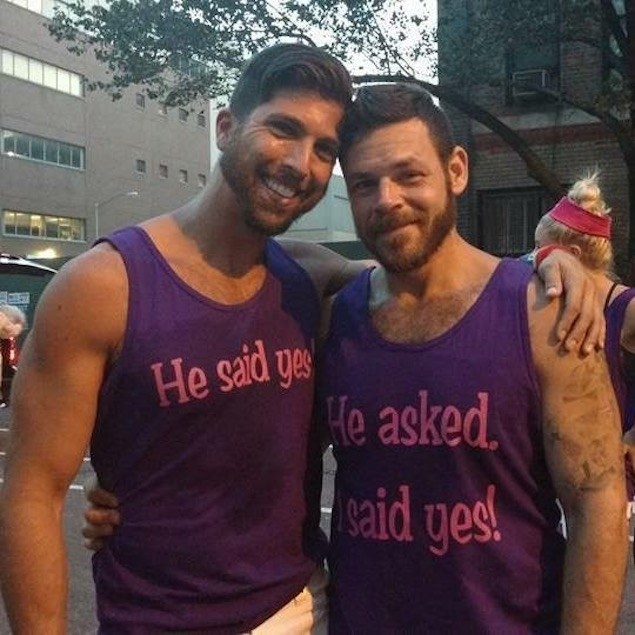 Video of the proposal has been viewed hundreds of thousands of times on Facebook. "It's absolutely crazy," Rabbia said. "There are relatives that my parents couldn't even get to. They're finding out from the video, not from us, because it went viral so quickly."

"I'm so incredibly steamrolled with love! And I'm crying left and right uncontrollably out of joy!" Michael Richman wrote on Facebook. "I cried when I woke up, I cried rewatching the proposal video, I cried alone in the shower!"
Rabbia said he thinks the reason the video is warming so many hearts is because of the recent tragedy the LGBT community suffered in Orlando.
"The Orlando tragedy was so heartbreaking and everyone in the community was so upset and devastated," he said. "It's nice there's a ray of sunshine at the end. There are new beginnings and our community is resilient. Maybe it gives people something to latch onto."
"There is hope," he said.
Congrats, guys! May your flags continue to flutter.. 🌈🚩