The average life expectancy for Americans living in poverty varies significantly depending on where they reside, according to a comprehensive new study.
While rich Americans tend to have high life expectancies regardless of where they live, the life expectancies for Americans living in poverty varies by about five years based on their city, according to the study in the Journal of the American Medical Association.
Researchers attributed the gap not to differences in access to health care or rates of income inequality, but rather to longer-living low-income residents of "affluent cities with highly educated populations and high levels of local government expenditures, such as New York and San Francisco."
People with low incomes are living longer in cities with lower smoking and obesity rates, such as in San Francisco and New York where local law makers have implemented bans on indoor smoking and trans fats. Additionally, cities with higher exercise rates, such as those with abundant public outdoor space, were better for the lifespans of people living in poverty.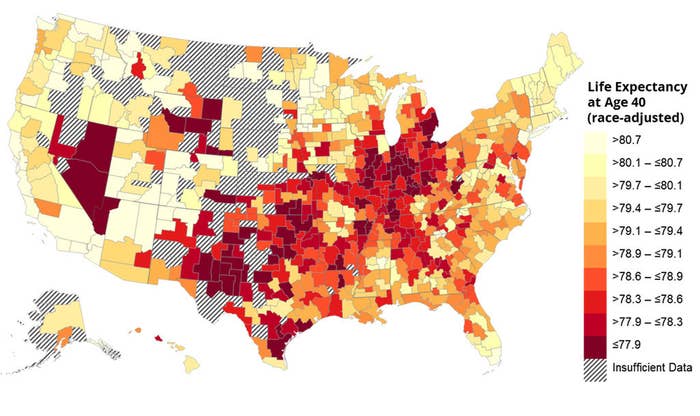 The geographical difference can be best put in perspective, researchers said, by considering that the Centers for Disease Control and Prevention estimate life expectancy across the country would increase by three years if all forms of cancer were eliminated. "Hence, it is as if low-income men in New York and San Francisco – which have the highest levels of life expectancy – are immune from cancer," the study's authors wrote, "while men in Detroit or Indianapolis – which have low levels of life expectancy for the poor – are not."
Michael Stepner, a Ph.D. candidate at MIT and one of the study's authors, told BuzzFeed News the findings suggest "there is no uniform story about being poor in America."
"Much of the conversation in the U.S. has been over inequality in health care at a national level," he said, but noted the data showed this wasn't a uniform fact and poor people's lifespans are increasing in some cities.
"There's room for improving at a local level," he said. "You can't solve this problem entirely at a national level."
Here are the cities where the poor live the longest in America:
2. Santa Barbara, California — 81.7 years
3. San Jose, California — 81.6 years
4. Miami — 81.2 years
6. San Diego — 81.1 years
7. San Francisco — 80.9 years
8. Santa Rosa, California — 80.8 years
10. Port St. Lucie, Florida — 80.7 years
Rounding out the top 20 were Boston (80.5 years); Washington, D.C. (80.5 years); Cape Coral, Florida (80.4 years); Portland, Maine (80.4 years); Chicago, Illinois (80.3 years); Orlando (80.2 years); Portland, Oregon (80.1 years); Providence, Rhode Island (80.1 years); Brownsville, Texas (80.1 years); and Modesto, California (80 years).
With an average life expectancy of 77.4 years, researchers found Gary, Indiana, was the worst performing city on their list.
This was followed by Las Vegas (77.6 years); Oklahoma City (77.6 years); Indianapolis (77.6 years); Tulsa, Oklahoma (77.6 years); Detroit (77.7 years); Cincinnati (77.9 years); Toledo, Ohio (77.9 years); Louisville, Kentucky (77.9 years); and San Antonio (78).
Importantly, the study also found that the gap in lifespans between rich and poor Americans grew between 2001 and 2014.
People in the top 5% of income added three years on average to their life expectancies, while lifespans didn't change at all for people in the bottom 5%.
"The richest American men live 15 years longer than the poorest men, while the richest American women live 10 years longer than the poorest women," researchers wrote.
"The poorest men in the U.S. have life expectancies comparable to men in Sudan and Pakistan; the richest men in the U.S. live longer than the average man in any country."