A gunman stormed a Colorado Springs Planned Parenthood clinic Friday, opening fire and killing one police officer and two civilians before he was taken into custody, officials said. Nine others were injured with gunshot wounds, including five officers.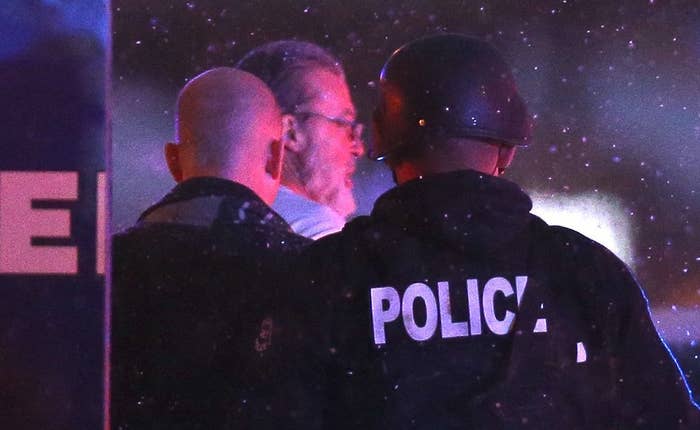 The nine victims transported to hospitals were in "good condition," police spokesperson Lt. Catherine Buckley said at a Friday evening press conference.
All Planned Parenthood staff was safe and accounted for after the attack, the organization said in a statement.
On Saturday morning, police confirmed the suspect was Robert L. Dear, 57, of North Carolina.
Zigmond Post, who told BuzzFeed News he was a neighbor of Dear's in Hartsel, Colorado, said the man once gave him anti-Obama pamphlets.
Post said he once went to Dear's home to retrieve two dogs that had gotten loose. "We were there for a minute and the guy was already handing us anti-Obama pamphlets," he said. According to Post, Dear said "Obama was ruining the country and needed to be impeached."
Post told BuzzFeed News he last spoke with Dear on Wednesday when he saw him at the local post office. He said didn't believe Dear was acting strangely. "I never thought he would do anything like that," Post said of Friday's rampage. "You never think your neighbor would do anything like that."
Post said police arrived at Dear's trailer home around 1 a.m. on Saturday morning, and had sent sapper robots into the home later in the morning.
A photo taken by BuzzFeed News reporter Sheera Frenkel showed Dear's Hartsel trailer sitting in a cluttered area behind a low fence.
Colorado Springs Mayor John Suthers said the gunman was taken into custody by police Friday evening after an hours-long standoff.
Suthers said police at a command base were able to watch live security cameras from inside the clinic to coordinate with officers on scene to capture the shooter.
"We're still trying to figure out exactly what happened, who our victims are, and what we need to do from this point forward," Chief of Police Peter Carey added.
It was a "very, very difficult afternoon in Colorado Springs," Carey said. "All that I can say is my heart is broken."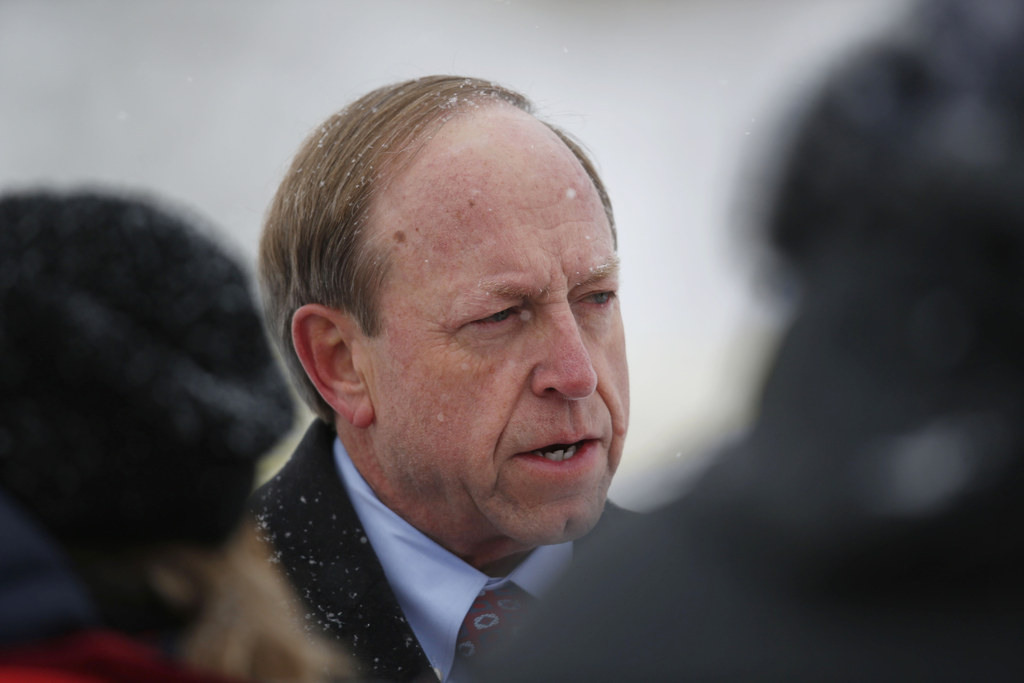 The suspected gunman's motive remained unclear Saturday, but unnamed sources told multiple media outlets Dear had talked about "no more baby parts" and President Obama during police interviews.
NBC News described Dear's comments as "rants" that touched on politics and abortion. However, it was still unknown Saturday how this comments might have played into a motive, NBC News also reported.
A law enforcement source also mentioned Dear's political comments to the Washington Post, and said the attack was "definitely politically motivated."
The scene of the tense standoff was quiet Saturday, snow falling softly at the shopping complex and adjacent medical plaza that is home to Planned Parenthood.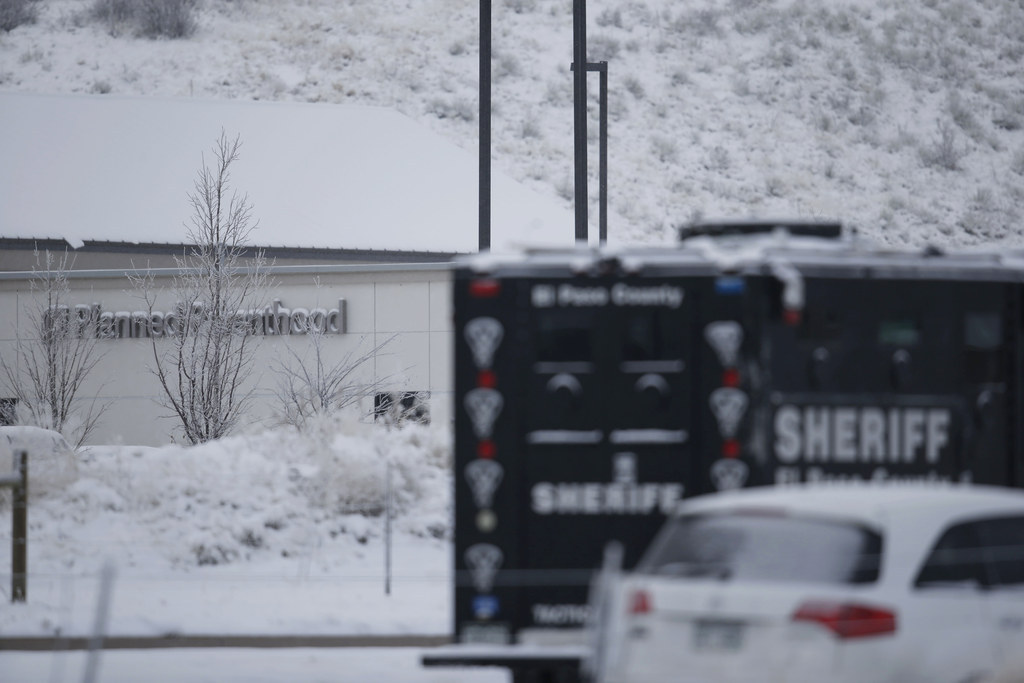 The clinic and surrounding buildings remained cordoned off with police officers stationed nearby.
In the parking lot of the shopping complex, people slowly started returning to where they had sheltered for hours.
Several of the businesses, including the King Sooper grocery store, were closed except to let in people to retrieve belongings they had left behind when the word finally came that they could flee.
Cars left behind were blanketed with snow; drivers brushed them off, ready to put behind them the holiday weekend that had turned into a nightmare.
Mayor John Suthers on Saturday morning met with the four law enforcement officers at Penrose Hospital. They're in good spirits, he said.
"These types of incidents can occur in any city in the United States," Mayor Suthers said.
President and CEO of Planned Parenthood of the Rocky Mountains Vicki Cowart told a vigil Saturday that all 15 clinic staff survived the shooting.
She said her employees worked hard to shelter people during the attack.
Cowart, who received a standing ovation at the vigil, vowed the clinic would reopen.
In a statement, University of Colorado-Colorado Springs chancellor Pam Shockley Zalabak identified the officer who was killed as Garrett Swasey, 44.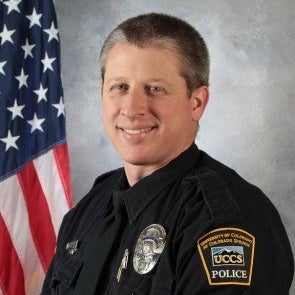 Swasey, who was employed with the university, "responded in support of Colorado Springs Police to the active shooter situation at about 11:50 a.m. Friday. He was killed in the line of duty," Zalabak wrote.
He was a six-year veteran of the school's police force.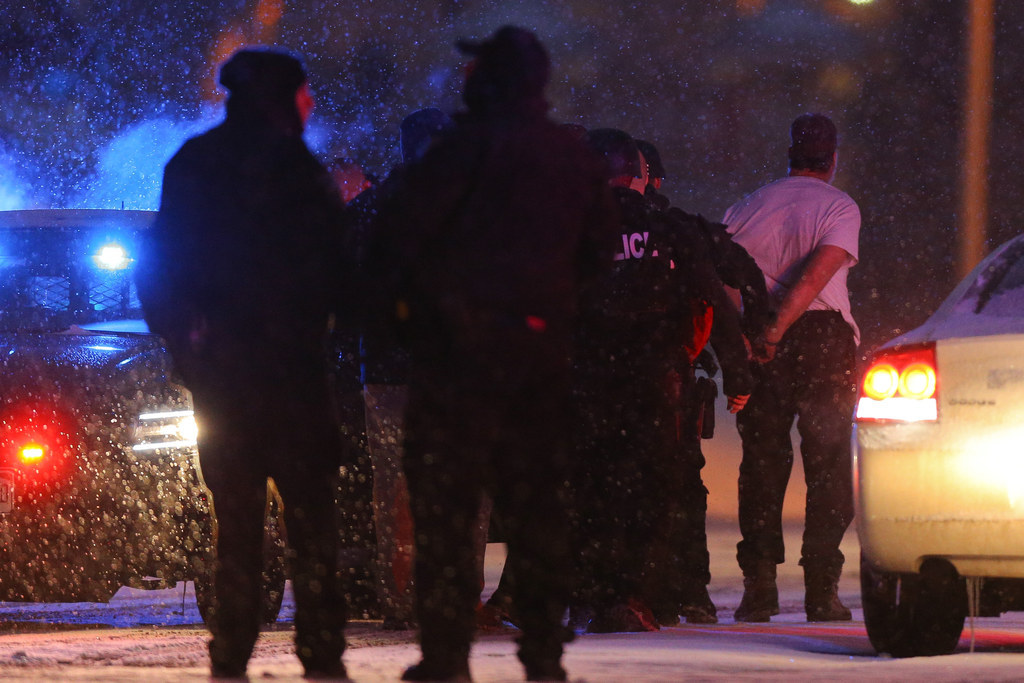 Police spokesperson Lt. Catherine Buckley told reporters that the suspect surrendered and that officers "acted with untold valor to make sure individuals were taken out of the Planned Parenthood building."
Earlier, she said the shooter had brought "items to the building with him," that will need to be examined for potential explosives.
Police evacuated numerous people inside the clinic during the standoff, which had multiple patients and medical staff inside at the time.
In a statement, Vicki Saporta, President and CEO of the National Abortion Federation (NAF), blamed the violence on the controversial Planned Parenthood videos released earlier this year:
Our hearts go out to the families of those who were killed and to those who were injured at the scene. We are grateful to law enforcement at all levels who responded to this incident, and to the clinic staff who endured this attack and took quick action to ensure that patients were safe.

Since a series of highly-edited, misleading anti-abortion videos was released in July, we have seen an unprecedented increase in hate speech and threats against abortion providers. We have been quite worried that this increase in threats would lead to a violent attack like we saw today.

This clinic is part of the Planned Parenthood Rocky Mountains affiliate, which was featured in one of the highly-edited smear videos released this summer. Since that video, the affiliate has seen an increase in protesters and death threats against one of their doctors.
The shooting began Friday at the Planned Parenthood clinic, Buckley said, despite reports on social media that the clinic was not the first scene of attack.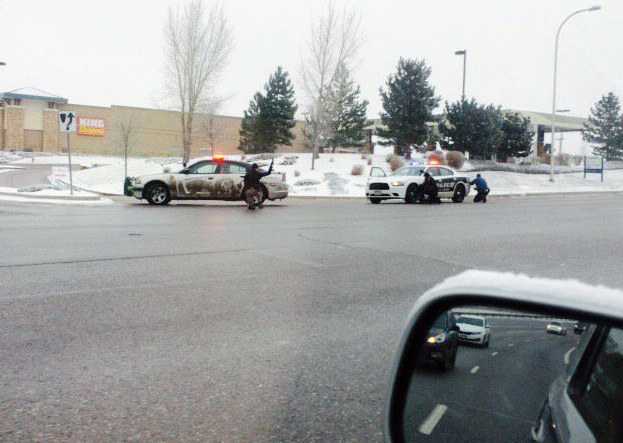 "We did have victims that left the Planned Parenthood building and made their way to [a nearby] bank, so there were some victims who were at the bank," she said.
Buckley added that once the scene was stabilized, police expected to remain for hours to check out "items" the suspect had brought with him.
Police and firefighters first responded at 11:49 a.m. local time. When officers arrived, they encountered "active gunfire," Buckley said.
Joan Motolinia told reporters his sister, Jennifer, called him from inside the clinic as the gunmen was shooting.
"She was telling me to take care of her babies because she could get killed," Motolinia said.
"People were shooting for sure. I heard someone shooting. There was a lot of gunfire. She was calm she was trying to hide from those people," he said.
The clinic is located in a strip mall shopping center and was previously the site of protests.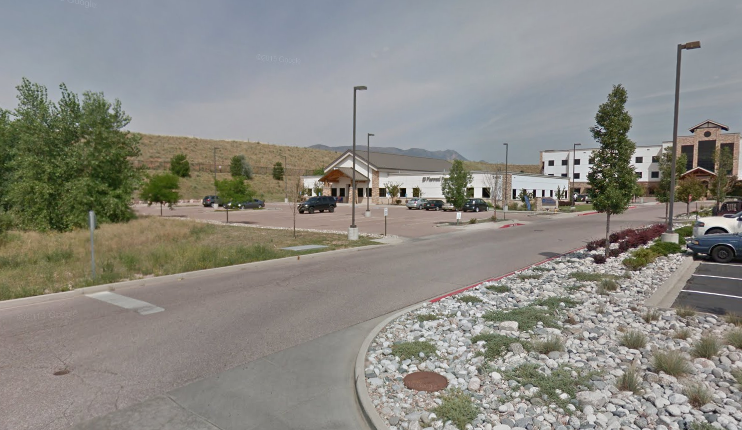 A local report from August estimated 300 people gathered after the release of a video in which a Planned Parenthood official discussed the use of fetal tissue for research.
Police told people in the shopping center to shelter in place. An FBI spokesperson told BuzzFeed News they were assisting in the response, and the Bureau of Alcohol, Tobacco, Firearms and Explosives also announced they were responding.
President Obama released a statement Saturday morning, giving his condolences to the families of the victims, and urging the American people not to let this level of gun violence "become normal."
The last thing Americans should have to do, over the holidays or any day, is comfort the families of people killed by gun violence -- people who woke up in the morning and bid their loved ones goodbye with no idea it would be for the last time.

And yet, two days after Thanksgiving, that's what we are forced to do again.

We don't yet know what this particular gunman's so-called motive was for shooting twelve people, or for terrorizing an entire community, when he opened fire with an assault weapon and took hostages at a Planned Parenthood center in Colorado.

What we do know is that he killed a cop in the line of duty, along with two of the citizens that police officer was trying to protect. We know that law enforcement saved lives, as so many of them do every day, all across America. And we know that more Americans and their families had fear forced upon them.

This is not normal. We can't let it become normal. If we truly care about this -- if we're going to offer up our thoughts and prayers again, for God knows how many times, with a truly clean conscience -- then we have to do something about the easy accessibility of weapons of war on our streets to people who have no business wielding them. Period. Enough is enough.

May God bless Officer Garrett Swasey and the Americans he tried to save -- and may He grant the rest of us the courage to do the same thing.
Attorney General Loretta Lynch issued a statement Saturday condemning the attack as "unconscionable."
Lynch called the attack an "assault on the rule of law," as well as "a crime against women receiving healthcare services at Planned Parenthood, law enforcement seeking to protect and serve, and other innocent people."
"And in the days ahead, our thoughts and prayers will be with the victims of this horrific attack — including Officer Garrett Swasey, who gave his life in order to keep others safe," Lynch's statement added. "We wish a speedy recovery for those who were injured, and peace and strength for the loved ones of the fallen."
The suspect was reported to be armed with a long gun, but police said they did not have information on what type of firearm it was or its capacity.
A receptionist at the optometrist across the street from the clinic, Elite Vision PC, told BuzzFeed News their office was on lockdown. She said people came to shelter in their building but had not said what was going on.
Jesus, a leasing consultant at nearby Camelback Point Apartment Homes who declined to give his last name, told BuzzFeed News that his office was on lockdown after receiving calls from their security company and from many residents.
He said residents had given him mixed reports about where the shooter had been before entering the Planned Parenthood; Some said the shooter had been in the parking lot, while others told him the shooter had been firing at passing cars, Jesus said.
Planned Parenthood of the Rocky Mountains released a statement after the shooting, confirming all of its staff was safe and accounted for:
The heart of Planned Parenthood of the Rocky Mountains is broken tonight as we try to make sense of the horrific tragedy that struck our beloved health center in Colorado Springs. Our thoughts are with the all those who were impacted and particularly the families of the two civilians and law-enforcement officer whose lives were lost. We are grateful to report that all our staff are safe and accounted for and are hoping for the best possible outcomes for the others wounded in this attack.

The information regarding the gunman's motive remains unknown as does whether Planned Parenthood was targeted deliberately. We maintain strong security measures and always work closely with law enforcement agencies to ensure our very strong safety record.

While our Colorado Springs health center will remain closed while we rebuild, our 28 other regional health centers will remain open, providing compassionate, high-quality health care. No matter what.
Colorado Gov. John Hickenlooper expressed his support for the officers who responded to the shooting.
"We hold the Colorado Springs community in our thoughts and prayers. The bravery and courage of local law enforcement officers have prevented a dire situation from being far worse, and we are all grateful. We are in contact with Mayor Suthers. All state Public Safety resources are at the ready, if and when needed.
Democratic presidential contender Hillary Clinton tweeted her support for Planned Parenthood in the wake of the shooting.
As a precaution, New York City police deployed vehicles to Planned Parenthood clinics across the city.
Sheera Frankel contributed to this report.