Greenpeace has apologized for offending Peruvians after the country's government threatened legal action against a group of activists who entered a restricted world heritage site and unfurled a banner.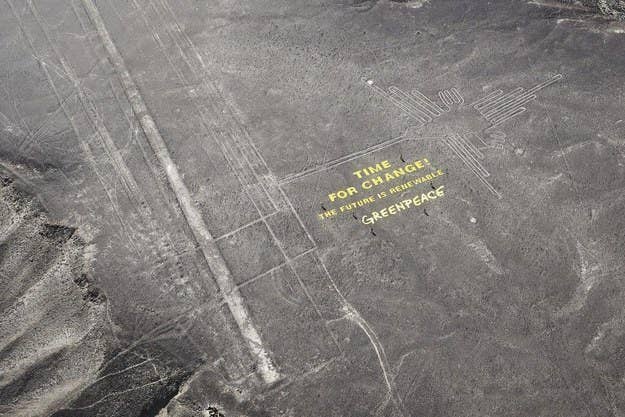 Twenty environmental activists from seven countries trekked into the area around the ancient Nazca Lines ground markings and laid out massive yellow letters reading, "Time For Change: The Future Is Renewable."
The Nazca Lines, which were designated a UNESCO World Heritage Site in 1994, are believed to have been created between 400-650 A.D.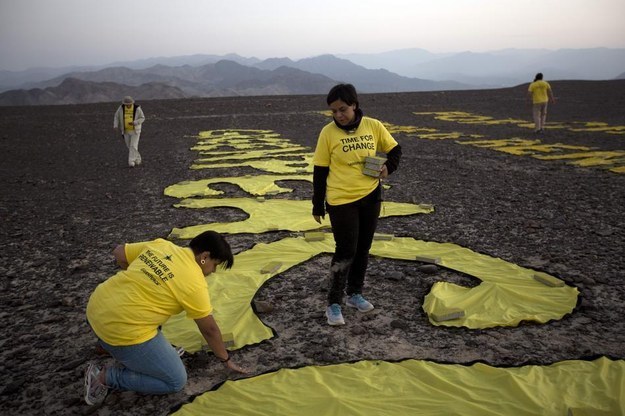 The banner was placed next to the iconic hummingbird geoglyph, pictured here in its normal state.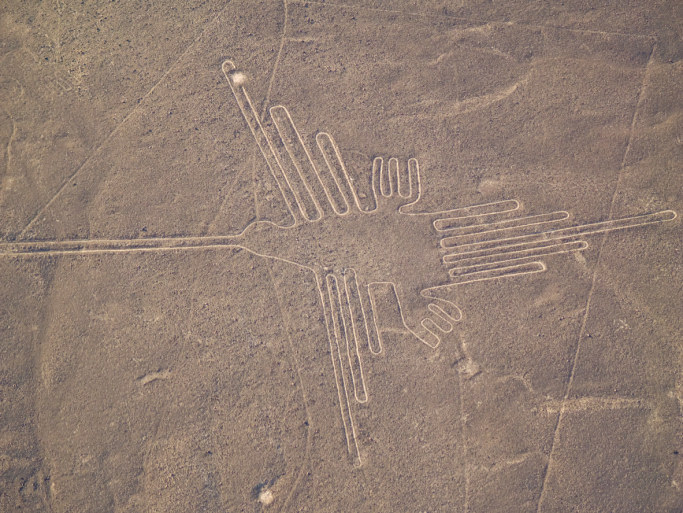 Peru's deputy culture minister Luis Jaime Castillo said his country would file charges against the activists for "attacking archaeological monuments" that he described as "absolutely fragile," according to the BBC .
"You walk there and the footprint is going to last hundreds or thousands of years," he said.
"They haven't touched the hummingbird figure but now we have an additional figure created by the footsteps of these people," Castillo said.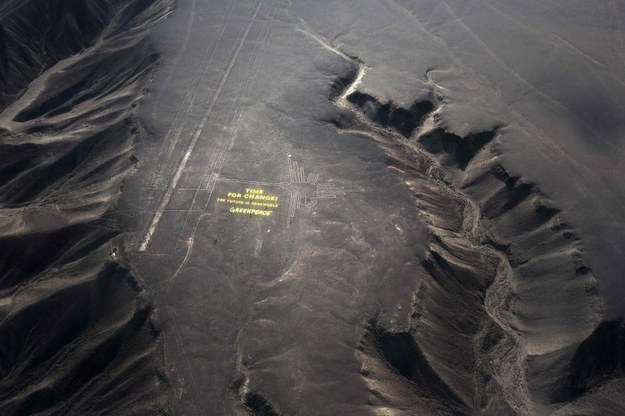 The group was attempting to pressure diplomats meeting in Peru's capital Lima for the UN climate summit.
In a statement to BuzzFeed News, Greenpeace said it "deeply apologizes for offending the Peruvian people."
"Greenpeace has a history of nearly 40 years of peaceful activism and the utmost respect for all of the planet's people and their diverse cultural legacies," the statement read. "We sincerely apologize to those who were troubled by the protest."
The group added it would be approaching Peruvian authorities to further clarify the reasons and details of the protest.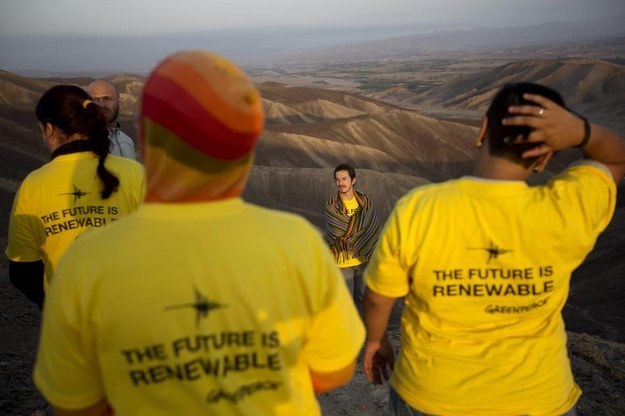 Greenpeace said activists from Brazil, Argentina, Chile, Spain, Germany, Italy, and Austria were involved in the stunt.
An earlier press release from group said the message was intended to "honor" the Nazca people: "It is believed that one of the reasons for the Nazca's disappearance can be linked to massive regional climate change," the statement read. "Today, manmade climate change caused by the burning of oil, coal and gas is threatening our future."
Update: Dec. 12, 05:00 p.m. ET:
Greenpeace US Executive Director Annie Leonard has released the following statement in regards to the Nazca Lines incident:
I am deeply disappointed that Greenpeace demonstrated at the sacred Nazca Lines in Peru.

We have been hearing from many of you and I share your frustration and anger about this situation.

The decision to engage in this activity shows a complete disregard for the culture of Peru and the importance of protecting sacred sites everywhere. There is no apology sufficient enough to make up for this serious lack of judgment.

I know my international colleagues who engaged in this activity did not do so with malice, but that doesn't mitigate the result. It is a shame that all of Greenpeace must now bear.

For many years Greenpeace US has been making a concerted effort to reach out to and collaborate with diverse constituencies, many of whom share different cultures, values and priorities. We know it's important for us to be a strong ally who can learn from the leadership of our partners and ensure the work we do reflects and supports all communities.

The Nazca Lines situation has undermined the trust of many allies and supporters that we have been working so hard to build.

As Executive Director of Greenpeace US I assure you that our organization will do everything possible to ensure nothing like this ever happens again and that we will strive to protect the planet in the most respectful, effective and collaborative way possible. I know it will take time and substantial effort to rebuild the trust we have lost, and I am committed to doing that. I am also committed to ensuring that those responsible are held accountable and that we put safeguards in place to ensure that nothing like this happens ever again.

None of these words justifies the pain and anger so many of you are feeling. The next time you hear from me, we will be a better and more respectful Greenpeace.