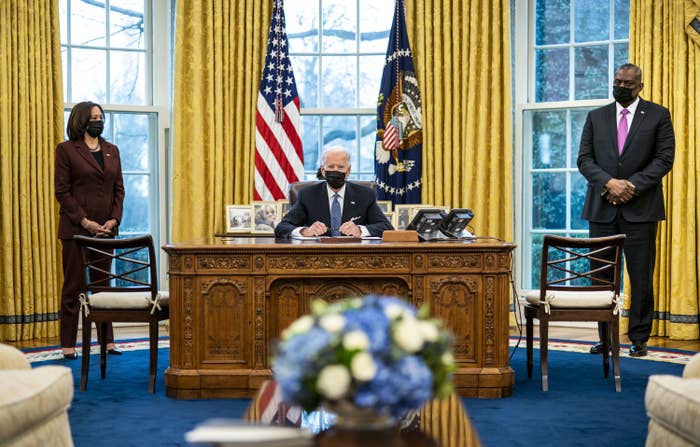 Pentagon officials announced new guidelines Wednesday allowing transgender people to enlist and serve freely in the US military, as well as receive gender-affirming medical care.
The new policies effectively sweep away some of the last vestiges of the Trump administration's ban on transgender troops serving openly.
John Kirby, the Pentagon press secretary, said Defense Secretary Lloyd Austin wanted the military to recruit the best possible service members, regardless of their gender identity, and to reflect the diversity of the country it defends.
"We proudly recognize transgender and gender nonconforming people and their continuing struggle for a life of equality and dignity," Kirby told reporters at a briefing on Wednesday, which is International Transgender Day of Visibility.
In January, President Joe Biden signed two executive orders that reversed his predecessor's ban and directed the Pentagon to determine new, detailed guidelines.
Kirby said the new guidelines, which will go into effect in 30 days, prohibit discrimination based on gender identity, allow people to enlist under the gender with which they identify, protect the privacy of trans troops, and provide a path for trans service members to seek medical treatment for their transition.
Former president Donald Trump had previously justified his ban by saying that transgender people would leave the military "burdened with medical costs and disruption."
But Stephanie Miller, Pentagon director of military accession policy, told reporters she expected the healthcare costs to run a "handful of a million dollars per year."

"We're not anticipating with these changes of policy that there's going to be a significant impact in terms of cost," Miller said.
Miller said there were currently 2,200 active duty members who have received a diagnosis of gender dysphoria, but not all transgender people have received a diagnosis.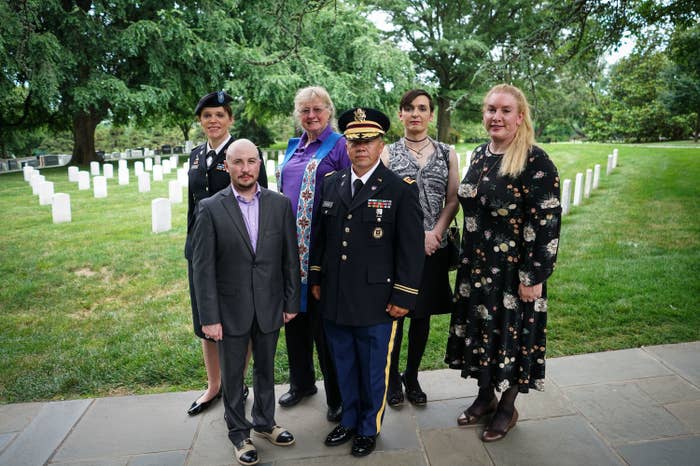 The new policy effectively reinstalls guidance issued when former president Barack Obama first lifted the ban on transgender troops in 2016.

Trump's ban — announced via a series of surprise tweets in 2017 — reversed that and immediately prompted a number of legal battles that delayed the full ban for almost two years. Under the policy, people could not enlist if they had transitioned from their "biological sex" to another gender, existing recruits could not transition while serving, and trans service members had to conform to uniform and fitness standards associated with their birth sex.
Navy Chief Petty Officer Melody Stachour is a representative from the transgender military service organization SPART*A, which said the new guidance was a "welcome reprieve."

"This policy provides much-needed clarity to our services members," said Stachour, "allowing them to complete their transitions in a timely fashion and quickly resume their day-to-day mission within our armed services."
Sarah Kate Ellis, president of LGBTQ media group GLAAD, also welcomed the guidelines.
"This will make our military more ready, more cohesive, and more equal," Ellis said.

Lieutenant Commander Blake Dremann, the former president of SPART*A, told BuzzFeed News it is the group's hope that Biden's early actions will give time for people both in and out of uniform to get used to transgender people serving openly.
"If it changes in 2024, it would give the idea that removing transgender troops would be as unconscionable as repealing President Truman's executive order to integrate the services," he said.
Dremann also said they want these new policies codified in law "so we don't have to go through this every time the administration changes hands."