Pennsylvania Gov. Vetoes Bill Banning Identification Of Cops Involved In Shootings
Gov. Tom Wolf said he refused to sign the bill in part because it would allow "transparency to be criminalized."
Pennsylvania's governor on Monday vetoed a bill that would have banned officials from identifying police officers involved in shootings unless they are ultimately charged with a crime.
House Bill 1538 would have outlawed the identification of law enforcement officers being investigated for discharging a firearm or using force that resulted in the death or injury of a person. Any identifying information would only be allowed to be released if the officer is charged with a crime after the official investigation concludes. Anyone who violated the proposed law could have been criminally charged with a second-degree misdemeanor.
The bill, which attracted bipartisan support among state lawmakers, had the backing of the Philadelphia police union. "We're just asking to put a lid on the boiling pot until things calm down, especially if it's an investigation that could lead to protests in the community," union president John McNesby told the Pittsburgh Post-Gazette in Sept. 2015.
But civil liberties groups implored the governor to veto the bill, which was passed by state legislators last month.
"This bill is the antithesis of transparency and is apparent backlash to a social change movement that is asking for fairness from the police," said Reginald T. Shuford, executive director of the ACLU of Philadelphia, in a letter to Gov. Tom Wolf earlier this month.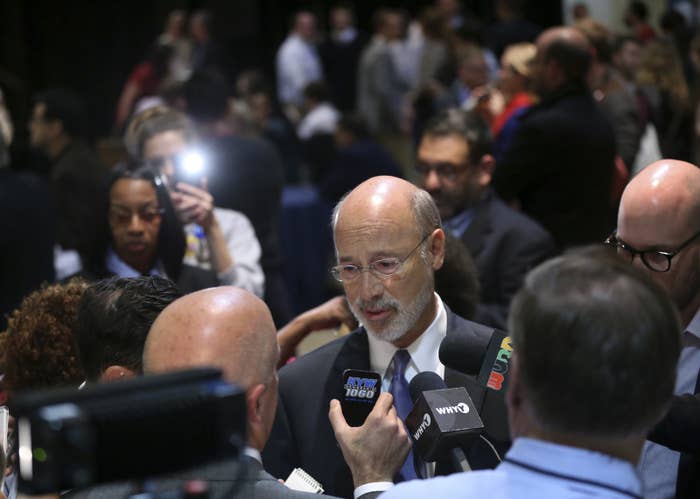 Wolf ultimately concurred with this assessment, announcing in a statement Monday he had vetoed the bill in part because it would allow "transparency to be criminalized":
While I am deeply concerned for the safety of the Commonwealth's police officers, government works best when trust and openness exist between citizens and their government, and as such, I cannot sign into law a policy that will enshrine the withholding of information in the public interest. These situations in particular – when law enforcement uses deadly force – demand utmost transparency, otherwise a harmful mistrust will grow between police officers and the communities they protect and serve. Further, I cannot allow local police department policies to be superseded and transparency to be criminalized, as local departments are best equipped to decide what information is appropriate to release to the public.
Black Lives Matter Philly member Candace McKinley told BuzzFeed News her chapter had encouraged supporters to contact Wolf and urge him to veto the bill.
"We know that the Governor's act won't result in police transparency and accountability overnight, but it is a small victory against the forces that would see what little progress we've gained undone," McKinley said.
John McNesby, the police union president, did not immediately respond to a request for comment.

But Rep. Martina White, a Republican who was the bill's chief sponsor, vowed to reintroduce the bill, calling it necessary to protect officers and their families from threats.
"Shootings are increasingly political," she said in a statement to BuzzFeed News. "That places the lives of our officers and the lives of their family members in danger. While we need transparency whenever police are involved in a shooting, we owe our officers basic protection from threats."
Read the governor's veto letter to lawmakers:
Download PDF