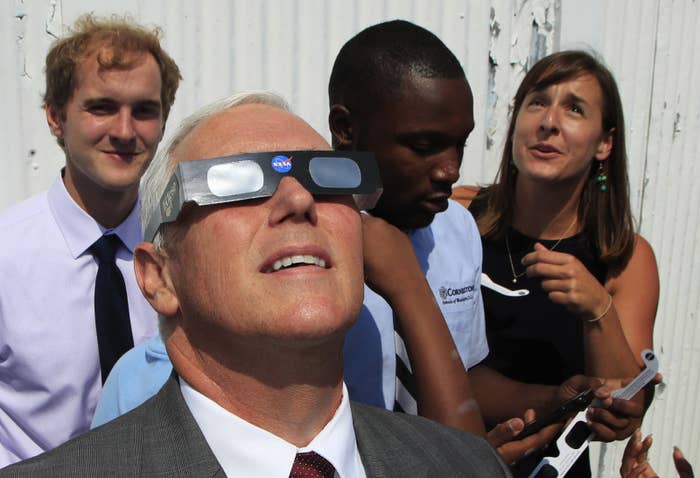 Amid a national debate on the future of Confederate statues across the US, Vice President Mike Pence said on Tuesday he believed the fate of the monuments should be decided at the local level, adding that he viewed such works as an important part of American history.
"I'm someone who believes in more monuments, not less monuments," Pence told Fox & Friends. "What we ought to do is we ought to remember our history. But we also ought to celebrate the progress that we've made since that history."

At least 25 Confederate monuments across the US have been removed following the Aug. 12 violence in Charlottesville, in which a young woman was killed while demonstrating against a white supremacist rally.

President Trump was condemned last week by both Republicans and Democrats for defending the white supremacists who protested in Charlottesville against the removal of a statue of Confederate Gen. Robert E. Lee.
"This week it's Robert E. Lee, and this week, Stonewall Jackson. Is it George Washington next?" Trump asked, noting the country's first president had owned slaves. "You have to ask yourself, where does it stop?"
Asked by Fox News host Ainsley Earhardt how he felt about the media continuing to talk about Charlottesville after Trump's Monday evening address on Afghanistan, Pence said "criticism comes with the job."
"The president couldn't have been more clear since that terrible day in Charlottesville, that tragic day, that we condemn bigotry and hate and violence in all its forms," Pence said. "We denounce white supremacists, the KKK, and neo-Nazi organizations."
In fact, Trump took two days to explicitly denounce white supremacist groups after Charlottesville, then used an Aug. 15 press conference at Trump Tower to again compare such groups to the anti-racist demonstrators.
At a CNN event on Monday night, House Speaker Paul Ryan was critical of Trump's statements.
"I do believe that he messed up in his comments on Tuesday, when it sounded like a moral equivocation, or at the very least moral ambiguity, when we need extreme moral clarity," Ryan said.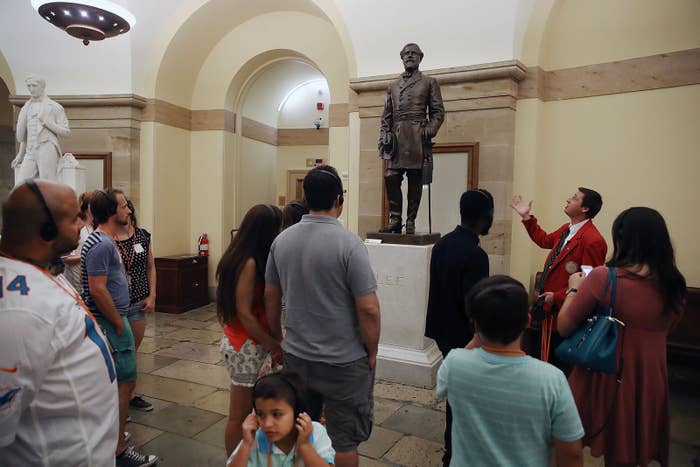 Asked if he supported the removal of Confederate statues from the US Capitol building, as Minority Leader Nancy Pelosi has proposed, the vice president said he believed such decisions should be made at the state level:
Pence: Well, first off, I agree with the president that seeing people destroy public property in the name of any cause is just simply unacceptable. Communities can have conversations about what displays happen.


But I hold the view that it's important that we remember our past and build on the progress that we have made. The United States Capitol, every state is able to donate two statues to commemorate citizens that they want remembered. And in the heart of our government. And states can make those decisions. What we have to walk away from is a desire by some to erase parts of our history just in the name of some contemporary political cause.





Earhardt: You're in favor of keeping those monuments?


Pence: I think that — obviously, I think that should always be a local decision and, with regard to the US Capitol, should be state decisions. But I'm someone who believes in more monuments, not less monuments. What we ought to do is we ought to remember our history. But we also ought to celebrate the progress that we've made since that history.


You know, when I walked back in 2010 across the Edmund Pettus Bridge with John Lewis, arm and arm, and we remembered Bloody Sunday and the extraordinary progress of the civil rights movement, I can't help but think that, rather than pulling down monuments, as some are wont to do, rather than tearing down monuments that have graced our cities all across this country for years, we ought to have been building more monuments. We ought to be celebrating the men and women who've helped our nation move toward a more perfect union and tell the whole story of America.
In addition to being a leader of the Alabama Ku Klux Klan, Edmund Pettus was a general in the Confederate army, which sought to secede from the Union in order to maintain the system of slavery.