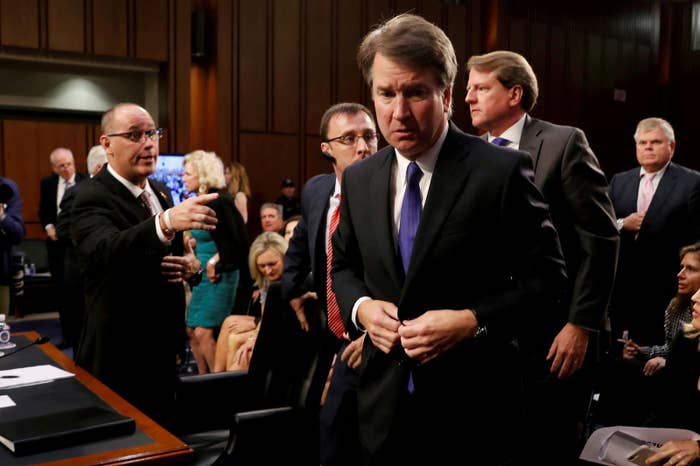 Fred Guttenberg, whose daughter was among those killed in February's Parkland school shooting, said he had hoped to speak to Brett Kavanaugh "father to father" when he tried unsuccessfully to shake the Supreme Court nominee's hand on Tuesday.
"I wanted him to know that he has a responsibility should he be a Supreme Court justice to open up his mind and think in terms of the public safety. He's made it clear he doesn't," Guttenberg said on BuzzFeed News' Twitter morning show, AM to DM, on Thursday. "That is a concern to me. And, as a father, it should be a concern to him."
Guttenberg made headlines earlier this week when he approached Kavanaugh during a lunch break at the Senate's confirmation hearings. "Put out my hand to introduce myself as Jaime Guttenberg's dad," he tweeted. "He pulled his hand back, turned his back to me and walked away. I guess he did not want to deal with the reality of gun violence."
The White House said security intervened to stop Kavanaugh from shaking Guttenberg's hand, but video showed the judge turning to look at Guttenberg, then turning away.
Guttenberg told BuzzFeed News via email that the White House was lying about the encounter. "He was looking at me long enough to see my bracelets and did not turn away until I said murdered in Parkland," he said. (Video shows him saying these words after Kavanaugh had turned away).
It was not clear whether Kavanaugh knew who Guttenberg was, but Sen. Dianne Feinstein did mention at the start of the hearing that the Parkland victim's father was in the audience.
Guttenberg told AM to DM that he wanted to warn Kavanaugh that school shootings can happen in any community in America.

"He lives in a community where it could happen in his community, what happened to me," Guttenberg said. "I live in Parkland, Florida — one of the safest, nicest communities in the country. I live in the community that people say, 'It never will happen in my community.' But it did."
"I want him to know that if we don't get a grip on reality and do something, it can happen in his community as well," he said. "And I don't want to be that father who down the road is visiting another community like his because they didn't do anything."

Guttenberg said no one at the White House or any other Republican had been in touch with him since Tuesday's incident.

He said he believes the National Rifle Association is seeking to have Kavanaugh confirmed to the top US court in order to weaken gun laws.
"Their effort, their goal, is to get those lawsuits to the Supreme Court," he said. "And their goal is to do it when there's a conservative bloc anchored by Kavanaugh, and their goal is to make raising the age to 21 or red flag laws, things that are saving lives right now, unconstitutional."
Remy Smidt contributed reporting.