Man Walks Away Unscathed After Being Pinned Between Two Trucks
An incredible photo shows Kaleb Whitby stuck in the twisted wreck.
About 100 people were involved in a pileup of more than a dozen vehicles on a freeway in Oregon early on Saturday morning.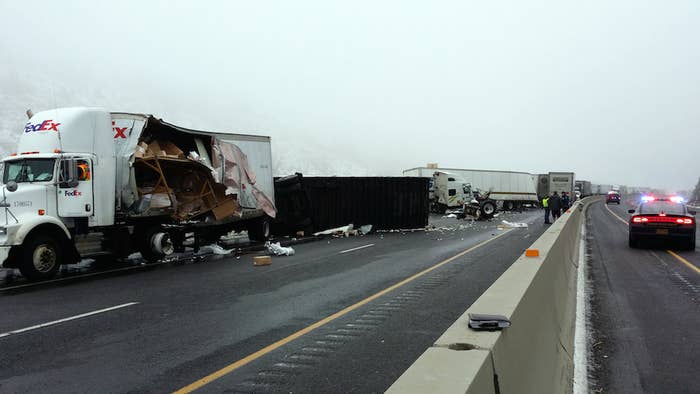 Black ice was believed to be the cause of the massive crash, which occurred roughly 33 miles east of Baker City, injuring a dozen people.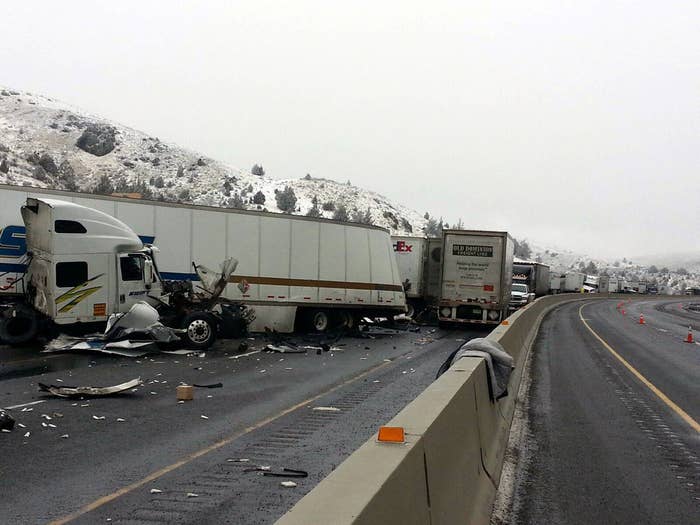 But one man was luckier than all of them. Kaleb Whitby walked away practically unscathed after his Chevy Silverado was crushed and he was pinned between two semi-trucks.
Whitby crashed his pickup into the back of a jackknifed semi-truck amid heavy pre-dawn fog, flipping his vehicle over with his passenger side facing oncoming traffic, the Oregonian reported.
It was then that he saw a pair of headlights zooming towards him.
"When I saw those lights coming, I knew he was going to hit me," Whitby told CNN.
"And then I closed my eyes and prayed that everything turned out OK. That was all I could do."
The crash crushed Whitby's car, leaving only the shell around his seat.
Passersby came to the rescue, but Whitby was able to mostly free himself from the tangled wreck, cutting off his seatbelt using a pocketknife.
"One guy pulled my feet out just enough so I could slide out of the car," he told CNN.
His injuries? "I've got two Band-Aids on my right ring finger," he told the Oregonian. "And a little bit of ice on my left eye."