Police Arrest Second Suspect In Penn Station Shooting
One person was killed, and two others injured, in the shooting on Monday morning.
UPDATE
The NYPD announced Monday November 23 that suspect Vincent Arcona was arrested.
The 23-year-old from Medford, N.Y. has been charged with tampering with physical evidence and criminal possession of a controlled substance.
UPDATE
Police on Thursday arrested Vincent Arcona, one of the suspects in Monday's fatal shooting near Penn Station, the New York Post reported.
Arcona was arrested at Bronx Lebanon Hospital after doctors recognized him despite giving a false name.
The other suspect, Francisco Alsina, has not been arrested.
Police on Tuesday released images of suspects wanted in connection with the fatal shooting that took near New York City's Penn Station early Monday morning.
An NYPD spokesperson told BuzzFeed News the incident occurred in Midtown Manhattan around 6 a.m. ET near 35th Street and Eight Avenue.
A 43-year-old man was pronounced dead at the scene. The other two victims were transported to Bellevue Hospital.
The two people being treated for injuries included a 45-year-old man shot in the neck and abdomen, who remains in critical condition. Additionally, a 48-year-old man shot in the leg was said to be in a stable condition.
Penn Station serves as a large transport hub for Manhattan, with major subway, rail, and bus connections.
Police on Tuesday released the following images of Vincent Arcona, 27, who they said was being sought along with another unidentified man seen wearing a hoodie. Both men should be considered armed and dangerous, authorities said.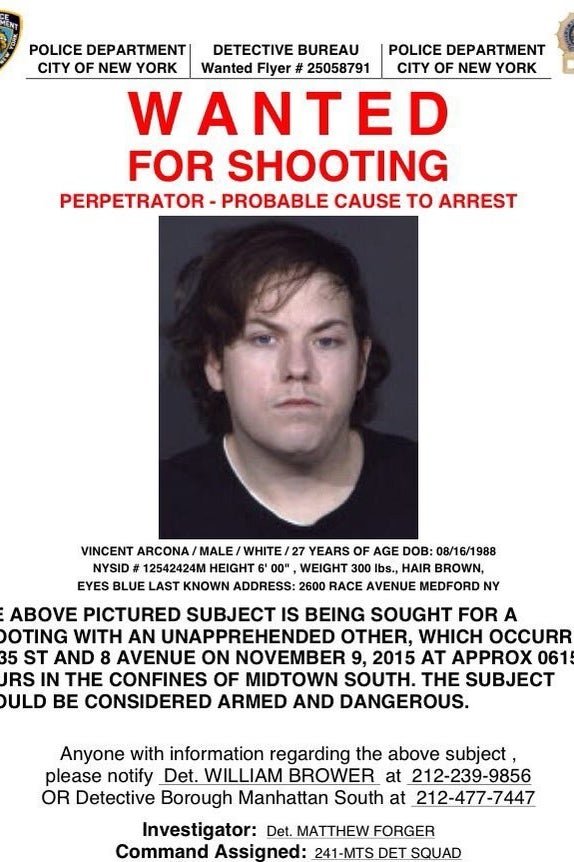 CBS New York reported the shooting happened inside a McDonalds restaurant, notorious for being a hang-out for drug users.
The shooting reportedly began as a drug dispute inside the restaurant that spilled out on to the street.
Police have made 52 arrests at the restaurant so far this year, CBS reported.