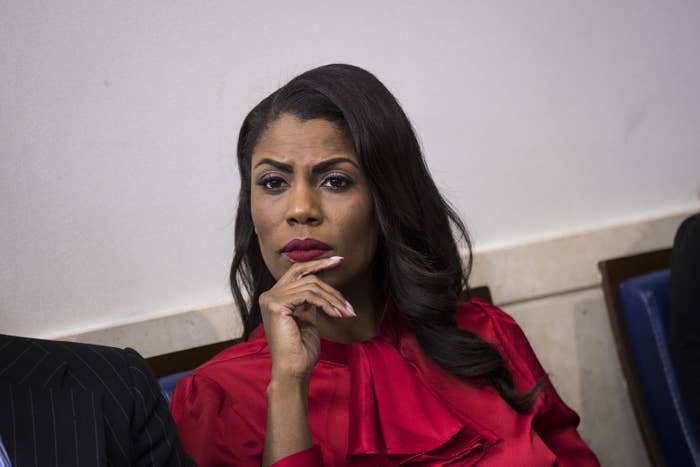 Omarosa Manigault-Newman, the former reality TV star turned political aide to President Trump, has resigned from her administration position, the White House announced Wednesday.
Manigault-Newman resigned on Tuesday "to pursue other opportunities," press secretary Sarah Huckabee Sanders said in a statement. Her departure will not be effective until Jan. 20, 2018 — exactly one year since Trump took office.

"We wish her the best in future endeavors and are grateful for her service," Sanders said.
The terms of her departure, however, appeared more dramatic than the White House let on.
Manigault-Newman was fired and escorted out of the building on Tuesday night, sources told BuzzFeed News. (The Secret Service later tweeted that their agents were not involved in removing her, though they did deactivate her access pass to the White House.) April Ryan, who covers the White House and has feuded with Manigault-Newman, also reported Wednesday there was "drama" around the departure.
Manigault-Newman denied the accuracy of the reports, saying that it's coming from one reporter who has a "personal vendetta against her." In an interview with Good Morning America Thursday, she said that she had resigned from her position during a meeting with John Kelly in the Situation Room.
"There were a lot of things that I observed in during the last year that I was very unhappy with, that I was very uncomfortable with," she told Michael Strahan, declining to elaborate on what those things were.
One White House official with knowledge of the situation described an ongoing situation where Manigault-Newman grew increasingly fed up with how the administration handled racially charged issues, adding that moving from crisis to crisis particularly drained the White House. Manigault-Newman has told friends in the past few months, the source said, that being the only black staffer in White House meetings was a source of stress.
"She struggled with being an African-American senior staffer, with all the racial incidents in the White House, and I think it was starting to weigh on her," the official said.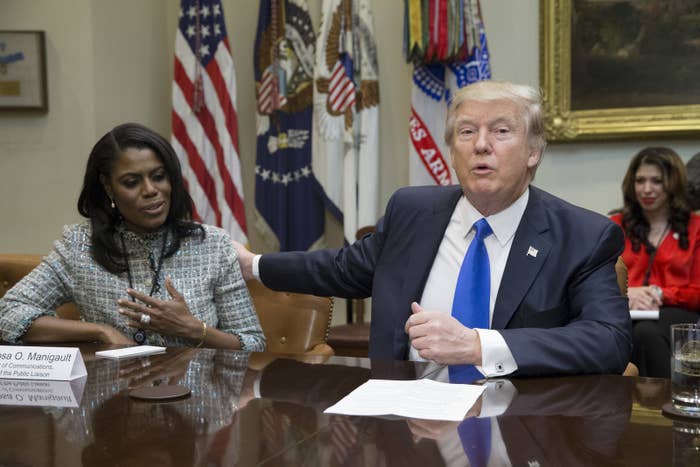 The source said Manigault-Newman wanted to leave the White House after Charlottesville, where Trump sympathized with the white supremacists who marched to preserve Confederate monuments, leading to the death of one counterprotester. Manigault-Newman went silent in the days and weeks after the rally, the source said. She did not respond to BuzzFeed News' requests for comment at the time.

Manigault-Newman addressed this in her interview with GMA, saying, "I have seen things that have made me uncomfortable, that have upset me, that have affected me deeply and emotionally, that has affected my community and my people."
She said she could not elaborate any further because she would still be working with the administration for another month but did say that when she does tell her story it will be "profound" and something the "world will want to hear."
The source said the White House was also consumed by other racial issues such as its focus on NFL players protesting during the national anthem; the lack of transparency regarding the death of a black American soldier in Niger and the response to his widow and Rep. Frederica Wilson; and the UCLA men's basketball team arrests in China that Trump demanded praise for handling. More recently, Manigault-Newman had been disturbed by the administration's handling of Roy Moore, as Trump embraced the candidate amid accusations he sexually assaulted teenagers.
When the administration ended a program that allowed 59,000 Haitians to remain in the United States, she agonized over the decision "because she fought so hard to get the extension," said the source, who asked not to be named because they were not authorized to speak publicly.
Manigault-Newman and Trump have known each other since the 2004 first season of The Apprentice, when Manigault-Newman emerged as the scheming breakout star. Trump later served as executive producer on a dating show, The Ultimate Merger, on which men competed to win Manigault-Newman's heart.

The president tweeted his thanks Wednesday night for her service in his administration.
Manigault-Newman's official title was director of communications for the White House Public Liaison Office, but in reality she had a more undefined portfolio that caused some consternation among her colleagues.
After he became chief of staff, Kelly reportedly began cutting off the unfettered access to the president that Manigault-Newman enjoyed. She was previously widely reported to wander into meetings to which she was not invited, or derail briefings with off-topic discussions.

There was also significant friction between Manigault-Newman and Kelly. Manigault-Newman shared a years-long relationship with Trump and members of Trump's family and inner circle. It became a problem, the source said, when Kelly could not cut off her line of communication to Trump.

Manigault-Newman said Thursday that she was always respectful of the process but that she "certainly had more access" and that "people had problems with that."
In April, she also showed up at the White House with her bridal party for a surprise photo shoot, Politico reported, but was banned from posting the pictures publicly due to "security and ethical concerns."

Black Republicans had faced something of an existential crisis in deciding whether to fully embrace Manigault-Newman, the most prominent black woman in the administration and a former Democrat.

"Omarosa did not come through the black conservative movement, and if she did she probably wouldn't be in her position," Armstrong Williams, a longtime adviser to Ben Carson, told BuzzFeed News in March.